https://portside.org/2020-06-23/dispatches-culture-wars-trump-police-and-far-right
Author:
Date of source:
Portside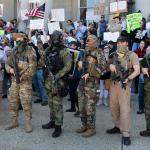 By William Rivers Pitt
June 18, 2020
Truthout
Armed far right groups are products of a long-standing cultivation project undertaken by the Republican Party and its media allies to agitate and radicalize its political base.
By Colleen Walsh
June 19, 2020
The Harvard Gazette
A legal scholar and historian puts the push to remove Confederate statues in context.
By Isaac Stanley-Becker
June 18, 2020
Washington Post
A red inverted triangle was used in the 1930s to identify anti-Nazi political prisoners incarcerated in concentration camps. This month, 88 ads with the inverted red triangle ran in pages for Trump, Pence and the official "Team Trump" page on the social network. They targeted all 50 states.
By Sonam Sheth
June 8, 2020
Business Insider
The GOP's claim that antifa is infiltrating George Floyd protests is a right-wing 'bogeyman' that bears all the hallmarks of a domestic disinformation campaign.
By Danielle Schulkin
June 1, 2020
Just Security
The history of racism and white supremacist membership in law enforcement agencies is long and well-documented. Disciplinary systems that struggle to hold officers to account for other offenses fail to remove racist police officers, undermining public trust in entire departments.
By Ryan Grim and Jon Schwarz
June 2 2020
The Intercept
Law enforcement frequently infiltrates progressive political movements using agent provocateurs who urge others to engage in violence. And, more rarely, such provocateurs commit acts of violence themselves.
By Tom Nolan
June 2, 2020
The Conversation
Militarization has fostered a policing culture that sets up protesters as 'the enemy.'
By Jorge L. Ortiz
June 12, 2020
USA Today
Police unions shield members from accountability for their actions, including coaching officers involved in use-of-force incidents on how to write favorable reports and having them collaborate to present a narrative that exonerates them from blame and places fault on the suspect.
By Mary C. Curtis
June 18, 2020
Roll Call
In a country where one party has tried to define what it means to follow the word of God, others are loudly interrupting what has often seemed a one-sided conversation.