https://portside.org/2020-07-15/global-left-midweek-july-15-2020
Author:
Date of source:
Portside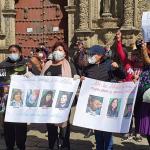 _________
Africa: Action Matters
Fredson Guirramela Guilengue, Andrew Bennie, Ines Mahmoud, Nadir Bouhmouch, Aly Sagne, Richard Ntakirutimana, and Allan Kalangi / Rosa Luxemburg Stiftung (Berlin)
Six positive empirical examples of how amidst all the existing difficulties, collective action is leading to some form of success. 
__________
Can Europe Make It?
Albena Azmanova / Open Democracy (London)
We must rethink the European project as a pursuit of collective social wellbeing, not just of wealth across nations. This means fortifying the commons – healthcare, education, culture, science, the environment -- by direct public investment at EU level.
__________
Women Fight in South America
Argentina  Cora Fernández Anderson / NACLA Report (New York)
Chile  Nathalia Santos Ocasio / NACLA Report
Bolivia  / Peoples Dispatch (New Delhi)
__________
Turkey's War on the PKK
Dave Holmes / Green Left (Sydney)
In mid-June Turkey launched yet another large-scale air and ground operation in northern Iraq aimed at crippling the Kurdistan Workers Party (PKK).
__________
India: CAA Mass Protests Aftermath 
Mansi Sharma / Focus on the Global South (Washington)
These protests by common citizens were some of the biggest mobilisations against the present government. The protests were abruptly stopped with the onset of the COVID-19 pandemic.
__________
Eruption in Serbia
Ana Vilenica / dVersia (Sofia)
This protest is against the regime of Aleksandar Vučić and his Serbian Progressive Party, against the mismanagement of the Covid-crisis by the state, the cover up of dead bodies for election purposes, including the blame placed on people for the speeded up spread of the virus. 
__________
Webinar: People Power and the Pandemic
Thenjiwe McHarris, Movement for Black Lives (USA)
Hakima Abbas, Association for Women's Rights in Development (Senegal)
Rafeef Ziadah, Palestinian performance poet/Professor at SOAS
Josua Mata, Secretary General, SENTRO trade union, Philippines
Vrinda Grover, Human rights lawyer, India
Moderator: Hilary Wainwright, author of A New Politics from the Left (2018), UK
Organised by Transnational Institute with Focus on the Global South and co-sponsored by Alternative Information Development Centre.
__________
Legacies
Roger Bandino Nerio, El Salvador / CISPES (Washington)
Zindzi Mandela, South Africa  Matthew Savides and Iavan Pijoos / TimesLIVE (Johannesburg)
Santiago Manuin, Peru Neil Giardino / ABC News (New York)
Louis Mahoney, UK / BBC News (London)
Ennio Morricone, Italy Robert Barry / Jacobin (New York)
Marvin Damián Castro, Honduras  / France 24 (Paris)
Heinrich Fink, Germany  Victor Grossman / The Left Berlin
Heinrich Fink, born in a poor rural family in Bessarabia, thrown around by war events as a child, became a theologian in the (East) German Democratic Republic and was lecturer, professor and then dean of the Theology Department in East Berlin's Humboldt University. During the brief era when the GDR opened up to choices from below, in April 1990, faculty, students and staff elected him - 341 to 79 - to be rector of the whole university. But within two years the winds changed. West Germany took over and he, like innumerable "undesirables", was unceremoniously thrown out, charged in his case with having helped the "Stasi". Countless doubts about any and all accusations, protests by many prominent writers and big student marches for the popular rector were all in vain.
After one session as Bundestag deputy he was elected president of the Association of Victims of Fascism and Antifascists and, later, its Honorary President. Remarkable for his modest friendliness, humility, almost tenderness, one could never imagine him harming or scolding anyone or ever even raising his voice. But just as impressive was his devotion to his principles – his belief in a humane Christianity based on struggle for a better world. He was both a Christian and a Communist – and saw no contradiction in the combination. He will be greatly missed!