https://portside.org/2020-07-23/trumps-occupation-american-cities-has-begun-legislation-block-trump-administration
Author: Michelle Goldberg
Date of source:
New York Times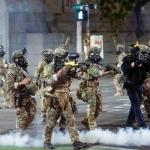 Trump's Occupation of American Cities Has Begun
By Michelle Goldberg
July 20, 2020
New York Times
The month after Donald Trump's inauguration, the Yale historian Timothy Snyder published the best-selling book "On Tyranny: Twenty Lessons From the Twentieth Century." It was part of a small flood of titles meant to help Americans find their bearings as the new president laid siege to liberal democracy.
One of Snyder's lessons was, "Be wary of paramilitaries." He wrote, "When the pro-leader paramilitary and the official police and military intermingle, the end has come." In 2017, the idea of unidentified agents in camouflage snatching leftists off the streets without warrants might have seemed like a febrile Resistance fantasy. Now it's happening.
According to a lawsuit filed by Oregon's attorney general, Ellen Rosenblum, on Friday, federal agents "have been using unmarked vehicles to drive around downtown Portland, detain protesters, and place them into the officers' unmarked vehicles" since at least last Tuesday. The protesters are neither arrested nor told why they're being held.
There's no way to know the affiliation of all the agents — they've been wearing military fatigues with patches that just say "Police" — but The Times reported that some of them are part of a specialized Border Patrol group "that normally is tasked with investigating drug smuggling organizations."
The Trump administration has announced that it intends to send a similar force to other cities; on Monday, The Chicago Tribune reported on plans to deploy about 150 federal agents to Chicago. "I don't need invitations by the state," Chad Wolf, acting secretary of the Department of Homeland Security, said on Fox News Monday, adding, "We're going to do that whether they like us there or not."
In Portland, we see what such an occupation looks like. Oregon Public Broadcasting reported on 29-year-old Mark Pettibone, who early last Wednesday was grabbed off the street by unidentified men, hustled into an unmarked minivan and taken to a holding cell in the federal courthouse. He was eventually released without learning who had abducted him.
A federal agent shot 26-year-old Donavan La Bella in the head with an impact munition; he was hospitalized and needed reconstructive surgery. In a widely circulated video, a 53-year-old Navy veteran was pepper sprayed and beaten after approaching federal agents to ask them about their oaths to the Constitution, leaving him with two broken bones.
There's something particularly terrifying in the use of Border Patrol agents against American dissidents. After the attack on protesters near the White House last month, the military pushed back on Trump's attempts to turn it against the citizenry. Police officers in many cities are willing to brutalize demonstrators, but they're under local control. U.S. Customs and Border Protection, however, is under federal authority, has leadership that's fanatically devoted to Trump and is saturated with far-right politics.
"It doesn't surprise me that Donald Trump picked C.B.P. to be the ones to go over to Portland and do this," Representative Joaquin Castro, Democrat of Texas, told me. "It has been a very problematic agency in terms of respecting human rights and in terms of respecting the law."
It is true that C.B.P. is not an extragovernmental militia, and so might not fit precisely into Snyder's "On Tyranny" schema. But when I spoke to Snyder on Monday, he suggested the distinction isn't that significant. "The state is allowed to use force, but the state is allowed to use force according to rules," he said. These agents, operating outside their normal roles, are by all appearances behaving lawlessly.
Snyder pointed out that the history of autocracy offers several examples of border agents being used against regime enemies.
"This is a classic way that violence happens in authoritarian regimes, whether it's Franco's Spain or whether it's the Russian Empire," said Snyder. "The people who are getting used to committing violence on the border are then brought in to commit violence against people in the interior."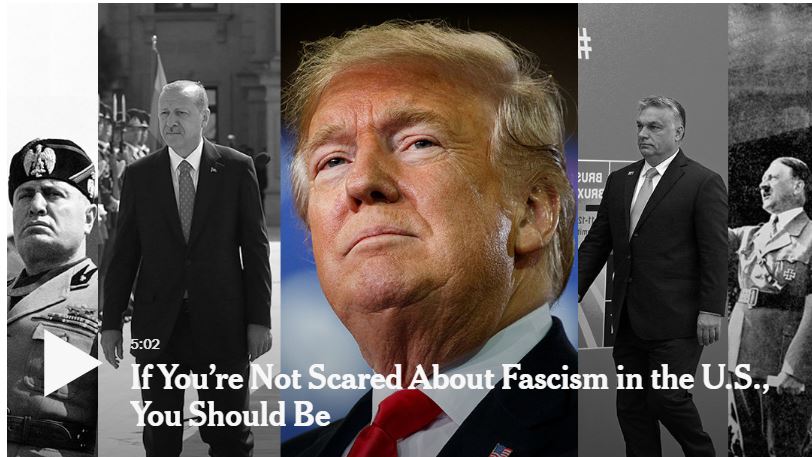 Watch here
Castro worries that since the agents are unidentified, far-right groups could easily masquerade as them to go after their enemies on the left. "It becomes more likely the more that this tactic is used," he said. "I think it's unconstitutional and dangerous and heading towards fascism."
On Friday, the House speaker, Nancy Pelosi, tweeted about what's happening in Portland: "Trump and his storm troopers must be stopped." She didn't mention what Congress plans to do to stop them, but the House will soon vote on a homeland security appropriations bill. People outraged about the administration's police-state tactics should demand, at a minimum, that Congress hold up the department's funding until those tactics are halted.
Through the Trump years, there's been a debate about whether the president's authoritarianism is tempered by his incompetence. Those who think concern about fascism is overblown can cite several instances when the administration has been beaten back after overreaching. But all too often the White House has persevered, deforming American life until what once seemed like worst-case scenarios become the status quo.
Trump has already established that his allies, like Michael Flynn and Roger Stone, are above the law. What happens now will tell us how many of us are below it.
[Michelle Goldberg became an Op-Ed columnist for The New York Times in 2017 and was part of a team that won a Pulitzer Prize in 2018 for public service for reporting on workplace sexual harassment issues. She is the author of three books: "Kingdom Coming: The Rise of Christian Nationalism," "The Means of Reproduction: Sex, Power, and the Future of the World," and "The Goddess Pose: The Audacious Life of Indra Devi, the Woman Who Helped Bring Yoga to the West." Her first book was a finalist for the Helen Bernstein Award for Excellence in Journalism, and her second won the Ernesta Drinker Ballard Book Prize and the J. Anthony Lukas Work-In-Progress Award.
Previously she was a columnist at Slate. A frequent commentator on radio and television, Ms. Goldberg's work has appeared in The New Yorker, Newsweek, The Nation, The New Republic, The Guardian and many other publications. She has reported from countries including India, Iraq, Egypt, Uganda, Nicaragua and Argentina..]
Senators, Representatives Announce Legislation to Block Federal Paramilitary Occupations in Portland and Other Cities (H.R.7719 and S. 4220)
Jeff Merkley, United States Senator for Oregon
July 20, 2020
Sen Merkley
WASHINGTON, D.C. – Oregon's U.S. Senators Jeff Merkley and Ron Wyden, along with Senator Chris Murphy (D-CT) and Representatives Earl Blumenauer (D-OR-3), Suzanne Bonamici (D-OR-1), and Eleanor Holmes Norton (D-DC), today announced that they are introducing the Preventing Authoritarian Policing Tactics on America's Streets Act, which would block the Trump administration from deploying federal forces as a shadowy paramilitary against Americans.
Today's action comes after a week in which heavily armed, unmarked federal forces in unmarked vehicles have been grabbing protesters off the street in Portland.  Those forces have deployed munitions and tear gas against protesters nightly over the weekend. The federal incursion has inflamed conflict in Portland at a time when local leaders are working to de-escalate friction between protesters and police and has been opposed by Portland's and Oregon's elected leaders.
The Senators also introduced today's legislation as an amendment to the National Defense Authorization Act, which the Senate is currently debating.
"What we have seen in the last 10 days in Portland has been horrific and unconscionable," said Merkley. "Federal forces have shot an unarmed protester in the head with impact munitions, and paramilitary forces in camouflage have been grabbing people off the streets and putting them into unmarked vans. These are the actions of an authoritarian regime, not a democratic republic. This gross violation of Americans' civil rights must end immediately."

"Donald Trump's occupying army continues to trample on the constitutional rights of Oregonians and escalate violence against peaceful protesters," Wyden said. "If Congress doesn't step in, these authoritarian tactics won't stop in my hometown. If it can happen in Portland, it can happen anywhere."

"Unidentified federal law enforcement are pulling protestors off the street into unmarked vans and detaining them without explanation. That's the kind of behavior we expect from dictatorships, not the United States of America. Without identification there is no way to hold these officers accountable, and there is no way to know if they are really federal officers. We cannot allow an American secret police. I hope that Republicans will join us in recognizing the severity of this threat and include this legislation in the NDAA," said Murphy.

"The Trump Administration's egregious trampling of individual liberties and the right of free assembly should never have been allowed to happen. Yet it's clear that the Gestapo-like tactics used in Washington, D.C. and now Portland are likely a dress rehearsal for other communities around the country," said Rep. Earl Blumenauer. "We must block this type of dangerous and undemocratic behavior once and for all."

"It is outrageous that there are newly deployed, unidentified federal officers on Portland streets," said Rep. Suzanne Bonamici. "This is what authoritarian regimes do; it's not what we do in the United States. We must hold law enforcement accountable for violating the Constitutional rights of Oregonians and for escalating tensions in our community, and we must pass this legislation to block Trump from sending unidentified officers to operate with impunity in Portland and other cities across the country."
Specifically, today's legislation would:
Require individual and agency identification on uniforms of officers and prevent unmarked vehicles from being used in arrests.
 Limit federal agents' crowd control activities to federal property and its immediate vicinity, unless their presence is specifically requested by both the mayor and governor.
Require disclosure on an agency website within 24 hours of deployments specifying the number of personnel and purposes of deployment.
Make arrests in violation of these rules unlawful.
In addition to Merkley, Wyden, and Murphy, today's legislation and the Senate NDAA amendment are cosponsored by U.S. Senators Bernie Sanders (I-VT), Chris Van Hollen (D-MD), Edward J. Markey (D-MA), Kamala Harris (D-CA), Cory Booker (D-NJ), Patty Murray (D-WA), Sherrod Brown (D-OH), Richard Durbin (D-IL), Maria Cantwell (D-WA), Tammy Baldwin (D-WI), Angus King (I-ME), Mazie Hirono (D-HI), Richard Blumenthal (D-CT), Martin Heinrich (D-NM), Amy Klobuchar (D-MN), Elizabeth Warren (D-MA), Tammy Duckworth (D-IL), and Michael Bennet (D-CO).
The full text of the Senate NDAA amendment can be found here.
S.4220 - A bill to limit the use of Federal law enforcement officers for crowd control, and for other purposes
H.R.7719 - To limit the use of Federal law enforcement officers for crowd control, and for other purposes.