https://portside.org/2020-08-18/teachers-unions-test-goodwill-strike-threats-hardball-negotiations
Author: Megan Cassella, Nicole Gaudiano, and Mackenzie Mays
Date of source:
Politico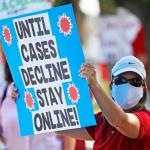 Teachers won newfound respect at the start of the pandemic as parents learned just how difficult it was to teach their kids at home.
But teachers unions now risk squandering the outpouring of goodwill by threatening strikes, suing state officials and playing hardball during negotiations with districts.
Safety concerns have been at the heart of union objections to reopening as they confront teachers getting sick or even dying from Covid-19. Many union leaders have worked collaboratively with management on contracts and reopening plans, and they have spent months calling for additional federal money to secure personal protective equipment and allow for socially distanced instruction. But more recently, a coalition including some local unions has pushed further, laying out demands such as police-free schools, a cancellation of rents and mortgages, and moratoriums on both new charter programs and standardized testing.
The American Federation of Teachers, which has 1.7 million members, has called for "safety strikes" as a last resort if school reopening plans don't protect the health of educators and the larger 3-million member National Education Association says nothing is off the table.
Those threats and demands have raised the ire of some lawmakers, school districts, parents and conservative groups who argue that teachers are taking advantage of the chaos the pandemic has caused to push policy changes the unions have wanted for years.
"No question, there's a risk that some will use this moment to politicize these challenges in a way that simply is counterproductive," said Shavar Jeffries, national president of Democrats for Education Reform, a progressive political organization that advocates for students and families. "I don't think anything that's not related to either the health or educational implications of Covid makes sense."
Members of a coalition of activist parents called the National Parents Union largely agree with teachers unions over what reopening should look like, and their "Family Bill of Rights" emphasizes a need to implement safety measures like masks, temperature checks and updated ventilation systems, said Keri Rodrigues, the group's president.
"I think that parents were willing to extend a lot of grace in March, in April, even into May," she said, adding that feeling began to erode after a long summer with little guidance and few decisions made about how to move forward. "At this point, parents are very frustrated."
Many union officials said they are aware of the need to balance their own demands with parents' anxiety over their children falling behind — and they know the support they have so far enjoyed could slip.
In Ohio, local unions are focused on the "balancing act" of advocating for both quality learning and teacher and student safety, said Scott DiMauro, president of the Ohio Education Association. The state union has called on Republican Gov. Mike DeWine to restrict any schools in counties with the highest levels of coronavirus cases to remote learning only, while requiring all others to follow the CDC's safety guidelines for reopening.
"We're very conscious of the need to be partners with parents, not to end up being in adversarial relationships," DiMauro said. "But the longer this goes on, it's just like everything about coronavirus — there are vulnerabilities in the system, and we can't go on like this forever."
Others have been more defiant. Stacy Davis Gates, vice president of the Chicago Teachers Union, defended the demands that critics have slammed as going too far, including a moratorium on evictions and foreclosures.
"How can you do remote learning from home if you don't have a home?" she said. "This is fundamentally about a city, about a mayor who has failed to repair a safety net."
In Chicago, the nation's third-largest school district, Democratic Mayor Lori Lightfoot initially announced a hybrid reopening model before reversing course earlier this month and announcing that schools would open online-only. The decision came just days after news broke that the union, which has more than 25,000 members, was considering a potential strike vote if the district did not change its plans.
"A win for teachers, students and parents," CTU President Jesse Sharkey posted on Twitter at the time. "It's sad that we have to strike or threaten to strike to be heard, but when we fight we win!"
The pandemic has made some union leaders hopeful that it will strengthen their cause and influence for the foreseeable future, as teachers who feel forced into unsafe working conditions look for support and want to get involved.
But he said superintendents, generally, have described their negotiations with unions as a "fairly agreeable process," and some superintendents see union pushback at the state level as an effort to prevent an "open-schools-at-all-costs attitude."
"The unions, in a situation like this, where they have the support of the parents and the community because what they're advocating for is the safety of the students and the staff — that's a very powerful position," Domenech said.
The debate over whether and how to reopen schools safely is about more than getting children back in classrooms. Proponents of fully reopening schools, including President Donald Trump, say doing so would help reopen the U.S. economy, allowing parents to get back to work, while helping more students access mental health services and meals from their schools. It would also represent a step toward normalcy, which Trump badly wants before voters head to the polls in November.
Asked about the threat of teacher strikes, Education Secretary Betsy DeVos told Fox News recently that "parents and children can't be held captive to others' fears or agendas."
In a June poll, 76 percent of AFT members surveyed indicated they were comfortable returning to school buildings with "proper safeguards," AFT President Randi Weingarten said last month. That was before the virus started to spread more rapidly in the U.S. and Trump, as well as DeVos, began what Weingarten called "reckless 'open or else' threats."
"Now they're angry and afraid," Weingarten said of her members. "Many are quitting, retiring or writing their wills. Parents are afraid and angry too."
Cecily Myart-Cruz, president of United Teachers Los Angeles, which represents the country's second-largest school district, urged union members to ramp up their demands in her inaugural speech. "We can't count on the politicians, whether it's the White House, Congress or the governor to open up the economy in a safe and equitable manner. We can't count on them to fully fund public education," she said.
Both NEA and AFT have issued their own guidance for reopening schools. And AFT recently adopted a resolution setting some specific parameters for reopening, including a daily community infection rate below 5 percent and a transmission rate below 1 percent.
But local unions' work on reopening plans have been used against them, with critics alleging that teachers are putting themselves over the needs of students. Some parents who are essential workers argue that if they are reporting to their jobs, so should teachers.
The Center for Education Reform, an organization that advocates for school choice and charter schools, slammed unions in a policy brief this month, saying that union leaders are "only interested in strikes not solutions."
"Unions are attacking states and locales that are trying to provide options for everyone, while demanding billions more," CER said.
The open question is where parents themselves fall in this debate. National polls largely show a majority remain uneasy about reopening: Two-thirds of parents say they see sending their children to school as a large or moderate risk, according to an Axios-Ipsos survey released last week — and almost three in four of Americans surveyed said they are concerned about schools in their community reopening too soon.
Parents of color have also been more worried about reopening than white parents, surveys show. An earlier Axios-Ipsos poll from July found nearly 90 percent of Black parents and 80 percent of Hispanic parents viewed sending their children back to school as a large or moderate risk, compared to 64 percent of white parents.
Some outside groups and experts warn that those numbers could start to shift the longer the debate goes on and students remain out of the classroom.
"With the economy reopening, a lot of individuals are putting themselves in uncomfortable positions in terms of working in light of the pandemic, and might expect teachers to have some give there as well," said Bradley Marianno, an assistant professor of educational policy and leadership at the University of Nevada-Las Vegas, who has been tracking negotiations between teachers' unions and school districts since the spring.
Robin Lake, director of the Center on Reinventing Public Education, said "parents rightly have given teachers and unions a lot of grace," especially during the "chaotic" roll out of remote learning in the spring. But there's "potential for increasing tension" between parents and unions as leaders negotiate with districts on issues such as how much live virtual instruction they will provide.
"They're issues that parents have a vested interest in, but they're not at the table, right? So that's that's where the potential tension comes in," she said.
Some parents, frustrated with their experience in the spring, are already banding together to create private tutoring pods for small groups of students during the pandemic.
If they have to choose between the teachers and their own student's welfare, Lake said, "they'll choose their student."
Juan Perez Jr. and Madina Touré contributed to this report.