https://portside.org/2020-08-29/their-wildcat-strike-nba-players-have-pointed-way-forward
Author: Aqsa Ahmad
Date of source:
Jacobin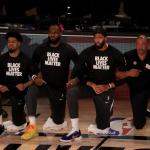 The NBA playoffs will resume today following the wildcat strike on Wednesday afternoon by the Milwaukee Bucks that prompted other NBA teams and teams in sports leagues like the MLB and NFL to call off their games and practices, as well.
Last night, the Athletic reported that Barack Obama spoke with superstars LeBron James and National Basketball Players Association (NBPA) president Chris Paul, along with a few other players, and advised them to resume the season. And according to ESPN, Michael Jordan spoke with some players and encouraged the same.
Michael Jordan, as a current owner of an NBA team, has a direct stake in having the players continue the season. By not playing they disrupted profits for the league, placing themselves in a position to make demands of the owners and also capitalize on their large platforms to apply pressure on politicians. They also proved that to have an actual impact and effect real change, there needs to be collective action, that we need to go beyond symbolic gestures.
As Miami Heat player Andre Iguodala said the day of the strike: "You have to be willing to sacrifice corporate money for people to realize there's a big problem out there."
"Our Focus Today Cannot Be on Basketball"
While those in Congress like Reps. Ilhan Omar and Alexandria Ocasio-Cortez are calling the action what it is (a strike, not a "boycott") and supporting the NBA players, the Right is trying to use privilege politics to turn public opinion against the players, distracting from the actual issues at hand and minimizing the role of billionaire team owners and governments in addressing them.
Jared Kushner, the failson of a billionaire and son-in-law and employee of another billionaire, told CNBC that he thinks "NBA players are very fortunate that they have the financial position where they're able to take a night off from work without having to have the consequences to themselves financially. So they have that luxury, which is great."
Although NBA players make millions of dollars a year, they are still workers — and unionized — albeit atypical ones, who can withhold their labor and achieve their demands by applying intense popular pressure. As Bernie Sanders said in his tweet in support of the NBA players on strike: "Real change takes place when people come together and demand it."
The Milwaukee Bucks, one of the best teams in the NBA with last year's MVP on its roster, were one win away from moving onto the second round of the playoffs, but with less than five minutes before tip-off they decided to forgo playing Game 5 in their first-round playoffs series with the Orlando Magic in the wake of a viral video showing a police officer in Kenosha, Wisconsin shooting a young black man named Jacob Blake in the back seven times. This triggered the cancellation of the other two games scheduled that evening across the league and in other sports.
The Bucks stayed in the locker room and contacted the Wisconsin attorney general and lieutenant governor to demand justice for Jacob Blake and for the state legislature to "take up meaningful measures to address issues of police accountability, brutality and criminal justice reform."
Milwaukee, which is less than an hour away from Kenosha, has a long history of racist police violence. Over sixty years ago, a Milwaukee police officer fatally shot a black man named Daniel Bell in the back, and just like the Kenosha Police Department today, the Milwaukee Police Department back then claimed the victim had a knife, in an attempt to justify the actions of the police officer as self-defense. It was only about two decades later when it was revealed that Bell was unarmed and the police officer had intentionally sought to arrest black people that night and after the shooting had planted a knife on Bell. And in the 2000s, the Milwaukee Police Department had a "broken windows"–style policing approach similar to the one notoriously pursued by NYC police commissioner Bill Bratton.
With the police shooting of Jacob Blake, and the subsequent shooting of protesters happening in their home state of Wisconsin, the Bucks players explained in their statement: "Despite the overwhelming plea for change, there has been no action, so our focus today cannot be on basketball."
"Capitalism and Racism Go Hand in Hand."
The NBA strike isn't tied to a direct or specific workplace issue, but broader issues long affecting the communities many of the players are from. The Athletic reported that on a call on Thursday with team governors, league office personnel, and NBPA members, LeBron James "wanted to see the league and owners help build up poor communities," reminding everyone present "that most people where he grew up couldn't afford to pay for television cable to watch his games."
Iguodala summed it up in an appearance on CNN: "Capitalism and racism go hand in hand. And you can't have one without the other."
Since these players generate so much money for the league, team owners, and brands, and have a huge platform, they are in a unique position to disrupt business as usual, especially at a time when the spotlight is on the NBA whose return amid the coronavirus crisis was wildly more successful compared to leagues like MLB, and where the impact of this summer's racial justice protests can most visibly be seen.
But even before the latest viral police shooting, players in the bubble were already on edge. The players are isolated in the bubble from their families, their wives and young children, and they're playing every other day in front of what looks like a massive Zoom call, a setup of digital boards around the stadium livestreaming virtual fans watching at home. After Game 5 of the Los Angeles Clippers and Dallas Mavericks playoffs series, Paul George, who was taunted online for his shooting troubles, admitted he "had anxiety, a little bit of depression, just being locked in [the bubble]."
The decision to restart the NBA season after it was canceled in March because of the pandemic was not an easy one for the players. Many players expressed concerns that continuing the season would distract from the racial justice protest movement following the murder of George Floyd by Minneapolis police in May. In June, Adrian Wojnarowski reported that in a meeting Brooklyn Nets star Kyrie Irving, one of the vice presidents of the players' union, "made an impassioned plea for players to make a stand and sit out the season's resumption in Orlando." And after the most recent video of police brutality went viral, Milwaukee Bucks guard George Hill, who was one of the leaders of the strike, said the players "shouldn't have even come to this damn place" and that doing so "took all the focal points off what the issues are."
Not only were their concerns about taking the attention away from protests, but some players, just like essential workers across the country from grocery store cashiers to food delivery drivers, felt unsafe continuing to work because of health concerns. The Los Angeles Lakers' starting guard Avery Bradley opted out of playing in the bubble due to his six-year-old son's history of respiratory illness.
Also absent from the bubble: all of the owners.
"What Are We Willing to Give Up?"
The racial justice movement has factored heavily into the NBA restart, which makes sense since the NBA is the sports league with the highest percentage of black players. In the bubble, teams take a knee during the national anthem before games, the three bubble stadiums have Black Lives Matter printed large on the center of the court, players wear pre-approved racial justice messages on the back of their jerseys, and the coaches wear pins that say "coaches for racial justice."
While Jared Kushner is wrong to frame the NBA players as privileged and entitled, especially given his own background and the fact that NBA players have worked their whole lives to get to where they are today, he is right about one thing: "Slogans and signals" should turn to "actual action that's going to solve the problem," but of course his and the Trump administration's plans of dealing with police brutality involve clamping down protests and only causing more unrest and violence by sending the national guard to Kenosha to restore "LAW and ORDER!"
Unlike many other workers, NBA players aren't exactly seen as replaceable by their bosses. Several of the teams in the bubble were already playing with depleted rosters due to injuries, positive COVID-19 tests, and some players opting out to protect family members.
Because NBA players have unique leverage and such huge platforms, they have greater power to apply pressure on team owners and governments to address police violence — and they're right to take advantage of their power and participate in shared struggle.
Aqsa Ahmad is an assistant editor at Jacobin.
Our new issue, "After Bernie," is out now. Our questions are simple: what did Bernie accomplish, why did he fail, what is his legacy, and how should we continue the struggle for democratic socialism? Get a discounted print subscription today!