https://portside.org/2020-10-10/moneybags-billionaires-body-bags-workers-organizing-time-pandemics
Author: Sheri Davis Faulkner and Marilyn Sneiderman
Date of source:
New Labor Forum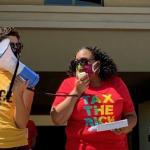 The Covid-19 pandemic has exposed the degree to which late capitalism is broken, from the failure of supply chains to manufacture and distribute personal protective equipment (PPE), to a health care system unable to address a pandemic, to state unemployment systems that are incapable of processing millions of new employment claims. Rampant state violence and the unabated harms inflicted on communities of color by highly militarized, unionized police forces nationwide revealed the depths of structural racism. These conditions amplified demands by progressive educators, racial justice and community organizations for #PoliceFreeSchools, and calls to "Defund the Police." Labor's response and lack of response to these twin pandemics demonstrate both the weakened state of the labor movement, and the urgency for its revival. And the successes and failures of organized labor to confront these challenges offer some clues as to what labor must do now.
Before the pandemic hit, the president of the Boston Police Patrolmen's Association wrote to the president of the Boston Teachers Union (BTU) urging the union not to support Black Lives Matter (#BLM) at School Week (originally founded during the 2017-2018 school year). He asserted that #BLM made policing more dangerous and "his members less safe." In her response to the allegations she centered the needs of her members' students and the families they serve. She stated, "there is no evidence that increased police presence in schools improves school safety. Indeed, in many cases, it causes harm . . . [and] leads to greater student alienation and more threatening school climate."[1] BTU demonstrated the type of community/labor response and leadership that has been pushing the labor movement to address the racism and racial tensions within its own ranks. #BLM political education in schools, communities, and worker justice organizations across the nation undergird the uprisings sweeping across the globe and challenge long held beliefs that using collective power to shield police from accountability, as union members, is no longer acceptable. Where unions and community/racial justice partners had organized before the pandemic—notably the teacher strikes and campaigns that involved bargaining for the common good—were indeed the same places that advanced the most creative and strategic work. The organizers/members involved in these campaigns already had an analysis of who was behind the curtain, profiting from the racism, violence, and poverty in many of our communities, particularly communities of color.
As we face pandemic-related austerity and mass unemployment, while police departments in many cities account for 30 percent or more of municipal budgets,[2] it's clearer than ever why social justice organizations and unions need to combine forces to advance the interests of working-class communities. Unions are increasingly viewed as essential to a revitalized democracy and foundational to a more equal, decent, and humane society. But a labor movement mainly focused on defensive, bread-and-butter issues has proven itself incapable of fulfilling this larger role of  transforming our society. Those unions that, prior to the pandemic and the expanding Black Lives Matter movement, were conducting broader campaigns aimed at winning structural change offer lessons of particular value in the post-pandemic environment. They demonstrate growing commitments to intersectional approaches where worker justice organizations fight for complex remedies meant to address problems identified by workers and communities, especially those most marginalized and severely impacted by interlocking oppressions.[3] These approaches show up as standing coalitions that have a broader analysis that includes race and gender and leads to bigger demands that benefit "the common good," not just their members.
Covid-19 Pandemic
However, working-class people and people of color normally cannot entirely avoid defensive battles, and the Covid-19 pandemic made defensive measures especially urgent. "Frontline workers"—among them, grocery, pharmacy, public transit workers—took action early in the wake of Covid-19 to protect themselves and their families by demanding PPE at the workplace, and paid leave when they were ill. With a virus that spreads easily through close contact, and families having to provide every meal due to school closures, the risk of exposure in the service sector increased dramatically. "Frontlines" that are typically invisible were on full display when meatpackers and warehouse workers, who maintain the supply chain, publicized their working conditions. In this way, the public came to see the risks these workers were enduring and the life or death decisions they were suddenly forced to make.
Workers quickly realized that "essential" actually meant "expendable" or "sacrificial," particularly for workers with fewer choices, less financial security, and scant worker protections. As cases continued to rise, it became increasingly clear that Black and brown communities, and especially women workers were being hit the hardest by the virus and the economic fallout. The systems of racialized capitalism and the reliance on patriarchal systems that feminize and undervalue care, service, and domestic work to justify low wages for women and people of color became more visible as the number of Covid-19 cases and deaths continued to soar. Healthcare, public transit, grocery, warehouse, factory, agriculture, homecare workers, and many more were expected to risk their health and that of their loved ones by continuing to work without PPE such as masks, gloves, and hand sanitizer. In addition to working in unsafe environments, they lacked the necessary childcare support needed, since preschools were closed, yet they were still expected to work. Coincidently, these are the very workers, who without collective bargaining rights, tend to have the least protections and industry regulations. 
These were the same workers who faced more difficulty in receiving unemployment payments or federal stimulus money. As unemployment applications exceeded 36 million by mid-May,[4] and desperately needed stimulus checks of up to $1,200 trickled out, many people were unable to benefit from this meager relief. These people included undocumented workers, immigrants without social security numbers, U.S. citizens married to immigrants without a social security number, those who owed child support, even those behind on student and other bank loans.[5] Amalgamated Foundation, the AFL-CIO, and national labor networks like the National Domestic Workers Alliance, launched national fundraising efforts to support workers, especially those excluded from relief and protections. These collective efforts helped to quickly established the Frontline Workers Fund, Worker Solidarity Fund, and the Coronavirus Care Fund to support workers most in need.[6] If workers did not see the value of being members of worker justice organizations and networks before, they should now. Jobs with Justice was one of the first to launch their Worker Solidarity Fund, quickly raising over $200,000 in the first round by asking supporters to donate their stimulus checks for redistribution to local coalitions for mutual aid funds. Additionally, by the end of May more than $3.5 million in grantmaking was disbursed to funds focusing on gig workers, immigrant workers, and organizations supporting expanded unemployment insurance and paid leave.
Moving from Defense to Demands for Reform
Those unions that had waged broader battles in coalition with communities and allied organizations before the pandemic were better positioned to move quickly to confront the longstanding injustices laid bare by the pandemic. How did these groups reframe and regroup with a broader vision and align with allies to take on those profiting? While addressing the urgent needs of food, housing, and healthcare for the unemployed, labor had to simultaneously develop strategies and power to be able to direct a relief plan for families and communities in the face of impending austerity measures brought on by the retracting economy. Of course educators—having focused on mini-pandemics facing their school communities, including violence, underfunding, lead in water, and homelessness—led the way by quickly activating their coalitions and networks to come up with strategic demands that would impact communities across the nation. Many of these educators had recently gone on strike and saw their contract negotiations as rightfully connected to broader demands for economic and racial justice, rather than merely fights for wages and benefits. 
During 2019, the Chicago Teachers Union (CTU), centered the homelessness of nearly 20,000 students in their contract demands as well as identifying structural racism as a central feature in the underfunding of public education. When the Chicago municipal government claimed "broke," the CTU pointed to the financialization of the city budget and the priority status of private developers to demonstrate that Chicago was #BrokeOnPurpose, having agreed to fund major development and projects in high-wealth communities. 
The same day the World Health Organization declared a pandemic, the CTU, Service Employees International Union (SEIU) Healthcare, Grassroots Collaborative, and a coalition of other unions, community groups, and state and local elected officials announced a comprehensive list of "common good demands" and Covid-19 relief legislation.7 Demands included fifteen additional days of paid time off, free accessible testing, meal delivery strategies for struggling families, access to free broadband internet and computers, a moratorium on evictions and mortgage payments. The coalition's Covid-19 relief demands predated the governor's stay-at-home order by nearly ten days. The next day United Teachers of Los Angeles (UTLA) also released "common good demands," in addition to calling on the L.A. superintendent to close all public and charter schools, they called on the "state and federal government to immediately release funds to support our vulnerable student and family populations," a disaster stipend for parents to care for children, housing for unhoused, and debt/rent/mortgage forgiveness among other demands. The Massachusetts Teachers Association (MTA) and BTU pushed even more expansive platforms including a moratorium on utility shut-offs and Immigration and Customs Enforcement (ICE) raids, detentions, and deportations. 
The commonality between the CTU, UTLA, and MTA goes well beyond being educator unions. Together with racial justice and community organizations, they built broad coalitions with women, particularly women of color in senior leadership, many of whom helped shape Bargaining for the Common Good[8] strategies and are members of the WILL Empower[9] (Women Innovating Labor Leadership) network. Using this expanded bargaining framework, they insist on bargaining with the ultimate decision makers and taking bold actions to set broad and inclusive negotiation tables. Dealing with the financialization of our economy, they take fights directly to the private equity (PE) firms and big banks that are strangling our municipal and state budgets with fees and other extractions. Furthermore, in 2020 UTLA elected their first woman of color president, Cecily Myart-Cruz; the same fierceness they brought to the coronavirus fight translated to the campaign for police-free schools. UTLA's policy-making body overwhelmingly endorsed a call to eliminate the Los Angeles Unified School District (LAUSD) school police and shift funding to student needs, including counselors, psychologists, psychiatric social workers, and pupil services, and attendance counselors.[10] Myart-Cruz became the first Afro-Latinx UTLA president on the same day LAUSD voted to defund their school police budget by 35 percent.
Healthcare Workers
Union and non-union nurses across the nation posted Facebook and Instagram videos recounting their horrifying experiences with the nonstop flow of incoming patients with severe symptoms, having to reuse multiple times the N-95 masks issued by employers, and use trash bags as protective gowns while cities and states clamored for additional supplies. The rallying cry was that their employers were forcing them to engage in practices that would have gotten them fired a month prior. Nursing homes were some of the first and hardest hit sites. In early April, SEIU Healthcare threatened to strike and won wage increase demands of $15 per hour at more than forty facilities in the Chicago area. In addition, they  demanded and won hazard pay and paid leave for Covid-19-related illness and quarantine for the duration of the pandemic. 
Healthcare workers demanded better patient care and worker protections and had been striking for it pre-Covid-19. In fact, their demands foreshadowed some of the healthcare system challenges brought to light during the height of Covid-19. In Seattle, 8,500 nurses with SEIU Healthcare 1199NW went on strike in January 2020 and were then locked out by Swedish Hospital, part of the "not-for-profit" Providence Health System.[11] They were demanding better staffing and rejected having to use substandard equipment to care for patients. In Chicago, Illinois 2,000 nurses joined another 6,50012 in California, Arizona, and Florida, all members of National Nurses United who voted to strike over nurse-to-patient ratios in late 2019.
A Chicago nurse complained that the nurses faced "unsafe working conditions daily" and that "units often borrow supplies, equipment, and even staff from one another just to make ends meet." In March 2019, 10,000 nurses of the New York State Nurses Association (NYSNA)[13] voted to strike but reached an agreement that fell short of what many members believed they had the power to win, specifically on issues of understaffing. How many lives could we have saved if the concerns raised by women, people of color, and immigrant-dominated workforces had been taken seriously and addressed? Rather than focusing narrowly on actions to suppress wages, the spotlight should be on the PE firms represented on the boards and the venture capital arms[14] of many of the non-profit/private hospitals that also cry "broke" in bargaining.
Factories, the Invisible Frontline
As state and local governments begged for PPE for "essential" health care workers and ventilators for Covid-19 patients, GE workers represented by the Communication Workers of America (CWA) protested potential layoffs for 2,600 workers demanding to make much needed ventilators.[15] Workplace protests increased quickly to amplify concerns about the lack of protections and paid leave for workers exposed and sick. After dragging his feet on using the Defense Production Act (DPA) to address sorely needed PPE and ventilators, the U.S. president did, however, issue an executive order citing the DPA in an effort to support employers in the meatpacking industry remaining open or reopening. In early April, the United Food and Commercial Workers (UFCW) union reported twenty deaths directly to the administration and explained that nearly "5000 workers have been hospitalized or are showing symptoms" in the plants. They called on the administration to "increase worker testing," provide "priority access to PPE," "halt line speed waivers" (waivers that remove regulations on the speed of production), "mandate social distancing," and "isolate workers with symptoms or positive tests for Covid-19."
The UFCW reported this to the same administration that supported the largest U.S. ICE raid in 2019 in poultry plants in Morton, Mississippi where 680 workers were arrested and detained—devastating families and communities where workers' children were suddenly left unattended. As a first response to this unnatural disaster, Mississippi Resiste and other worker justice groups took an unprecedented approach by calling on seasoned organizers throughout the South and the rest of the nation to come and mobilize those impacted by the raids for a comprehensive response. This intersectional approach revealed the cruelty of racist and sexist employers, who used immigration raids as a tool to suppress worker organizing. Koch Foods settled a $3.75 million lawsuit[16] for racial discrimination, national origin discrimination, and sexual harassment against Latinx workers, in 2018. Framing the ICE raid more broadly demonstrated how the administration worked with an employer to actively retaliate against immigrant workers in this poultry factory. It also revealed that the treatment of workers who are "essential" for maintaining the food supply are, however,
"expendable" when they organize for justice predates Covid-19. When organizing is the response to a man-made disaster, long-term structural changes are possible.
Coronavirus Capitalism
With "travel bans" and "stay-at-home" orders, the tourism sector, including airlines, hotels, and restaurants, has been decimated, but PE and Wall Street worked quickly to secure their own relief. Hotel owners demanded federal relief while laying off workers, who are largely women, people of color, and immigrants.[17] J.P. Morgan, Bank of America, and other big banks took advantage of Paycheck Protection Program relief legislation collecting $10 billion in fees to process small business loans, with minimal regulation and fewer restrictions than usual.[18]
Rarely do unions bargain directly with PE firms because these firms often hide behind the companies they own and control. However, the UFCW Local 400 in the Washington, D.C./Maryland area did not simply bargain on behalf of 25,000 members with Albertsons-Safeway,[19] they took the fight to the real parent company, Cerberus Capital Management, which was pulling the strings to cut pension and health care contributions,[20] and the local won without having to strike in March 2020. More unions are learning to identify and target common enemies to make them more visible as decision-makers while also bringing consumers and impacted communities into an expanded bargaining framework. As relief packages were developed in the early stages of Covid-19, the Action Center on Race and the Economy (ACRE) advised state and local elected officials to "go on offense" to ensure tax dollars go toward the relief projects needed versus billions in fees to Wall Street.[21] 
While consumer and worker abuses continue to be documented at Wells Fargo, instead of addressing the needs of workers contractingCovid-19 in call centers, their executives lobbied to loosen regulations. Social activist Naomi Klein describes these types of actions as "coronavirus capitalism," where seemingly "impossible ideas become possible . . . predatory ideas designed to further enrich the wealthy . . . [leave]the most vulnerable further exposed."[22]
The most egregious example of "coronavirus capitalism" is Amazon, the largest employer in the world that has amassed so much power and market share that it functions much like a utility. With increased demand for home deliveries, Jeff Bezos, the founder of Amazon and the wealthiest human in the world, personally profited by $24 billion. Yet, Amazon's initial response to worker concerns over the lack of protections was to change the company policy to include fourteen days paid leave for those with proof of a positive Covid-19 test and unlimited unpaid leave for those indicating exposure. At the same time, access to testing was limited; Amazon did not make tests available to employees, nor did this behemoth corporation inform workers about locations where employees had tested positive. In response, workers in N.Y.C., Chicago, and Detroit staged multiple strikes while thousands of workers around the country refused to go into work to protest Amazon's neglectful practices that continued to put communities at risk in the chase for market domination. Amazon was one of the first corporations to declare it stands in solidarity with #BlackLivesMatter, yet its record with Black workers says otherwise. Amazon fired and demeaned Christian Smalls, a Black worker who organized the walkout in Staten Island, seemingly in retaliation for his organizing. Amazon contracts with police nationwide to sell Rekognition, technology for facial recognition, which the ACLU 2018 report warned was racially biased and produced "false matches."[23] More recent investigations suggest Rekognition may not only be used to track and suppress protestors against racial injustice, but that Amazon also shares footage from Ring, the video-doorbell app, with the police, ICE, and has been actively courting the military.[24]
The Future of Workers Is Now
Hope for the future will be found in challenging the biggest and most powerful corporations, Wall Street, and the interests of the super-rich, over their role in bankrupting governments, driving inequality, and investing in racist ideologies that are destroying democracy. Bargaining for Common Good is one example of a way forward. Educators in Chicago; St. Paul, Minnesota; Los Angeles; Massachusetts; and around the country pivoted quickly with strong long-time allies to go on offense and link worker, racial justice, and community issues as one and the same. Signs of hope are also with the janitors in Minnesota who highlighted climate and racial justice among their contract demands; and the Communications Workers of America who have been engaging their members in an indepth training called "Take on Wall Street."[25] Taking this work a step further, Bargaining for the Common Good is building out an interactive map of the contract expirations for over 5 million workers[26] overlaid with big organizing and budget/revenue campaigns. This map will allow a broad alignment of economic and racial justice groups to develop overarching common good demands that span sectors and geographies and synchronize bargaining, revenue, and organizing campaigns across the United States. 
The multi stakeholder approach to Amazon is another example. In the Amazon organizing, activists are building an alliance not just to counter the miserable conditions of workers—but challenging Amazon as a monopoly, tax avoider, and enabler of mass surveillance. 
Athena, a new national coalition of forty activist organizations, including unions, worker centers, and community-based organizations, emerged in 2019 with a clear analysis and plan to take on Amazon. This coalition draws upon diverse voices and perspectives representing a spectrum of worker justice movement leaders, researchers, and activists including a significant number of women of color strategists. Athena organized worker actions at multiple warehouses, pushed for public and corporate policies, and supported grassroots work to shutdown the N.Y.C. headquarters when Amazon refused worker protections. Athena is advocating not only for public and corporate policy changes, but is addressing nearly every issue Amazon touches—labor rights, surveillance, environmental justice, monopoly power, racial justice, city infrastructure, and more.
Other examples include using technology to advance worker organizing and visibility for marginalized workers by meeting them on the platforms they use daily. Organizations like United for Respect have ramped up their use of technology to grow their membership and develop member leaders, while Amazon is praised for technological advances that undermine worker protections and increase community surveillance. The "robots are coming" framing of the Future of Work serves corporations like Amazon; technology is not inherently the enemy of workers. When technological advances are in the service of more just and safer workplaces and communities, the "future of workers" is much brighter. Our hope for a better state of labor in 2021 and beyond lies in supporting both the theory and practice of campaigns that are about real transformational change and big vision, rather than with those hoping to merely survive another day. We need to meet the economy where it is, and with the power that refuses to allow our movement to be siloed any longer.
Notes
1. See https://blacklivesmatteratschool.com/2020/02/13/a-response-to-the-boston-police-unionattack-on-black-lives-matter-at-school-thisis-a-movement-for-equity-inclusion-and-theuplifting-of-black-students/.
2. See https://costofpolice.org/.
3. See https://forgeorganizing.org/article/we-want-bread-and-housing-too-bargaining-commongood-intersectional-feminist-strategy.
4. See https://www.nytimes.com/2020/05/14/business/economy/coronavirus-unemploymentclaims.html.
5. See https://www.forbes.com/sites/ryanguina/2020/04/21/5-reasons-you-wont-get-stimuluscheck/#12f1aef448fd.
6. See https://www.jwj.org/solidarityfund.
7. See https://www.ctulocal1.org/posts/ctu-allieslay-out-common-good-platform-to-protect-students-families-workers-as-coronavirus-threat-spreads/.
8. See https://www.bargainingforthecommongood.org/.
9. See http://willempower.org/.
10. See https://www.utla.net/news/utla-statementlausd-vote-defund-school-police-budget-35.
11. See https://prospect.org/labor/seattle-nurses-strike-and-get-locked-out/.
12. See https://www.nytimes.com/2019/09/20/us/nurse-strike.html.
13. See https://www.leftvoice.org/nurses-have-the-power-to-strike-and-win.
14. See https://www.prnewswire.com/news-releases/providence-ventures-closes-on-second-150m-health-care-fund-300775045.html.
15. See https://www.labornotes.org/blogs/2020/04/ge-workers-protest-demand-make-ventilators.
16. See https://archive.thinkprogress.org/ice-raidsfollow-massive-sexual-harassment-settlementmississippi-plant-koch-foods-d95eb2720f67/.
17. See https://www.forbes.com/sites/mayrarodriguezvalladares/2020/05/05/paycheck-protection-forworkers-should-not-be-redirected-to-hotel-ownersoperators-and-investors/#6ac1263e2133.
18. See https://www.npr.org/2020/04/22/840678984/small-business-rescue-earned-banks-10-billion-in-fees.
19. See http://www.ufcw400.org/2020/03/05/safeway-workers-approve-strong-new-contractavoid-strike/.
20. See http://www.ufcw400.org/2019/11/06/report-private-equity-greed-threatens-safewayworkers-retirement/.
21. See https://medium.com/breaking-down-thesystem/collective-bargaining-with-wall-streetand-direct-fed-lending-4150ec3088f.
22. See https://theintercept.com/2020/03/16/coronavirus-capitalism/.
23. See https://jacobinmag.com/2020/06/amazon-racial-justice-worker-organizing-union.
24. See https://theintercept.com/2020/06/03/amazon-police-racism-tech-black-lives-matter/.
25. See https://cwa-union.org/national-issues/economic-justice-democracy/take-on-wall-street.
26. See https://www.bargainingforthecommongood.org/mapping-landing/.
[Sheri Davis-Faulkner co-directs WILL Empower and is the Senior Program Director with the Center for Innovation in Worker Organization (CIWO) at Rutgers' School of Management and Labor Relations. She worked with the SEIU District 82, Justice for Janitors Campaign, as a Union Representative for university workers as well as a Grievance and Arbitrations Coordinator.
Marilyn Sneiderman directs the Center for Innovation in Worker Organization at Rutgers' School of Management and Labor Relations bringing with her over 30 years of experience in labor, community, faith based, immigrant, and racial/gender justice organizing. She directed the National AFL-CIO's Department of Field Mobilization, where she helped launch the national "Union Cities" initiative.ed the National AFL-CIO's Department of Field Mobilization, where she helped launch the national "Union Cities" initiative.]
Thanks to the authors for sending this to Portside.