https://portside.org/2021-01-06/global-left-midweek-new-year-inventory
Portside Date:
Author:
Date of source:
Portside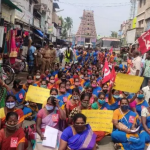 __________
New Year Inventory
Democracy / openDemocracy (London)
Feminism Inge Snip / openDemocracy
Labor Pavan Kulkarni / Peoples Dispatch (New Delhi)
Latin America / Global Voices (Amsterdam)
Europe / The Left in the European Parliament (Brussels)
Africa Alison Faupel and Andrew Wojtanik / African Arguments (London)
__________
Fighting for Human Rights in South Asia
India Ajoy Ashirwad Mahaprashasta / The Wire (New Delhi)
Thailand Pravit Rojanaphruk / Khaosod (Bangkok)
Philippines Jodesz Gavilan / Rappler (Pasig City)
__________
Cuba's New Currency
Samuel Arnold-Parra / Global Risk Insights (London)
Sweeping reforms to Cuba's currency and exchange rate systems will involve the unification of the country's current dual currency system. Nevertheless, such a change is easier said than done and will almost certainly be painful in the short term.
__________
Blockchains: Postcapitalist Future?
Hannes Gerhardt / Transnational Institute (Amsterdam)
Finding the political power to pursue a more just and sustainable economy is the hard part, but the tools to effectively execute such an economy are developing quickly.
__________
Political Left in Europe
English Left: No Future? Richard Seymour / Al Jazeera (Doha)
Dutch Parties Talking Alliance / NL Times (Amsterdam)
Parti Communiste Français Guillaume Roubaud-Quashie / Rosa Luxemburg Stiftung (Brussels)
Workers' Party of Belgium Peter Mertens / Jacobin (New York)
Sinn Féin Leader: "United Ireland This Decade" Mary Lou McDonald and Owen Jones / YouTube
__________
Abya Yala: South American Indigenous Meet
NewsClick (New Delhi)
A meeting of Indigenous organizations, social movements and trade unions from 11 countries of the region concluded with a call for the creation of a new regional integration mechanism: the Union of South American Nations of the People.