https://portside.org/2021-01-25/whos-funding-senates-sedition-caucus
Author: Sue Sturgis
Date of source:
Facing South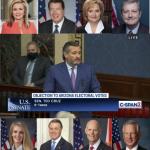 Number of U.S. senators, all Republicans, who announced beforehand that they would challenge the Jan. 6 certification of the presidential election won by Democrat Joe Biden, though they offered no evidence of fraud: 14*
Number of them who represent Southern states: 9
Even after the Jan. 6 riot at the U.S. Capitol involving pro-Trump protesters, who succeeded in halting certification for hours in what House Speaker Nancy Pelosi called a "shameful assault on democracy," number of Republican senators who voted against certifying the election: 8**
Of those eight anti-certification senators, number who represent Southern states: 5
Number of people who have died as a direct consequence of the anti-certification riot, which critics say Donald Trump incited while speaking at the preceding "Save America Rally" — among the dead a woman rioter shot inside the Capitol building by Capitol police, two men who experienced medical emergencies, and a Georgia woman trampled to death by the crowd: 5
After a Trump Pentagon appointee reportedly slowed the deployment of the D.C. Guard to assist the overwhelmed Capitol police, number of Capitol police officers killed by the rioters — who after the riot Trump called "very special" and told "we love you" : 1
Number of D.C. metro police officers who were also injured in the riot, including one who was repeatedly beaten and tazed by rioters: 56
Among the 16 senators in all who were part of the effort to overturn the presidential election, rank of lawyers and lobbyists among the top industry contributors to their campaigns, according to the latest data from FollowTheMoney.org: 1
Rank of real estate: 2
Of securities and investment: 3
Of oil and gas: 4
Excluding the senators themselves, three of whom were the biggest contributors to their own campaigns, rank of the Florida Republican Party among the top donors to the 16 anti-certification senators due to its generous support for Rick Scott, according to FollowTheMoney.org: 1
Among the top industry contributors to the Florida Republican Party, rank of real estate: 1
Of insurance: 2
Of the top PAC donors to the Florida Republican Party, rank of Walt Disney's: 1
Among the top contributors to the anti-certification senators, rank of the Republican Attorneys General Association (RAGA), which is chaired by Georgia Attorney General Chris Carr, and whose Rule of Law Defense Fund, led by Alabama Attorney General Steve Marshall, was one of the sponsors of the Save America Rally preceding the riot, along with Stop the Steal, Tea Party Patriots and Turning Point Action: 2
Days before the Capitol riot that RAGA's Rule of Law Defense Fund sent out robocalls urging people to march to the building to "stop the steal": 1
Of the nine members of RAGA's executive committee, number who serve as AGs in Southern states: 6
Among the top business contributors to the RAGA in the 2018 election cycle, rank of Anadarko Petroleum of Texas, now owned by Occidental, and Noble Energy, a Houston-based oil exploration firm now owned by Chevron, according to OpenSecrets.org: 1, 2
Rank of Koch Industries, the multinational conglomerate headquartered in Kansas, among RAGA's top donors in the 2018 cycle: 3
Rank of the Altria Group, the Virginia-based tobacco giant: 4
Rank of Blue Cross Blue Shield, a federation that provides health insurance for over 107 million Americans: 8
Among the top industry contributors to Sen. Ted Cruz of Texas, who along with Sen. Josh Hawley of Missouri played a leading role in the election decertification effort, rank of oil and gas: 1
Among the top business contributors to Cruz's Senate campaign, rank of Valero Energy, a fuel manufacturing and petrochemical company headquartered in San Antonio: 1
Date on which Yale School of Management professor Jeffrey Sonnenfeld held a meeting of high-profile CEOS and investors where they discussed withholding financial support from those objecting to the presidential certification process — including 139 in the House, 74 of them representing districts in Southern states***: 1/5/2021
Days after Sonnenfeld's meeting that Jay Timmons, CEO of the National Association of Manufacturers (NAM), a trade group with 14,000 members, condemned the rioters, Trump, and Republicans who "cheered on" the president's efforts to overturn the election results: 1
Amount NAM contributed to David Perdue, the only anti-certification senator whose campaign it backed: $12,800
Date on which the U.S. Chamber of Commerce also issued a statement decrying the violence at the Capitol, but without naming Trump or the anti-certification lawmakers: 1/6/2021
Amount the U.S. Chamber has contributed to the campaigns of the Senate's election deniers: $114,500
To date, number of major corporations that have said they will stop donating to members of Congress who tried to overturn the election, are suspending all giving for a period, or are examining their donation policies: 9****
* Sens. Marsha Blackburn of Tennessee, Mike Braun of Indiana, Ted Cruz of Texas, Steve Daines of Montana, Josh Hawley of Missouri, Ron Johnson of Wisconsin, John Kennedy of Louisiana, James Lankford of Oklahoma, and Kelly Loeffler and David Perdue of Georgia, as well as Sens.-elect Bill Hagerty of Tennessee, Cynthia Lummis of Wyoming, Roger Marshall of Kansas, and Thomas "Tommy" Tuberville of Alabama.
** Ted Cruz of Texas, Josh Hawley of Missouri, Cindy Hyde-Smith of Mississippi, John Kennedy of Louisiana, Cynthia Lummis of Wyoming, Roger Marshall of Kansas, Rick Scott of Florida, and Thomas "Tommy" Tuberville of Alabama.
*** Alabama: Robert B. Aderholt, Mo Brooks, Jerry Carl, Barry Moore, Gary Palmer, and Mike Rogers; Arkansas: Rick Crawford; Florida: Kat Cammack, Mario Diaz-Balart, Byron Donalds, Neal Dunn, Scott Franklin, Matt Gaetz, Carlos Gimenez, Brian Mast, Bill Posey, John Rutherford, Greg Steube, and Daniel Webster; Georgia: Rick Allen, Earl L. "Buddy" Carter, Andrew Clyde, Marjorie Taylor Greene, Jody Hice, and Barry Loudermilk; Kentucky: Harold Rogers; Louisiana: Garret Graves, Clay Higgins, Mike Johnson, and Steve Scalise; Mississippi: Michael Guest, Trent Kelly, and Steven Palazzo; North Carolina: Dan Bishop, Ted Budd, Madison Cawthorn, Virginia Foxx, Richard Hudson, Gregory F. Murphy, and David Rouzer; South Carolina: Jeff Duncan, Ralph Norman, Tom Rice, William Timmons, and Joe Wilson; Tennessee: Tim Burchett, Scott DesJarlais, Chuck Fleischmann, Mark E. Green, Diana Harshbarger, David Kustoff, and John Rose; Texas: Jodey Arrington, Brian Babin, Michael C. Burgess, John R. Carter, Michael Cloud, Pat Fallon, Louie Gohmert, Lance Gooden, Ronny Jackson, Troy Nehls, August Pfluger, Pete Sessions, Beth Van Duyne, Randy Weber, Roger Williams, and Ron Wright; Virginia: Ben Cline, Bob Good, Morgan Griffith, and Robert J. Wittman; and West Virginia: Carol Miller and Alexander X. Mooney.
**** 3M, Blue Cross Blue Shield Association, Citigroup, Commerce Bank, Deloitte, JPMorgan, Marriott International, T-Mobile, and Walmart.
(Click on figure to go to source. The spending data in this index comes from the National Institute on Money in Politics' FollowTheMoney.org website and the Center for Responsive Politics' OpenSecrets.org website.)
Sue Sturgis is the editorial director of Facing South and the Institute for Southern Studies.