https://portside.org/2021-05-18/media-bits-and-bytes-may-18-2021
Author:
Date of source:
Portside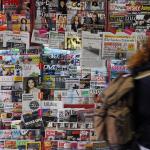 Covid and Western Media's Double Standard
By Brahma Chellaney
Project Syndicate
By trafficking in images of death, suffering, and private acts of mourning, Western media coverage of the COVID-19 crisis in India has broken one of the first rules of journalism. 
An Israeli air raid flattened a building housing residential apartments and the offices of news organisations, including Al Jazeera and AP, in Gaza.
Palestine Crisis and Social Media
By Murtaza Hussain
The Intercept
Since the first two Palestinian intifadas, camera phones and social media have changed the landscape of global outrage.
The western mass media's coverage of the so-called "conflict" in Israel-Palestine is so flawed as to turn upside-down the public's understanding of what is happening. 
The FBI confirmed that a Russian hacking group called DarkSide was behind a recent cyberattack that shut down Colonial Pipeline, the company that operates the largest fuel pipeline in the US.
By Robert Mackey and Travis Mannon
In the year since George Floyd's murder, conservative news outlets have endlessly hyped distorted stories about violence at Black Lives Matter protests. Key videos they used come from a tight-knit group of eight young journalists.
By Benjamin Wallace
New York Magazine
Inside the nasty battle between Silicon Valley and the reporters who write about it.
By Carole Cadwalladr
The Guardian
Maria Ressa an ex-CNN bureau chief, and now the founder of her own news organisation, Rappler, spent the past two years sounding a warning about what she'd seen happen in her native country, the Philippines. "Journalism has always been activism. Our goal is to hold power to account. That's always been part of the mission."
World Press Freedom Day in Myanmar
Since the military takeover, the regime has targeted journalists in an effort to suppress coverage of its lethal crackdowns on pro-democracy protesters, dragging the media landscape back to the pre-reform era.
Governments to Tackle "Extremist" Content
By Thomas Manch
Stuff
A second leaders summit was held for the Christchurch Call, an international effort to tackle terrorist and violent extremism content started by NZ Prime Minister Jacinda Ardern and French President Emmanuel Macron. They aim to curb radicalisation through tech companies' algorithms, which are seen as pushing extreme content to Internet users.