https://portside.org/2021-05-22/sound-supreme
Author: John Fordham
Date of source:
The Guardian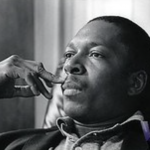 Many jazz musicians can tell you, as if it had happened only moments before, about the musical experience that changed their lives. For the French pianist Michel Petrucianni it was seeing Duke Ellington on TV at the age of four. For Keith Tippett it was a teenage trip to a West Country record shop, where he heard the cymbal crash that heralded Miles Davis's trumpet solo on So What. And for many thousands of big-time and small-time musicians, from the 1950s onwards, it was the haunting saxophone of John Coltrane, who would have been 75 this year. 
You would expect Coltrane's comet-like course to focus the attention of other sax players. Michael Brecker in the US and Jan Garbarek in Europe talk of his overpowering influence on their desire to play the instrument, and to push its boundaries far beyond Adolph Sax's 19th-century vision for marching bands, or the swoony substitute-violin sound for which early dance-band leaders used it. Garbarek took up the sax in his teens after hearing Coltrane on the radio. "That sound seemed to convey the spirit of the man," he says. "The fact that a sound could do that really turned me on." Brecker, meanwhile, praises not just Coltrane's music, but "his courage as a human being, which allowed him to make that music".
But if it was only saxophonists who had heard Coltrane's soulful message, he would never have become a household name. Listeners and all kinds of musicians rallied to his sermonising sound, accepting a melodic ferocity they might have found forbidding in other hands. His devotional four-part suite A Love Supreme, for all its long improvisations and bursts of fierce dissonance, was a best-selling album in 1965. Coltrane influenced such rock mavericks as Frank Zappa and Jimi Hendrix. Miles Davis said having him in his band was like hiring three saxophone players in one. 
John William Coltrane was born on September 23 1926 in Hamlet, North Carolina. His father was a preacher who died young, and at 13 the boy and his mother moved to Philadelphia. He studied clarinet at first, then alto sax, winning scholarships at the Ornstein School of Music and the Granoff Studios; after military service he began working with R&B bands. He switched to tenor sax while playing with Dizzy Gillespie between 1949 and 1951, and joined Davis in the mid-1950s, which brought him wide acclaim. He added his powerful sound to key Davis recordings, including Kind of Blue, and managed 18 months with the normally difficult Thelonious Monk. 
Coltrane studied constantly, probing the implications of harmony, stretching the possibilities for improvised melody, extending the range of the saxophone's upper register, and delivering marathon performances where a single tenor solo might last an hour. In 1960 he formed his most influential band with pianist McCoy Tyner, drummer Elvin Jones and bassist Jimmy Garrison, a quartet that dominated jazz until its dissolution five years later. He began to turn down engagements from late 1966, complaining of fatigue, and died of liver cancer, aged just 40, on July 17 1967.With its repeating chord-forms, steady swing, long solos and sometimes wilful avoidance of tunes, jazz is sometimes viewed as an ageing hipster's private language. But those who might proclaim themselves baffled by what the Rolling Stone Charlie Watts called the "toodly-toodly" tendency thrilled to Coltrane's first-person call to the spirit. When I heard him - first on Davis's Kind of Blue, and later when he was experimenting with split-note harmonics and the apparent impossibility of chord-playing on the sax - the impact of the sound was exactly as Garbarek described it. Not a technical feat (though it clearly was), not an interesting curiosity, not a stick of superior hipness to beat your friends with, but a sound that seemed to convey, more profoundly than a vibration in the air should permit, the essence of the person making it.
 
Coltrane's anniversary year has triggered more than usually enthusiastic repackaging by record labels. Online stores list dozens of Coltrane CDs, with A Love Supreme still near the top for popularity, Ken Burns's Coltrane compilation among the front runners, and a seven-disc box of live concert material just released. The occasion has also inspired concerts and tours by the biggest names in the business. Brecker, trumpeter Roy Hargrove and Herbie Hancock have just completed a 30-date US tour to celebrate three-quarters of a century of both Coltrane and Davis. 
"John's popularity seems to have increased," says his widow Alice, who married the saxophonist in 1966 and was the pianist in his last bands. "There are great artists who you don't hear about now - people whose legacy should be protected too. But that's not the case for John. His work is represented now in every kind of media - and as more people have heard him, it has become more widely known that this is so much more than just a technical or academic experience. The kind of music that he played - it's a creative music, all the time. And it's not like classical music, where we try to identify with the artist's interpretation of the composer's feelings. The music that John played was all creative, all from him, all the time."
That urgent intensity could be too much for some listeners - and toward the end of Coltrane's career it was too much for Tyner and Jones, who came to feel that their band leader's unflinching assault on conventional musical structures was testing the audience's tolerance to breaking point. Yet time has proved Coltrane right. Courtney Pine, one of the most popular and accessible saxophonists, will regularly unleash Coltranesque barrages of abstract multiphonics without audiences turning a hair. 
"Some critics used to say that John's music was nihilistic, and no one understands it," Alice reflects. "But the man is searching his soul, and in hearing him do that his listeners would identify with it. A Love Supreme changed a lot of those negative attitudes. When that came out, people went, 'Ohhh, so this is what he's talking about.' " 
Jones agrees. "They'd call John's music angry," he said recently, "but a sweeter man never walked on two feet in this whole world. Why did they hear anger when everybody else heard love?" 
According to Alice, a Buddhist who now teaches meditation in California, Coltrane was driven to play first by a fascination with the production of sound, and later by his interest in the meditational music and spiritual practices of the east. 
"He bought a harp," she recalls, "which I would sometimes play in the band, too. He investigated it, like he investigated everything. What are the mechanics of this instrument, what does it respond to? He'd notice if it was by an open window and a breeze would come in and sounds would come from it. Meeting one of the great musicians, Ravi Shankar, drew him toward the music and the spiritual dimension of that culture too. But he was open, he never preached. He would come in with books from China, books from Japan. He introduced me to Stravinsky's music. He had a wonderful appreciation of all music - and I never heard him criticise anyone."
Like too many musicians in an exploited industry and a racist era, in the 1950s Coltrane became addicted to heroin and alcohol. He had kicked both habits by the end of the decade, although his health was irreparably damaged, and by the time Alice entered his life he was looking for other diversions. "Spirituality transformed his life," she says. "As a youngster you carry with you what you see around you, and there was a lot of poverty in his childhood. He had difficulties, I know, and resorted perhaps to some release from them. But later on his life was about praying, and researching through music, to see if there was a better way. 'I want to use my instrument for good in the world,' he would say. 'Let it be an instrument for good - an instrument for peace.' "
Classic Trane
Live at the Five Spot: Discover! (Blue Note): Coltrane in a sensational but short-lived quartet with Thelonious Monk in 1957. With his harmonic sophistication and openness, Coltrane was one of the few saxophonists who could live with Monk's waywardness. 
Kind of Blue (Columbia): Miles Davis's 1959 classic, rarely out of the charts. Coltrane's hollow, haunting tone is as memorable a presence as Davis and pianist Bill Evans. 
Ascension (Impulse): Coltrane's big-band experiment. Fierce and sometimes overwhelmingly raw, it shaped free-jazz for bigger groups. 
The Complete 1961 Village Vanguard Recordings (Impulse): The Coltrane quartet in its early stages. The saxophonist is trying out personnel, but the sound that dominated 1960s jazz is taking shape. 
A Love Supreme (Impulse): Devotional in tone and suite-like in form, this 1964 session was one of the most celebrated of all Coltrane recordings - intense, incantatory and teeming with fresh ideas. 
Ballads (Impulse): The softer side of Coltrane. These 1962 recordings by his quartet are marvels of delicate nuance and evocative tone. 
Live Trane (Pablo/Universal): For those with stamina as well as cash. A new seven-disc set with 30-odd tracks, including previously unreleased accounts of classics such as Impressions, My Favourite Things, Blue Train and the beautiful Naima.