https://portside.org/2021-06-02/global-left-midweek-focus-latin-america
Author:
Date of source:
Portside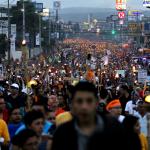 __________
The Overview
George Ygarza interviews Raúl Zibechi / Roar (Amsterdam)
From state violence and neoliberal extractivism to Colombia's general strike and Zapatismo: militant journalist Raúl Zibechi reflects on the state of Latin America today.
__________
The State of the Cuban Communist Party
Rafael Hernández / Links (Sydney)
Hernández shared a series of detailed observations for the online journal OnCuba. His considerations help the attentive reader to better understand the PCC, and some of the challenges it faces as an organization.
__________
Brazil's Left
Tricontinental: Institute for Social Research
The Brazilian left – which has been defeated in all of the great political battles of the past decade – aims to regroup and recreate its social base as it tries to regain the political stewardship of the country. What are the possibilities for engaging society in a way out of the crisis?
__________
Chile's Left
Noam Titelman / NACLA Report (New York)
The Left's victories on May 15 and 16 showed the strength of the generation that became politicized in the 2011 student protests. Many of them now will take office at the local level and will play a significant role in the drafting of the new Magna Carta.
__________
Honduras: Defending the Land
Grassroots International (Jamaica Plain MA)
Marianela Mejía Solórzano and her sister Jennifer, members of the Honduran Black Fraternal Organisation, OFRANEH, were detained on 3 March of this year. They are among the 32 OFRANEH members who are accused of "usurping" lands from the company Bienes y Raíces Juca SRL which plans to build real estate projects on ancestral territories.
__________
Ecuador: Women of the Amazon
Gabriela Ruiz Agila / openDemocracy (London)
"Most of us Amazonian women here are mothers," said Gloria Ushigua, president of the Pastaza Women's Association. "We spend time together with the land. We sow. We look for food. And that is why our mandate rejects oil exploitation."
__________
Venezuela's Electoral Dialogue
Ociel López / Venezuelanalysis (Caracas)
The National Assembly's appointment of a new National Electoral Council (CNE) leadership is an unexpected ray of light in Venezuela's dark political situation. Nobody imagined that the new CNE leadership would include opposition figures who have previously declared themselves as abstentionists or electoral boycotters.
__________
Colombia: Mothers on the Front Line
Natalia Torres Garzón / Toward Freedom (Burlington VT)
Women's presence in Colombia's national strike—both as activists and as victims—has caught the world's attention. Many have spoken out against police violence and sexual abuse during the current demonstrations. This, however, is not a new issue. Police, armed forces and illegal groups have used women's bodies as weapons of war for decades. 
__________
Peru: Urban/Rural Divide
Brendan O'Boyle / Americas Quarterly (New York)
Pedro Castillo's insurgent campaign for president has emphasized the vast gap in living standards between Lima and the countryside, a problem with roots going back to the conquest of the 16th century that has often periodically convulsed Peruvian politics ever since.  
__________
Video: Justice for the Missing in Mexico
Peoples Dispatch (New Delhi)
Hundreds took to the streets demanding justice for 43 students who have been missing since 2014, and the immediate release of the 19 students who were detained in Mactumactzá on May 19. It has been 80 months since 43 students of Ayotzinapa Rural Teachers' College were kidnapped after travelling to a protest.