https://portside.org/2021-06-29/international-gay-cinema-25-lgbtq-movies-see-around-world
Portside Date:
Author: Ryan Lattanzio
Date of source:
IndieWire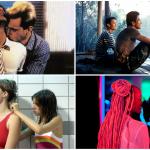 American movies and TV are making major strides in LGBTQ representation, but storytellers abroad are in many ways ahead of the curve, exploring sexuality and relationships with groundbreaking technique, and in ways often coded and ahead of their time.
From Rainer Werner Fassbinder to Pier Paolo Pasolini, the fluidity of human sexuality has long fascinated international filmmakers unafraid to bust taboos. More recently, a director like Céline Sciamma constructed a bracing picture of an intimate female relationship with "Portrait of a Lady on Fire," though looking back at her career, she's long explored the nuances of female sexuality.
From the 20th Century up until just this past year with Sweden's Best International Feature Oscar submission "And Then We Danced," below is a sampling of some of the best international LGBTQ cinema out there — including alternative entries from popular filmmakers you may have missed.
"And Then We Danced"
In Swedish filmmaker Levan Akin's intimate tour-de-force, a young man comes to terms with his sexuality amid the hyper-masculine world of traditional Georgian dance. Framing his gentle coming-of-age tale around such a traditional piece of Georgian culture, Akin has made an inherently political film, rendered in sensitive terms with a celebratory spirit. With distinctive features and a lithe physicality, lead actor Levan Gelbakhiani toggles effortlessly between child-like innocence, explosive anger, and wisdom beyond his years. His riveting performance is indisputably the heart and spine of the film. Because of the sensitive subject matter, Akin and his team had to use guerilla filmmaking tactics to shoot in the conservative country, giving the film a gorgeous cinema verite quality. The film has stoked protests in Tbilisi, where it was shot, proving that queer filmmaking is still a political act. —JD
"Bad Education"
"Bad Education" is a haunted hall of mirrors — explicit, deeply troubling, and unbearably sexy. (If you're not chafing over Gael García Bernal in either of his dual roles, you don't have a pulse.) Almodóvar never shies from playing with story structure, and here deploys the metanarrative technique to create a poison-darted valentine to the movies, and to desire itself. —RL
"Beau Travail"
Denis Lavant is a monolith of repression who self-destructs in Claire Denis' loose adaptation of Herman Melville's novella "Billy Budd." He plays a French Foreign Legion Officer reminiscing about his time in Africa, uprooted by the arrival of an alluring recruit (Grégoire Colin), sowing jealousy and desire. A recent Janus Films restoration of this 1999 classic helps Agnès Godard's sensuous cinematography pop, especially in the iconic last scene, a solo dance performed by Lavant to Corona's '90s club favorite "Rhythm of the Night." —RL
"BPM (Beats Per Minute)"
Director Robin Campillo and co-writer Philippe Mangeot mine their experiences on the front lines of AIDS activism group ACT UP in 1990s Paris in this gutting look into how the epidemic affected a group of friends, protesters, and lovers. Winner of the Cannes Grand Prix in 2017, "BPM" eschews agitprop by grounding its narrative in the relationships between the characters, including HIV-positive Sean (Nahuel Pérez Biscayart) and negative Nathan (Arnaud Valois). A tender, private vigil the two share as Sean succumbs to the disease is one of the great send-offs in movies. —RL
"The Duke of Burgundy"
Peter Strickland's stylish, BDSM-skewing "The Duke of Burgundy" stars Sidse Babett Knudsen and Chiara D'Anna in a complex jockeying for psychosexual power. It's a tender love story trapped in an arthouse horror movie, an elegant study of the psychological and physical debasement that accompanies desire, as the relationship between a middle-aged butterfly expert Cynthia (Babett Knudsen) and her servile companion Evelyn (D'Anna) goes to compulsively watchable extremes. —RL
"End of the Century"
What place does romance have in the age of online dating and casual hook-up culture? The next one-night stand could be the love of your life, or you could never see them again. When you can order the next pretty thing to your door, is it possible to make a real connection? In Argentinian filmmaker Lucio Castro's stunning feature filmmaking debut, "End of the Century," two men meet-cute from a balcony and soon discover a mysterious familiarity. —JD
"A Fantastic Woman"
Sebastián Lelio's 2017 "A Fantastic Woman" put the Chilean filmmaker on the map when it won the Academy Award for what was then known as Best Foreign Language Film. Starring Daniela Vega, it's also a radical story about a transgender woman, named Marina, who bravely stands up to overbearing scrutiny from her recently dead partner's surviving family members, who insist they don't owe her anything. "A Fantastic Woman" proved instrumental in Chile in lifting entrenched discrimination against trans people, and has also made Vega one of the most influential trans women in the world. —RL
"Fire"
The first entry in Deepa Mehta's "Elements" trilogy, to be followed by "Earth and "Water," broke ground and ignited protest in 1998 for being one of the few Bollywood movies to depict a queer relationship. The film centers on two Indian sisters-in-law, Sita (Nandita Das) and Radha (Shabana Azmi), who are chained in loveless, arranged marriages and in turn fall for each other. "Fire" hugely challenged middle-class, conservative society in the place that, for many audiences, it hit the most: home. —RL
"The Handmaiden"
Park Chan-wook's twisty (and very erotic) thriller transports a Victorian gothic aesthetic to Japanese-occupied Korea in adapting Welsh author Sarah Waters' novel "Fingersmith." Explicit but never exploitative, "The Handmaiden" tangles a thief, an heiress, and a con man, who are all one-upping each other amid a web of psychosexual mind games, with Kim Tae-ri and Kim Min-hee balancing the film's constant teetering between revenge tale and love story. —RL
"Happy Together"
Tony Leung and Leslie Cheung chart the highs and lows of a toxic, tumultuous relationship in Wong Kar-wai's 1997 "Happy Together" which, in its visual expressiveness and New Wave rhythms, resembles the work of a filmmaker discovering cinema for the first time. Argentina proves an evocative setting for the story of Ho and Lai — with the Iguazu Falls an especially vivid backdrop — whose break-ups and make-ups make for compelling cinema even as you wish they would just walk away from each other. Christopher Doyle's dazzling cinematography delivers one of the most sensuous Wong movies ever. —RL
"The Heiresses"
Bearing a lovely resemblance to Sebastián Lelio's 2013 film "Gloria," "The Heiresses" follows one woman's mid-life sexual reawakening in painstaking detail. When her partner goes to jail for fraud, Chela (Ana Brun) is forced to sell many of her family heirlooms, and begins driving a taxi for the local neighborhood women. Under Paraguayan writer-director Marcelo Martinessi's deft hand, Chela transforms from a sullen recluse to a fully alive human with her own desires and needs. —JD
"Les Rendez-vous d'Anna"
Belgian director Chantal Akerman resisted being labeled as a queer filmmaker, though her sensibilities closely align to that school of thought in "Les Rendez-vous d'Anna." Another spare drama that plays out like a long night of the soul from the director of "Jeanne Dielman," this 1978 masterwork is about a filmmaker named Anna's profound sense of loneliness as she struggles to make connections with former lovers and acquaintances. A moment in which she confides in her mother about a lesbian encounter is the film's most private and personal. —RL
"Love Is the Devil: Study for a Portrait of Francis Bacon"
English filmmaker John Maybury never topped this grotesque, horrific, and brash biopic of the life of painter Francis Bacon, here portrayed as a narcissist, soul-sucking decadent by Derek Jacobi. Tumbling into his life (and quite literally into the surreal opening scene of the movie) is George Dyer, a handsome but tragic thief played by Daniel Craig. Francis offers him shelter, riches, and a warm bed, but their courtship proves toxic and mutually parasitic. It's based on the Bacon biography by Daniel Farson, "The Gilded Gutter Life." That's an apt classification for Bacon's life as lived in this beautifully morbid horror-romance that looks and moves like one of the artist's macabre paintings. —RL
"Manji"
The Japanese novel "Quicksand" by Jun'ichirō Tanizaki has been adapted four times, beginning with this 1964 version directed by Yasuzo Masumura. Sex, lies, adultery, obsession, and betrayal collide in this stylish melodrama about a bored, childless housewife who falls for a beautiful model, sparking an intense relationship with perilous consequences. —RL
"My Beautiful Laundrette"
Stephen Frears' British classic stars Gordon Warnecke as a young Pakistani man who takes over an old laundromat from his uncle in hopes of turning the business around. But when he is attacked by a racist gang, he reignites a relationship with their leader, his former lover played by Daniel Day-Lewis in one of his breakout roles. Frears' film confronts all manner of taboos, not only in terms of the gay relationship at its center, but also the entrenched xenophobia and nationalism that challenge their bond. —RL
"O Fantasma"
João Pedro Rodrigues's bleak and unsparing erotic drama from 2000 warps into a disturbing nocturnal landscape home to dark and depraved sexuality. Ricardo Menses plays Sergio, a trash collector by day who cruises the streets at night in a black rubber suit, leading him down increasingly dark paths. This hopeless and even sadistic movie was labeled as too detached at the time, but it's a fascinating look into the underbelly of human sexuality with an atmospherically creepy tone. —RL
"Querelle"
Rainer Werner Fassbinder's final howl of anguish from the soul was 1982's "Querelle," his last and possibly gayest movie. It's an adaptation of a novel by French libertine and gay icon Jean Genet, settling into a French port city where a madame played by Jeanne Moreau runs the world, and sailors engage in explicit sex acts that turn violent. Brad Davis, who would die from HIV-related complications three years later, is perfectly cast as the title character, a criminal in love who, much like Genet and Fassbinder, seals his own tragic fate. —RL
"Rafiki"
The film that made waves when it was banned in its home country despite a Cannes debut, this tender queer romance pulses with bight colors and the electric butterflies of young love. Boasting nuanced performances from two newcomers, Wanuri Kahiu's assured debut feature is an important reminder of the struggle many still face to live out and proud. —JD
"Stranger by the Lake"
Alain Guiraudie's sexy and scary "Stranger by the Lake" has earned criticisms for conflating homosexuality with criminality, but it's hard not to be drawn into the world of a nude beach that serves as a regular cruising spot for lonely gay men. Franck (Pierre Deladonchamps) ignores all warning signs telling him not to fall for Michel (Christophe Paou), a handsome, Burt-Reynolds-meets-Tom-of-Finland type, especially after Franck witnesses a murder by drowning in the lake. Lust can be a dangerous, terrible thing. —RL
"Taboo"
Nagisa Ōshima shocked the international arthouse scene with the sexually brazen "In the Realm of the Senses" in 1976, but revisited the dangerous world of sexual politics more than 20 years later in 1999's "Taboo." Set during the final years of the Edo period in Japan, "Taboo" centers on an androgynous-looking samurai (played by Ryuhei Matsuda) whom his commander suspects to be gay. As cruel and hypnotic as any Oshima film, "Taboo" was also his last movie, ending his career on a mysterious final note. —RL
"Teorema"
Pier Paolo Pasolini's more intimate dramas are often overshadowed by the grand ambitions of adaptations like "The Decameron" or "The Canterbury Tales," or the epic panorama of human depravity that is "Salo." "Teorema" is one such smaller scale, but no less impactful Pasolini outing, a kind of cracked fairytale about a beautiful man who drops out of nowhere into the lives of a bourgeois family and scrambles their psyches through encounter sexual and otherwise. The film's portrayal of sexuality as a fluid constant was ahead of its time for 1968, and Terence Stamp is impossible to resist as the mysterious and gorgeous "visitor." —RL
"Tropical Malady"
Like several Apichatpong Weerasethakul films, "Tropical Malady" is split into two halves that don't immediately quite resemble one another, until they do. In the first, Keng (Banlop Lomnoi) is a soldier, stationed in rural Thailand during a mysterious killing spree of cows, who meets and falls for Tong (Sakda Kaewbuadee). They embark on a bucolic romance far removed from a society that prohibits their love affair. In the second, Keng's character is reinvented as another soldier who loses his way in the woods, and becomes beguiled by the spirit of a tiger shaman, played by Kaewbuadee. The movie becomes two different ways of looking at the same relationship. It's a maddening, luxuriously beautiful classic. —RL
"Viva"
Paddy Breathnach's Spanish-language drama was Ireland's entry for the Best Foreign Language Film Oscar at the 88th Academy Awards. It made the shortlist, but pity it didn't go all the way because this inspiring movie provides needed representation for young gay people struggling to come out. Set in Cuba, the film centers on Jesus (Héctor Medina), a young gay hairdresser whose aspirations of becoming a drag performer are upended by the return of his conservative (and not to mention estranged) father. —RL
"Water Lilies"
Everyone knows "Portrait of a Lady on Fire," but Céline Sciamma's assured screenwriting and directing debut from 2007, "Water Lilies," established her reputation for intimate portraits of female relationships and sexuality. The title in French means "Birth of the Octopuses," an evocative name for a tale set during a torrid summer in France where young Marie (Pauline Acquart) yearns to get close to the rebel of the swim team, Floriane, played by "Portrait of a Lady on Fire" star Adèle Haenel. —RL
"The Wound"
John Trengove's bracing South African psychological drama from 2017 made the shortlist for the Best Foreign Language Film Oscar at the 90th Academy Awards. "The Wound" opens a rare window into Ulwaluko, an ancient initiation into manhood practiced throughout South Africa, that's complicated by the closeted tensions between three men whose secret relationships turn explosive. Considered a milestone in the country's cinema, "The Wound" traces how lust boils over in a taboo climate. —RL
____________________
[Ryan Lattanzio is the Weekend Editor for IndieWire, covering film and television news out of LA. He has written about film for more than a decade, having previously served as the Staff Writer/Editor for the IW blog Thompson on Hollywood, covering festivals including Cannes, Toronto, and Sundance. He also served four years as Editor of Communications at the American Film Institute, supervising AFI's editorial production and authoring books on such luminaries as Diane Keaton and John Williams. Previously, he wrote for Bay Area newspapers, including the San Francisco Chronicle and SF Bay Guardian, and was The Daily Californian's Film Critic. He holds a BA in English Literature. Follow him @ryanlattanzio.]
Jude Dry contributed to this story.