https://portside.org/2021-07-28/simone-biles-just-demonstrated-true-champion-mind-set
Author: Lindsay Crouse
Date of source:
The New York Times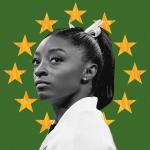 What kind of champion withdraws at the Olympics?
One who can recognize her limits and stop before she crashes into them. And so in dropping out of the team gymnastics competition at the Tokyo Olympics, Simone Biles, the best gymnast America has ever produced, issued a statement as powerful as anything she's done in competition: She said "enough."
After an unusual underperformance at the preliminaries — by her own high standards — Biles realized she could not execute her planned vault in the team finals. After some deliberation, she bowed out.
"At the end of the day, we're human, too, so we have to protect our mind and our body rather than just go out there and do what the world wants us to do," she told reporters after the competition, in which her team earned Olympic silver medals.
Biles joins a growing number of younger athletes, including her fellow Olympian the tennis star Naomi Osaka, who are pushing against the traditional American narrative of gold at all costs, including the expense of their own mental or physical health.
There was, predictably, plenty of pushback. Critics on Twitter lamented that quitting is the new winning, casting it as weak and lazy Generation Z behavior. But in a social-media-driven world, young elite athletes have a new power, too: They have more control of their own careers, and the narratives around them.
Obviously, everyone wants to win. So it's exciting that many of these stars are also recognizing that being the greatest means knowing your own variable limits and when to push through the pain — and when not to force it. How many Olympians have we seen push, persevere and then crumble when the Games are over? Some compared Biles unfavorably against Kerri Strug, the teenage gymnast who landed a vault on a torn ankle to help her team win the 1996 Olympics. (It later turned out that this heroic performance was unnecessary; America already had enough points to win.)
In fact, that's a worthy comparison, but not in the way Biles's critics contend. While it was roundly applauded at the time, and it still is often held up as a moment of Olympic glory, what Strug went through was horrific — hurting herself while America cheered. She never competed professionally again.
This is what change looks like: choice.
Biles has spent her entire career defining her own boundaries — usually by pushing them. She won the national championships with broken toes and the world championships with a kidney stone. She survived sexual assault at the hands of her own team doctor, Larry Nassar — and instead of running away, she stayed and leveraged her fame to push for progress. Her desire to be a symbol for change is part of why Biles has stuck around to compete in these Games at all, she has said.
So Biles knows how to be tough. But, of course, the burden of that toughness gets heavy. This week, she posted on her Facebook page, "I truly do feel that I have the weight of the world on my shoulders at times."
The pressure on athletes may be more intense now than it's ever been. It's a time when any armchair sports analyst can dissect your form, question your commitment or remind you that the goblins sowing doubt in your mind may be right.
Biles said that she dropped out for mental health reasons, in addition to physical ones. But they're not so different — especially when you're performing moves as difficult as those Biles has wowed crowds with lately. (Some of these moves were so potentially dangerous that judges scored them lower to discourage other, less-skilled, gymnasts from attempting them.)
And sometimes the best thing an athlete can do for her performance is to take a break. Especially when you're in a rut, quitting to regroup can be the fastest way to refresh and re-energize. After two disappointing performances in a row, Biles was wise to stop and refresh, said Steve Magness, a performance coach for Olympians and the author of a forthcoming book, "Real Toughness."
"We have a fundamental misconception of what it means to be tough," Mr. Magness told me. "It's not gritting our teeth through everything; it's having the space to make the right choice despite pressure, stress and fatigue."
It's impossible for most of us to understand the kind of pressure that elite athletes face, Mr. Magness said. And in her decision to stand down, Biles offered a master class in how to deal with that pressure. If anything, she probably only helped her team by ignoring ego and staying out when she recognized she wasn't capable of performing at her high standard.
"Performance is all about self-awareness," said Mr. Magness. "You are trying to match your skills on that day with the demand of the event. So Simone is aware when to go for broke and pull out the big difficulty tasks, but she also knows when she is slightly off and needs to scale it down slightly."
It's worth remembering: Simone Biles is not a viral gif flipping through your phone. She may be wearing a U.S.A. leotard, but she doesn't work for us. No matter what hopes and dreams we invested in her, she earned her place, and she gets to decide. Athletes, and their physical and mental health, are not commodities. Biles knows that — and is not willing to be disposable. Rather, she is investing in her longevity.
Despite all the hullabaloo and recriminations against Biles for not competing, the American team performed brilliantly and took silver. Biles still has the opportunity to perform in the individual competition. Rather than sulking, she cheered for her teammates from the stands, hugged the gold-medal-winning gymnasts from Russia and proudly posted a picture of her teammates smiling with their medals on her Instagram feed.
Ultimately, this is just sports. As Biles herself said after the competition, "there's more to life than gymnastics." These young women and men have extraordinary talent and perform under incredible pressure, but they are not superhuman. We have no right to expect them to be.