https://portside.org/2021-08-14/kareem-abdul-jabbar-what-nba-championship-means-me
Author: Kareem Abdul-Jabbar
Date of source:
Jacobin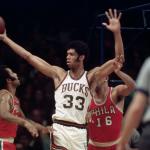 The Milwaukee Bucks won the 2020-21 NBA championship, and I couldn't be happier for my former team's success. It's especially gratifying to me because this is their first championship since 1971, when I played for the Bucks and we won the NBA championship.
Although winning is exciting, fulfilling, and pretty much everything you imagine it would be, I'm also well aware that whether in 1971 or 2021, an NBA championship is often about more than just a team hoisting a shiny gold trophy. It can also be a reflection of the country's zeitgeist with all its cultural, social, and political turmoil.
Why is basketball different from all other sports leagues in embodying America's social conscience? Perhaps because 83.1 percent of the players and 60 percent of the fans are non-white, making it the only major North American sport in which the majority of fans aren't white. This diversity might make basketball players and fans more sensitive to the urgency and consequences of battles over social and economic justice.
In 2020, the Lakers' NBA Finals win came during a national pandemic, the most contentious national election in recent history, and the largest protest movement in United States history. Between May 26 and June 22 of 2020, up to 26 million Americans marched in support of Black Lives Matter in over 4,700 separate protests. At the same time, millions were sick and hundreds of thousands were dying from COVID-19. And democracy itself seemed more fragile than ever as a sitting administration attempted to undermine voting rights, punish immigrants, and endanger the health of Americans.
When the Lakers won Game 6 on October 11, it felt like the triumph of American perseverance and ingenuity because the NBA had successfully MacGyvered a bubbled athletic community to make possible a basketball season. Most of us were in lockdown in our homes, so watching elite athletes performing reminded us of the resilience of the human body.
It also felt like a victory for athletes being supported for speaking out as the NBA embraced social justice by allowing players to express beliefs on jerseys, kneel for the national anthem, and put "BLACK LIVES MATTER" on the courts. Despite the naysayers, NBA commissioner Adam Silver declared that there was no data indicating that fans were tuning out as a result of the league's "woke" attitude. So when we celebrated the Lakers' victory last October, we were cheering for a lot more than a final score. We were embracing hope.
When the Bucks Were First Champions
In 1971, we were in the midst of civil unrest in America. The Vietnam War deeply divided the country. There were protests against the war, against racism, against sexism. The year before, the Ohio National Guard shot to death four protesting students and wounded nine others. A month before our Finals, the Weather Underground detonated a bomb in the US Capitol Building men's room.
And we played basketball.
What did it feel like to play basketball during all this civil unrest? It felt like we were helping to keep the lid on, to give people something to cheer for rather than just protest against. This wasn't to minimize the righteous need for those protests — I had participated in some myself — but to remind everyone that life was a balance of joy and sorrow and that it was our job to bring some of the joy.
I was especially determined to bring the joy that year to the people of Milwaukee. The year before we had lost an important game to the New York Knicks, and I was feeling a bit glum afterward. It was my rookie season, so I took things a bit harder then.
The team got on our plane and landed in Milwaukee around 1:30 in the morning. We felt defeated and weary as we shuffled off the plane only to find a crowd of a couple hundred fans cheering us on, waving signs that said, "Next Year!" The sight of them enthusiastically cheering as we got off the plane despite our loss inspired us to deliver the next season.
Cynics who think we play only for the paycheck don't understand the symbiotic dynamic between teams and fans, the responsibility we feel toward them. Without them, the game is about ego; with them, it's about community.
Our path to the championship that year was as smooth and direct as the flight of an arrow. We were the Dream Team: Me, Oscar Robertson, Bob Dandridge, Jon McGlocklin, Bob Boozer, Greg Smith, and Lucius Allen. We ended the season fourteen games better than the second-place team. We finished first in points per game, assists per game, field goal percentage, offensive rating, and in defensive rating.
We had expected to play the Knicks, which I was hoping for because I knew Willis Reed wouldn't have a chance of containing me. But the Baltimore Bullets won their conference title, and we faced them. In the Finals against the Bullets, we were never down between quarters or at halftime and swept them in four games. It was only the third year of the franchise, as well as the first Western Conference champion since 1958. We had made history in many ways.
The Bucks weren't able to repeat their victory over the next few years. In part, this was due to replacing Greg Smith with bigger power forwards whose size never compensated for Greg's talent. In 1974, we got another shot at the championship, losing the Finals in seven games to the Boston Celtics. It was the last time the Bucks were in the Finals until 2021.
Shortly afterward, I decided it was time for me to look elsewhere to play. Milwaukee had been great, and I'd hoped I had paid back the fans for their support with a championship and a lot of exciting games. But I wanted to live in a larger city that was more culturally and ethnically diverse. And I wanted to be able to expand my own game, see what I was capable of with other players. I was well aware how short the lifespan is of an NBA player and wanted to be as active as possible in forging my own career.
I told owner Wes Pavalon that I wanted to leave, and he couldn't have been more supportive. Aware that I had only a year on my contract before I would become a free agent, he made a deal with the Los Angeles Lakers. I was happy, he was happy, the Lakers were happy.
But things might not have been so cordial if not for my Bucks teammate Oscar Robertson. In 1970, while president of the National Basketball Players Association (NBPA), Oscar sued the NBA for free agency. This would allow athletes to play for teams they wanted to and to place their services up for bid. Until the lawsuit was settled in 1976, two years after Oscar retired, players were basically indentured servants to their teams.
Kareem Abdul-Jabbar is the NBA's all-time leading scorer. During his twenty seasons in the league, he won six league championships and MVP awards.