https://portside.org/2021-09-14/striking-cookie-workers-refuse-crumble
Portside Date:
Author: Roberta Wood
Date of source:
People's World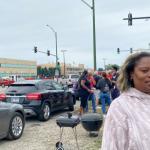 CHICAGO—"We're just tired!" April Flowers-Lewis told a rally in support of striking Mondelez workers. It's not hard to see why the folks who make the nation's cookies and crackers are exhausted and fed up.
All through the pandemic, Flowers-Lewis, 48, and her co-workers, members of Bakery and Confectionary Workers Local 1, have been on their feet up to seven days a week, 16 hours a day baking and packing Wheat Thins, Chips Ahoy, Nutter Butter, Velveeta, and Animal Crackers here at what was the historic Nabisco plant on this city's southwest side.
Snack consumption during the pandemic skyrocketed; the plant's owner, multi-national corporation Mondelez, took in $5.5 billion in profits in the second quarter of 2021, according to a report in Salon. The median average employee compensation is $31,000 a year. On the other hand, CEO Dirk Van de Put received 548 times more—$17 million in total compensation in 2020.
The company's profits are indicative of the surge in snack purchasing over the course of the pandemic. Since the start of the pandemic, 58% of consumers have been snacking more than they were previously, one grocer reported to NielsenIQ, a retail data platform.
To maintain the flow of profits pouring in from the increased demand, managers at Mondelez have been moving workers from traditional 9-to-5 schedules, sometimes to 12- and 16-hour shifts. However, officials have made no move to recall the hundreds of workers laid off when the company moved the plant's Oreo production to Mexico in 2015. Mondelez, headquartered in Deerfield, Ill., has workers in the Asia Pacific region, Europe, the Middle East and Africa, Latin America, and North America.
"The company just refuses to hire more workers," says Flowers-Lewis, "They'd rather work us to death than pay the benefits for more employees." She has worked at the former Nabisco plant for 21 years and is the first shift steward in the plant's packing department.
Mondelez has only owned the plant since 2012, but Flowers-Lewis's family ties go back generations. Her grandmother, Rosetta Tudor, worked as a machine operator making saltine crackers for decades before retiring in the 1990s just as Flowers-Lewis was starting her career.
First shift starts at 7:15 am and should end at 3:15 pm when workers should be able to go home, pick up their kids, grab dinner, and get a good night's rest. But instead, the company demands the right to add a second shift and keep the worker till 11:15 pm. This could happen seven days a week, Flowers-Lewis explains.
"All you can do is go home, take a shower, grab something to eat, and fall in bed."
Exhaustion from working like this throughout the pandemic no doubt contributed to the high numbers of illnesses and even fatalities, many workers believe. At one point, she said, it seemed like the whole Velveeta line was sick. Many sick people still came to work. "They were scared of getting fired."
Many members of the workforce are parents. What if you don't have a babysitter to cover for you? "That's your problem," Flowers Lewis explains bitterly.
Mondelez enforces a point system which assesses points for workers who can't—or won't—work the overtime. Points lead to disciplinary action—suspension or even firing.
She notes that the managers who enforce the attendance policy can work comfortably from home. "They don't care!" she says.
April Flowers-Lewis speaks on the picket line outside the Chicago plant owned by Mondelez. | Roberta Wood / People's World
But the work in the plant has to be done in person, and it's hard for an outsider to believe someone could stay on their feet and do it for even one 16-hour shift, let alone day after day.
Flowers-Lewis describes her job as a utility operator in the Wheat Thins Department. Original, Multi-Grain, Ranch, Reduced Fat, Low Sodium—the crackers arrive in boxes from the bakery department. "Our job can be hard but we make it look easy," she says with a smile. The boxes come down chutes and are then scanned by metal detectors. The robots that pick up the boxes with suction cups are prone to jamming or crushing, and Flowers-Lewis and her crew quickly unjam them and clean up.
When robots do the work, they set the pace, and workers have to keep up. It can be exhausting even when your team works together like the first shift packing group. It's not all routine: When the box size changes, the whole crew of eight or so workers has to re-set the settings on the machinery, then work out the glitches. The crew is made up of men and women of all nationalities, she says with pride.
BCTGM workers are on strike in six facilities across the country. The union lists several ways to support the workers, including joining a picket line, donating to the strike fund, and spreading the word on social media.
The workers have been on the picket line for over three weeks. A Labor Day weekend rally really lifted their spirits, Flowers-Lewis said. Pro-union spirit is high in this community where the Nabisco plant has deep historic roots. Horns of cars passing down South Kedzie Avenue during the rally were unanimous blaring their solidarity. Even a passing funeral procession joined in the chorus. The workers bowed their heads in respect. "The deceased must have been a union man," one striker told this reporter.
Flowers-Lewis is clear about what's fueling the anger behind the strike: Mondelez needs to hire more people and end the forced overtime.
Support the striking Mondelez workers.
Roberta Wood is a retired member of the International Brotherhood of Electrical Workers and the Coalition of Labor Union Women. Wood was a steelworker in South Chicago, an officer of Steelworkers Local 65, and founding co-chair of the USWA District 31 Women's Caucus. She was previously Secretary-Treasurer of the Communist Party. Currently, she serves as a Senior Editor of People's World.
===