https://portside.org/2021-09-20/carpenters-union-halts-work-amazon-microsoft-google-and-facebook-expansions-seattle-area
Author: Mike Lewis
Date of source:
GeekWire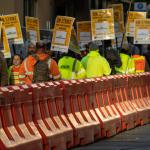 At 6 a.m. Thursday, 2,000 Northwest Carpenter Union members walked off the job and began picketing at four major job sites, including Microsoft expansions in Redmond and Sammamish; Google and Amazon projects in Bellevue Plaza, and Facebook's Building X in Redmond.
Evelyn Shapiro, the union's executive secretary-treasurer, said the affected sites were not randomly chosen. In the push for better wages and benefits, the union looked at companies "that are making billions," she said.
Specifically, the union is striking against the contractor consortium, the Associated General Contractors, and not the tech companies themselves. Like the unions, the AGC negotiates the agreed-upon wages for the trades at union constructions sites throughout the area.
The strike began after the existing, three-year labor contract expired Wednesday night. The union is seeking a 20.4% wage-and-benefit increase over the next four years, along with larger employer contributions to health care, parking and pension, and stronger harassment and discrimination protections, among other items. Current pay is $46.92 hourly for carpenters; $47.17 for piledrivers; and $48.42 for millwrights.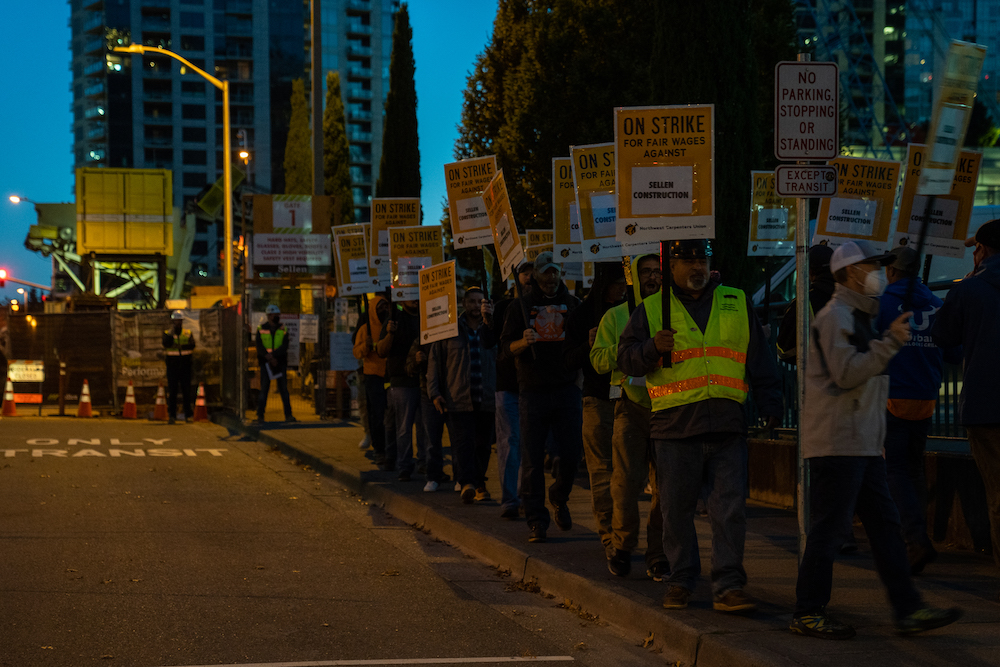 "It's enormously expensive for our union members to work in Bellevue and Seattle," Shapiro said, adding that simply paying for parking near job sites can set an employee back $50 every day. "Our members carry heavy tools from site-to-site. We can't just hop on mass transit."
The strike likely will bring many of the large projects to a standstill as other labor unions often choose to not cross a picket line when one of the on-site trade unions strike. Shapiro said by the end of the day Thursday, thousands of workers will halt work on construction sites in the region.
Labor agreements prevent union carpenters from striking at many projects involving public money, including current work sites such as Climate Change Arena, the Port of Seattle, Sound Transit and Seattle Schools.