https://portside.org/2021-11-03/global-left-midweek-november-3-2021
Author:
Date of source:
Portside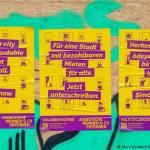 __________
Sudan Explodes
Resistance is Organizing  / Dabanga (Khartoum) 
Open Letter to African and World Leaders  40 organizations / The Africa Report (Paris)
Background  Muzan Alneel / Review of African Political Economy (London)
__________
Successful Campaigns!
Brazil/US: Stop Land Grabs Coalition  Marianna Olinger / Waging Nonviolence (Brooklyn)
Berlin: Deutsche Wohnen Expropriation Referendum  Martin Neise / Rosa Luxemburg Stiftung (Berlin)
London: Coal Action Network  Isobel Tarr / New Internationalist (Oxford)
__________
Three Big Questions For the European Left
Cornelia Hildebrandt and Marga Ferré / transform! Europe (Vienna)
The questions are: Can the left make use of a window of opportunity for interventions in favour of social and ecological transformation? How can we organise without the support of huge mass movements against austerity policies? How do the parties of the radical left succeed in linking national and European political approaches?
__________
World Peace Congress 2021 
Reto Thumiger / Pressenza (Quito)
An interview with Reiner Braun, Executive Director of the International Peace Bureau.
__________
Egypt's Sexual Revolutionaries
Mona Eltahawy / African Arguments (London)
The barricades of today's sexual revolution are not to be found in the squares that reverberated with chants ten years ago. They are, instead, to be found on social media accounts that can be accessed by millions from the privacy of home, that place from which all tyrants spring and that is most in need of a revolution.
__________
Why Communists Are Making Putin Nervous
Fred Weir / Christian Science Monitor (Boston)
Boris Kagarlitsky says Russian authorities are scared and are intensifying the crackdown against a party – the KPRF – they had tolerated for the past two decades because they know Russian history. Top-down, bureaucratic states of the type Mr. Putin has reinvented tend to collapse, often quickly and unexpectedly.
__________
Barbados Leaves the Empire
Free At Last?  Garth Patterson / Barbados Today (Lodge Hill)
A Voice for Climate Action  Aaron White / openDemocracy (London)
__________
Israel/Palestine, Human Rights and Terrorism
Jonathan Cook / Middle East Eye (London)
The indications so far are that Israel plans to construct a murky narrative for western capitals based on supposedly secret evidence tying human rights organisations financially to the Popular Front for the Liberation of Palestine. Some staff in these human rights groups have an ideological affiliation with the PFLP – and for good reason.
__________
How Japan's Communist Party Views China's
Shaun O'Dwyer / New Bloom (Taipai)
Today, as much of the East Asian left outside China remains divided, marginalized and demoralized, and the Anglophone left's potential for organized opposition to the Chinese Communist Party's repression is compromised by fear of aiding Washington's belligerence, the JCP's opposition to the CCP regime is something to investigate.
__________
Revolutionary Grenada: Lessons and Legacy
Danny Shaw / Toward Freedom (Burlington)
In a hemisphere on fire, with class struggle and anti-imperialism on full display from the streets of Medellín to Mexico City, where does Grenada line up in the global class struggle in the 21st century?