https://portside.org/2021-11-25/aoc-warns-democratic-leaders-pass-bbb-if-they-want-keep-getting-progressives-votes
Author: Jason Lemon
Date of source:
Newsweek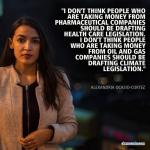 Representative Alexandria Ocasio-Cortez warned Democratic leaders it would be "very, very difficult" for progressives to continue to vote with the party if the Build Back Better legislation does not pass.
Ocasio-Cortez voted, along with five other progressive Democrats, against President Joe Biden's $1.2 trillion bipartisan infrastructure bill as it was not passed in tandem with the larger partisan $1.7 trillion Build Back Better Act. While Democratic leaders initially promised to pass both bills together, as progressives demanded, they eventually caved to moderate members of the party and pushed it through before Build Back Better negotiations were completed.
Speaking to The New York Times in an interview published on Sunday, the New York Democrat sent a warning to party leaders, including Biden:
"I think the stakes are really, really high," she said. "The entire reason that the Progressive Caucus gave their votes [for the infrastructure bill] was based on direct promises from the president, as well as direct promises from more conservative Democratic holdouts. And from House leadership as well. So if those promises don't follow through, it's going to be very, very difficult for them to get votes on anything moving forward, because the trust that was already so delicate will have been broken."
Ocasio-Cortez also raised concerns that Democratic leaders were over-promising and not delivering for voters.
"I think that if we pass the Build Back Better Act as the House passed it, that we have a shot to go back to our communities and say we delivered. But that's not to say that this process has not been demoralizing for a lot of folks, because there were enormous promises made. Not just at the beginning, and not just during the election, but that continued to be made," she said.
The congresswoman complained that Democrats "always try to tell people why they need to settle for less, instead of being able to harness the energy of our grass roots and take political risks in service of them, the same way that we take political risks in service of swing voters."
"We can do both," Ocasio-Cortez asserted.
The Build Back Better Act passed in the House on Friday with a party-line vote. In total, 220 Democrats voted in favor while 213 Republicans and one Democrat voted against the legislation. It now goes to the Senate, where moderate Democrats Joe Manchin of West Virginia and Kyrsten Sinema of Arizona have not given their approval.
As Democrats are aiming to pass the legislation without Republican support, they have turned to the budget reconciliation process in the Senate, which only requires a narrow majority for approval. This allows Democrats to pass the bill with just the support of all 50 members of the upper chamber's Democratic caucus, instead of garnering the 60-plus votes necessary to overcome a legislative filibuster.
As Manchin and Sinema have still not backed the bill, negotiations are ongoing. Senate Majority Leader Chuck Schumer, a New York Democrat, has expressed hope that it can be approved by Christmas. How much the bill will be revised to pass in the Senate remains to be seen, but Biden and Democratic leaders have maintained an optimistic tone about the massive legislative package succeeding.
Newsweek reached out to the Biden administration and House Speaker Nancy Pelosi for comments but did not immediately receive a response.