https://portside.org/2021-12-12/magnus-carlsen-retains-world-chess-title-after-final-ian-nepomniachtchi-blunder
Author: Bryan Armen Graham
Date of source:
The Guardian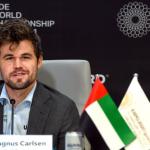 The imperious Magnus Carlsen confirmed his long-held place as the best chess player on the planet on Friday by retaining the world championship with a fourth win over Ian Nepomniachtchi in the 11th encounter of their showdown in Dubai.
A tightly wound contest that appeared bound for a draw immediately came undone when the Russian challenger made a ghastly blunder that gifted Carlsen the game and match, punctuating a dramatic breakdown that started a week ago when Nepomniachtchi came up short in the sixth game, a psychologically taxing 7hr 45min epic.
Carlsen's winning score of 7½-3½ with three games to spare is the most lopsided result in a world championship match since José Raúl Capablanca's triumph over Emanuel Lasker exactly 100 years ago in Havana. In that match, Capablanca won by a four-game margin without a single defeat – a stunning margin Carlsen matched on Friday with a fourth decisive result in six games after their first five meetings ended in draws.
"It's hard to feel that great joy when the situation was so comfortable to begin with, but I'm happy with a very good performance overall," said Carlsen. "You can point to things you could have done differently in every game of course, but overall I'm happy with my play, very proud of my effort in the sixth game, and that sort of laid the foundation for everything."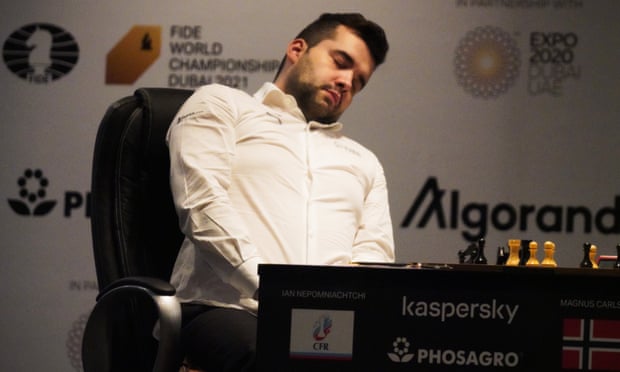 Nepomniachtchi, playing with the favourable white pieces, bypassed the English Opening he'd played in Tuesday's ninth game for an Italian (1 ... e5 2 Nf3 Nc6 3 Bc4). The players blitzed out their opening moves (3 ... Nf6 4 d3 Bc5 5 c3 d6 6 O-O a5 7 Re1 Ba7 8 Na3) until Carlsen played the rare 8 .... h6, a line only seen twice previously at the highest level.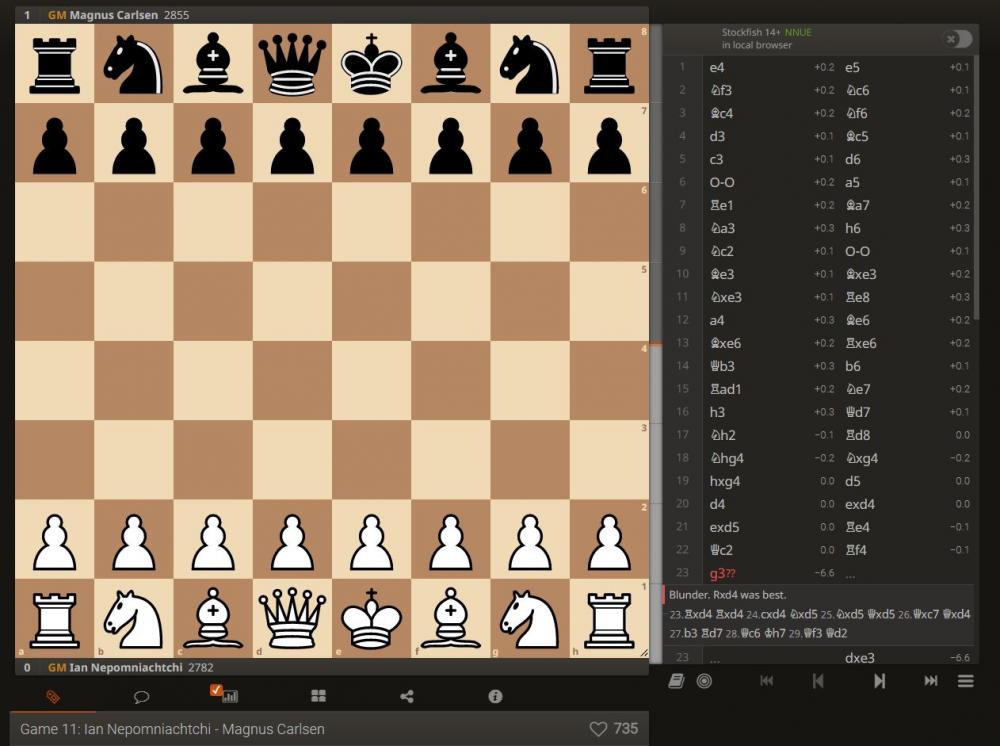 Click HERE to play out Game 11 move by move.
The challenger spent nearly 18 minutes pondering his response, seemingly taken out of his opening preparation, before playing 9 Nc2. Tension continued to build from there, reaching a flashpoint with the four pawns staring at each other in the center of the board after Nepomniachtchi's 19 .... d4 and Carlsen's 20 d5, although the chess supercomputers evaluating the match pointed towards a peaceful result.
But not long after, Nepomniachtchi made another sensational blunder – his third on a pawn move in the past week – attacking black's rook with 23 g3.
Carlsen found the winning response within a minute and a half (23 ... dxe3) and from there the game and match was all but a handshake away. When the Russian finally resigned after 49 moves and 3hr 21min, the Norwegian's fifth win in five world championship matches was done and dusted.
"I didn't expect it go quite like this," said Carlsen, who brings home a 60% share of the €2m (£1.7m) purse for winning before the tiebreak stage. "I think it was just a very good professional performance overall. No regrets at all, just very satisfied."
He added: "After five games there were five draws and I'd had very, very few chances to play for anything more. Then everything kind of clicked and after that it all went my way. You don't expect to necessarily run away with it in a world championship."
Of his fatal blunders in the eighth, ninth and 11th games, a rueful Nepomniachtchi said: "These things which happened here, they have never happened to me at basically any events … In my career I lost quite some stupid games but not as many in such a [short] time."
---
Bryan Armen Graham is the deputy sport editor of Guardian US. Twitter @bryanagraham. Click here for Bryan's public key
An erosion of democratic norms. An escalating climate emergency. Corrosive racial inequality. A crackdown on the right to vote. Rampant pay inequality. America is in the fight of its life. The Guardian is raising $1.25m to fund our reporting in 2022. If you can, please make a year-end gift today.
For 10 years, the Guardian US has brought an international lens with a focus on justice to its coverage of America. Globally, more than 1.5 million readers, from 180 countries, have recently taken the step to support the Guardian financially – keeping us open to all, and fiercely independent. We couldn't do this without readers like you.
With no shareholders or billionaire owner, we can set our own agenda and provide trustworthy journalism that's free from commercial and political influence, offering a counterweight to the spread of misinformation. When it's never mattered more, we can investigate and challenge without fear or favour. It is reader support that makes our high-impact journalism possible and gives us the emotional support and motor energy to keep doing journalism that matters.
Unlike many others, Guardian journalism is available for everyone to read, regardless of what they can afford to pay. We do this because we believe in information equality. Greater numbers of people can keep track of global events, understand their impact on people and communities, and become inspired to take meaningful action.
We aim to offer readers a comprehensive, international perspective on critical events shaping our world. We are committed to upholding our reputation for urgent, powerful reporting on the climate emergency, and made the decision to reject advertising from fossil fuel companies, divest from the oil and gas industries, and set a course to achieve net zero emissions by 2030.
Every contribution, however big or small, powers our journalism and sustains our future. Support the Guardian from as little as $1 – and it only takes a minute. Thank you.