https://portside.org/2022-03-29/dispatches-culture-wars-march-29-2022
Author:
Date of source:
Portside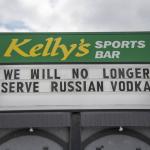 Putin's Anti-Woke Gambit
By Eliot Borenstein
CNN
The Russian state media have been mainlining American right-wing talking points for years now, even before they joined Tucker Carlson in a perfect feedback loop. Russian pundits love to warn of the dangers of political correctness, painting the US and Western Europe as a left-wing dystopian nightmare that encourages pedophilia and all but bans mothers and fathers.
State Level Hate Laws
By Natasha Ishak
Vox
Multiple states — including Florida, Idaho, and Texas — have enacted, or hope to enact, new and draconian restrictions, including banning abortion after six weeks of pregnancy (functionally equivalent to an outright ban on abortion), or banning gender-affirming health care for transgender children.
SCOTUS Ulcer
By Matt Ford
The New Republic
Ginni Thomas is not just politically active; she is an outspoken activist with personal and professional ties in almost every corner of conservative politics. After years of tiptoeing up to the ethical lines, it is now clear that she will be a serious problem for the Supreme Court's legitimacy and credibility for the foreseeable future.
Defend Progressive Prosecutors!
By Lara Bazelon
Slate
Whatever one thinks about the policies of progressive prosecutors like Boudin, Gascón, and Foxx, the recall movements are not about misconduct in office but rather about outrage over their policies, which the voters elected them to carry out. 
The Occupied Cinema of Paris
By Eric Smoodin
Film Quarterly
A collective of filmmakers, cinephiles, and activists decided to occupy the La Clef cinema back in September 2019. They had been able to keep it running as a community based, and politically engaged exhibition site. That ended when the police arrived a couple of weeks ago, in early March.
The Wrong Way to Boycott
By Yousef Munayyer
Jewish Currents
In contrast to ineffective—or even unethical—actions targeting Russian culture and individuals, the Palestinian BDS campaign is a model of how to use boycott and divestment efforts strategically.
Women, Sex and the Orgasm Gap
By Beth Ashley
The Guardian
Netflix's The Principles of Pleasure shows how sex gives women a worse quality of life than men. Its insightful – and troubling – expert interviews might just change that.
On Campus, Dehumanizing the Disabled
By Kate Murphy
The News and Observer
Tar Heels at the Table, a student-run organization formed last academic year, is working with senior leadership and UNC trustees to address some of those necessary changes around accessibility, disability and inclusion. Duke University and NC State University also have established alliance groups tackling accessibility and equity issues on campus.
Evangelicals and Big Business
By Obery M. Hendricks, Jr.
The Bias Magazine
In 1949 Reverend Billy Graham burst upon the scene. Graham likened unions and their leaders to serpents and pestilence. Yet, Graham never questioned the piety of the business executives who opposed workers' struggles for fair treatment, nor the unrighteousness of management's quest to maximize profits.  
State of the Beauty Industry
By Kalpana Mohanty
The Baffler
There is a stark discrepancy between the strength and pervasiveness of beauty culture's marketing and our woefully simplistic discourse about it. Over and over again, we are sold the idea that a more diverse array of people can be beautiful—if they just lean in.