https://portside.org/2022-04-06/global-left-midweek-april-6-2022
Author:
Date of source:
Portside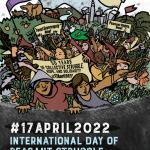 __________
Thirty Years of La Via Campesina
La Via Campesina (Paris)
We are entering the fourth decade of our collective struggles for food sovereignty, popular agrarian reform and dignity. Peasant and indigenous peoples' organizations sowed the first seeds of the global movement at a gathering in Managua in 1992. La Via Campesina took its formal birth in 1993 at the first international conference in Mons, Belgium.
__________
Video: Euro Left Discusses the Rise of the Right
Party of the European Left (Brussels)
The #NoPasaran international conference brought together activists and experts from Europe and beyond to plan the mosteffective ways of challenging the far right and defeating them. We shared experience, analysis and strategies for mobilisation and action.
__________
Die Linke Debates Sanctions, Arms Shipments and NATO
Jana Frielinghaus and Max Zeising / Neues Deutschland (Berlin) 
[Translated by Portside. Read the original in German here.]
Much, if not all of what has so far been a unique selling point of Die Linke is being put to the test in the face of Russia's atrocious war against Ukraine. No left-winger supports the massive armament of the Bundeswehr announced by the federal government. But many want to rethink the party's relationship with NATO. The demand contained in the Erfurt party program for the dissolution of NATO, and its prescribed replacement by a "common security architecture including Russia" seems obsolete to many in the course of Russian aggression. Most recently, at the weekend, a delegate of the Berlin Linke Party Congress called for a "fundamental programmatic and moral renewal" of foreign and security policy.
The positions on the nature and extent of economic sanctions against Russia are already diverse, and especially in view of the excesses of violence around Kiev in recent days, the number of those who are also demanding arms deliveries to Ukraine is growing.
Susanne Hennig-Wellsow, co-chair of the party, expressed her understanding for those in and outside the left with this position.  in She published her contribution to the discussion on her website on March 3, under the title "We Have To Talk".  She clarified:  "One cannot hold on to 'truths' that have been crushed by tanks and rockets." She did not write exactly which of the truths set in quotation marks she meant. But there are hints in her text: This does not mean halting "criticism of dangerous armament, but it does mean developing concrete ideas appropriate to the situation." Hennig-Wellsow, apparently at least, helped to ensure that basic foreign policy positions were discussed in the Bundestag faction on Tuesday afternoon. On Monday she announced that she herself was "decisive" when it comes to arms deliveries.
However, the co-chairman of the group, Amira Mohamed Ali, reaffirmed the rejection of arms deliveries by Die Linke on Tuesday before the Bundestag delegate meeting. Her position is "especially difficult to maintain in these times", she stated, but it remains "factually correct." For one thing, she pointed out, no one knows which hands weapons end up in. 
Mohamed Ali also strongly warned against a comprehensive and immediate import ban on oil, natural gas and coal from Russia. This would have "devastating effects on the German economy," she said at a press conference on Tuesday before the group meeting. The result would not only continue to rise prices for consumers, but also waves of redundancies for employees. "People with low incomes, middle incomes would be burdened even more. We as the left cannot accept this," Mohamed Ali emphasized.
At the same time, Mohamed Ali expressed doubt that an embargo would slow down the Russian war against Ukraine. So far, the federal government has also refused to stop energy imports from Russia because of the war of aggression against Ukraine.
On the other hand, former left-wing member of the Bundestag Thomas Nord, in conversation with Neues Deutschland, spoke out in favor of an immediate import ban for all Russian energy sources. This is the only way to "preclude the financing of Putin's war." Nord admits that this will have a hard impact on German society. The federal government must therefore "take all measures for social compensation where it is necessary."
The left-wing member of the Bundestag Kathrin Vogler spoke out in favor of maintaining the party's anti-militarist positions before the Bundestag faction meeting. Arms deliveries would not help to end the war that no side could win, she said. In a position paper, Vogler advocates further developing the foreign policy positions of the left on a "peace policy basis. This includes dealing much more with civil conflict management in its entirety in order to show what possibilities for action exist beyond deterrence and military intervention." Vogler pleads for sanctions only where they can be very precise.
Ali Al-Dailami, deputy chairman and defense policy spokesman for the Budestag faction, spoke out on Tuesday in favor of further rejecting arms deliveries. This also applies to the war in Yemen, where the "biggest humanitarian catastrophe" is currently taking place, to which German weapons also contribute. Weapons would only prolong the suffering of the people in Ukraine, Al-Dailami is convinced, who is also deputy federal chairman of the left. Of course, there is a right to self-defense in international law, but none to arms imports. With regard to an energy import ban, Al-Dailami stressed: "It is an illusion to believe that an energy embargo against Russia can end the war. Because many countries do not participate in the sanctions at all." The measures would also "burden only the ordinary people here and in Russia."
__________
More On the War
__________
Parties and Women's Organizations Demand Freedom for Abdullah Ocalan
Hawar News Agency (Al-Hasaka, Syria)
Ocalan's physical freedom, the solution of the Kurdish issue, and the establishment of peace and stability in Turkey and the region are all interrelated and considered among the basic conditions for the peaceful coexistence of peoples.
__________
Sudan's Resistance Committees
Abdelhameed Awad / The New Arab (London)
Sudan's resistance committees – the Khartoum network – recently announced a new political charter. In doing so they have moved beyond mobilising the Sudanese streets, which was their sole focus, into a new phase; that of drawing up a political roadmap to defeat the military coup by General Abdel Fattah Abdelrahman al-Burhan and his followers.
__________
The Heat is On in Sri Lanka
Rathindra Kuruwita / Al Jazeera (Doha)
Protesters rally in Kandy and Colombo despite a curfew, demanding that President Gotabaya Rajapaksa resign as the economic crisis worsens.
__________
Gains in Colombia
Cruz Bonlarron Martínez / NACLA Report (New York)
After a record-breaking presidential primary, the Colombian Left has a fighting chance at winning the top office and challenging the legacy of the country's most powerful politician.
__________
France: Mélenchon's Chances
Harrison Stetler / Jacobin (New York)
The 2022 election cycle, Jean-Luc Mélenchon's third consecutive attempt at the presidency, has been a perfect storm of complications for the French left. 
__________
Anton De Kom's Legacy
Louis Gore-Langton / Roar (Amsterdam)
Born the son of a formerly enslaved Surinamese farmer in 1898, Anton De Kom would go on to lead a national struggle against the ruling Dutch Empire before being imprisoned and banished to the Netherlands. Once in exile, he joined the resistance against German occupation, was captured and died of tuberculosis in a Nazi concentration camp at the age of 47.