https://portside.org/2022-04-10/yemen-president-hands-powers-new-leadership-council
Author: Al Jazeera and News Agencies
Date of source:
Al Jazeera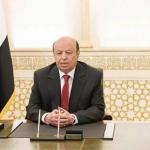 Yemen's exiled President Abd-Rabbu Mansour Hadi has transferred his powers to a new presidential council, in a major political shake-up that took place as efforts to end the country's years-long war gained traction with a fragile two-month truce.
"I irreversibly delegate to this presidential leadership council my full powers," Hadi said in a televised statement early on Thursday, the final day of peace talks held in Riyadh, the capital of Saudi Arabia, which has been leading a military coalition backing Yemen's internationally recognised government against the Houthi rebels.
KEEP READING
Yemen's warring parties agree to two-month truce,
UN says Yemen peace talks give little hope for displaced civilians
Saudi-led coalition in Yemen announces Ramadan truce
Gulf states hold Yemen talks despite boycott by the Houthis
Hadi added that the council would be tasked with negotiating with the Houthi rebels "for a permanent ceasefire".
He also sacked Vice President Ali Mohsen al-Ahmar, a powerful military figure, and delegated al-Ahmar's powers to the presidential council. Al-Ahmar is resented by the Houthis for past military campaigns in their northern stronghold and by southerners for his leading role in the country's 1994 north-south civil war.
Al-Alimi enjoys close ties with Saudi Arabia and other political groups inside Yemen, including the powerful Islah party — the transnational Muslim Brotherhood's branch in Yemen.
The council has seven other members, all of whom have political and military influence on the ground in Yemen. That includes Aydarous al-Zubaidi, head of the secessionist Southern Transitional Council — an umbrella group of heavily armed and well-financed militias propped up by the UAE since 2015.
Sheikh Sultan al-Aradah, the powerful governor of energy-rich Marib province, was also named a member of the council. So was Tariq Saleh, a militia leader and nephew of the late president who has close ties with the UAE.
Humanitarian crisis
Yemen has been at war since late 2014 when the Houthis seized the capital, Sanaa, and Hadi, who had been elected for a two-year transitional period in 2012 after mass anti-government protests, fled south.
The long-running conflict has created what the United Nations has described as the world's worst humanitarian crisis.
The country is in the first week of a two-month UN-brokered truce. It is the first nationwide break in hostilities since 2016.
The Houthis, however, are not participating in the talks held in Riyadh.
Al Jazeera's Mohamed al-Attab, reporting from Sanaa, said the Houthis "don't [recognise] any move by the internationally recognised government, they say that this move is 'baseless'."
He added that many in the country hoped the announcement would usher in "a new chapter in Yemen's history".
Elisabeth Kendall, an analyst at the University of Oxford, told Al Jazeera that "change and rapprochement with the Houthis was never going to happen under the leadership of President Hadi".
"He has stuck around for 10 years in total and he's not a popular president," Kendall said, adding that the leadership shown by Ukrainian President Volodymyr Zelenskyy may have shone a spotlight on Hadi's shortcomings, increasing the pressure on him to cede power.
International Crisis Group analyst Peter Salisbury wrote on Twitter that the announcement was "a big deal".
"Most consequential shift in the inner workings of the anti-Huthi block since war began. How this will actually work in practice will be … complicated to say the least," he said.
A former army general from Yemen's south, Hadi moved to the north amid political turmoil at home in 1986. He rose through the ranks to become vice president under Saleh, who united north and south Yemen in 1990.
Hadi took the helm of a crumbling state after Arab Spring protests in 2011 brought down Saleh, later killed in 2017 while trying to switch allegiances.
Hadi was the only name on the ballot for 2012 elections meant to guide Yemen through a transition to democracy shepherded by Western and regional powers led by neighbouring Saudi Arabia.
But he faced long odds, including a collapsing economy and security challenges, in what was meant to be a two-year term overseeing the transition.
Hadi failed to build a power base of his own during his decades in uniform. After assuming power, he launched a "National Dialogue Conference" (NDC) to hash out a new constitution, but matters quickly unravelled.
Saleh's army and government allies undermined the transition as al-Qaeda fighters carved out a mini-state and hit Sanaa with ever bloodier bombings.
The Houthis seized Sanaa with help from army units loyal to Saleh, forcing Hadi to share power. When the NDC proposed a federal constitution, both Houthis and southern separatists rejected it for blunting their newfound sway.
Hadi suggested his former boss Saleh made no attempt to help him face a variety of feuding politicians and fighters.
"There's a planned conspiracy, and alliances among the former stakeholders itching for revenge," Hadi said after Sanaa fell to the Houthis in 2014.
The Houthis arrested Hadi in early 2015, but he escaped and fled to the southern port of Aden.
In March 2015, the Saudi-led coalition entered the war against the Houthis and took Hadi to Riyadh.
The ensuing war between the Houthis and the Saudi-led coalition killed tens of thousands and pushed Yemen to the brink of famine.
Hadi's government has faced the same accusations of corruption and mismanagement as his autocratic predecessor, from both the Houthis and nominal allies under the coalition.
---
Al Jazeera is an independent news organisation funded in part by the Qatari government.
In 2006, Al Jazeera Satellite Network was changed to a public utility, private corporation by a public memorandum and articles of association in accordance with the provisions of Qatar Law No. 21 of 2006, and was re-named "Al Jazeera Media Network".
Thus, it is a private corporation established for the public benefit.
The Board of Directors of Al Jazeera Media Network issues directives, decisions and related regulations.
Launched in 1996, Al Jazeera Arabic was the first independent news channel in the Arab world dedicated to providing comprehensive news and live debate. Al Jazeera English, which was launched in 2006, is part of a growing network comprising more than 10 channels and divisions.