https://portside.org/2022-04-26/dispatches-culture-wars-april-26-2022
Author:
Date of source:
Portside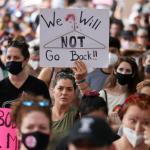 On the Abortion Rights Front
What Earth Day Has Wrought
By Tom Sheridan
The Gainesville Sun
Earth Day 2022 hasn't brought all the environmental promise of so many years ago. Benefits to the environment since that first Earth Day have been monumental. But as a new Earth Day dawns, those benefits seem threatened. 
Amazon and How We Work
By Jason Del Rey
Vox
The e-commerce giant's labor issues expose the complicated truth about getting what we want when we want it.
Disney, DeSantis and the First Amendment
By Ian Millhiser
Vox
If Florida has a legitimate reason to strip away a benefit from Disney, the Constitution most likely would permit it to do so. But no one can be punished because they express a political opinion.
Truckers and Covid Politics
By Dan Albert
The Baffler
As a practical matter, the convoys of 2022 failed. Government acceded to none of the protesters' demands. Law enforcement resisted ousting the Ottawa protesters for weeks. Although the blockades slowed cross-border traffic, they did not shut down international trade by any means.
Potter Stars on Trans Rights
By Jisha Joseph
Upworthy
Hermione (Emma Watson) joined Harry (Daniel Radcliffe) in affirming their support for transsexuals and LGBTQ rights in general.
Pentecostalism Targets the World's Poor 
By Elle Hardy
Jacobin
People around the world are flocking to the Pentecostal church, which offers not just spiritual guidance but material support. That's bad news, as the rise of Pentecostalism is tied to the global surge of right-wing populism.
Wrecking Biden Nominees is a Cottage Industry
By Jane Mayer
The New Yorker
In an escalation of partisan warfare, a little-known dark-money group is trying to thwart the President's entire slate. The American Accountability Foundation has undermined the likes of Ketanji Brown Jackson, but it's also gone after relatively obscure political appointees whose public profiles can be easily distorted.
How Creative Writing Courses Depoliticized Fiction
By Annie Levin
Current Affairs
It was the Cold War. Political quietism and introspection were in. Communism and broad societal critique were out. Left-leaning authors who wrote with a wide scope about communities and politics—writers like John Dos Passos, Langston Hughes, and John Steinbeck—were passé.
Video: The Cultural Politics of Prom
Teen Vogue
Prom actually has a pretty racist and sexist backstory that some teenagers have been fighting against for decades. Prom was originally used to keep young people in line by re-enforcing gender norms and classism. And these ideas are woven into the annual high school ritual today.