https://portside.org/2022-06-26/how-discipline-rogue-supreme-court
Author: Jamelle Bouie
Date of source:
New York Times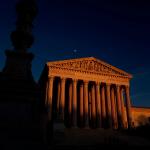 The Supreme Court does not exist above the constitutional system.
It can shape the constitutional order, it can say what the Constitution means, but it cannot shield itself from the power of the other branches. The Supreme Court can be checked and the Supreme Court can be balanced.
It is tempting, in the immediate wake of the court's ruling in Dobbs v. Jackson Women's Health, to say that there's nothing to be done about the reactionary majority on the court. But that's just not true. The Constitution provides a number of paths by which Congress can restrain and discipline a rogue court.
It can impeach and remove justices. It can increase or decrease the size of the court itself (at its inception, the Supreme Court had only six members). It can strip the court of its jurisdiction over certain issues or it can weaken its power of judicial review by requiring a supermajority of justices to sign off on any decision that overturns a law. Congress can also rebuke the court with legislation that simply cancels the decision in question.
In the face of a reckless, reactionary and power-hungry court, Congress has options. The problem is politics. Despite the arrogance of the current Supreme Court — despite its almost total lack of democratic legitimacy — there is little to no appetite within the Democratic Party for a fight over the nature of the court and its place in our constitutional system. For many Democrats, President Roosevelt's attempt to expand the size of the court is less a triumph than a cautionary tale — a testament to the limits of presidential leadership and presidential power.
It will take time to build the kind of power and consensus needed to make significant changes to the court. But even the work of amassing that power and putting that consensus together can stand as a credible threat to a Supreme Court that has acted, under conservative control, as if it stands above the constitutional system, unaccountable to anyone other than itself.
The power to check the Supreme Court is there, in the Constitution. The task now is to seize it.