https://portside.org/2022-07-06/global-left-midweek-no-easy-way-out
Author:
Date of source:
Portside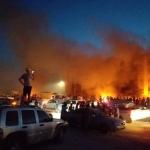 Readers of Global Left Midweek will find some of this week's posts unusually long and possibly tough going. Between the threat of broader war, inflation, and political shifts, the left is forced to take on some heavy lifting, and that requires more rigorous theoretical efforts. In particular, the Supreme Court's ruling undoing regulation of fossil fuel emissions is truly "existential" for life on the planet. Internationally, the tone of discussion has turned from grim warnings to high alert. We have to struggle harder, and just as important, think harder. - GLM moderator
__________
Ecological Survival Requires Socialism
John Bellamy Foster and Brett Clark / Monthly Review (New York)
An absolute catastrophe for civilization and the human species as a whole is still avoidable with a revolutionary-scale reconstitution of the current system of production, consumption, and energy usage, though the time in which to act is rapidly running out.
__________
Imagining New Futures
Edlira Xhafa, Jeremy Anderson and Mirko Herberg / Global Labour Column (Johannesburg)
Facing an extremely challenging environment, workers and trade unions are fighting back at different levels, and in the process developing new ideas and imagining new futures. The ongoing struggles seek to respond to immediate challenges posed by government policies which claim to mitigate the environmental crisis, often without workers' and communities' involvement. 
__________
Workers Respond as Capitalism Devolves
David Peetz / Australian Outlook (Canberra)
Despite the decline of unions, there are many signs of worker resistance. This is related to rising inequality, union inroads into seemingly impenetrable occupations and industries, the development by unions of international links and digital tools, and the inevitable pressure for labour reform.
__________
Rhythms of the Latin American Left
Jeffery R. Webber / NACLA Report (New York)
For the latest wave of the Left in power sweeping the region, the challenges are steep. Radical politics will continue to emerge from the streets.
__________
War Watch
__________
Philippines: Left Responses to Marcos Jr Win
__________
Rage in Libya
France 24 (Paris)
Libyans, many impoverished after a decade of turmoil and sweltering in the soaring summer heat, have been enduring fuel shortages and power cuts of up to 18 hours a day, even as their country sits atop Africa's largest proven oil reserves. Protesters stormed the parliament building in the eastern city of Tobruk, ransacking its offices and torching part of the building.
__________
High Tension in France
__________
Arise Ghana Protests
Jaysim Hanspal and Jonas Nyabor / The Africa Report (Paris)
Hundreds of Ghanaians took to the streets of central Accra, clashing with police as they protested against the rocketing price of fuel and food and what they see as the government's inaction on the crisis.
__________
Portugal: Climate Justice vs Corporate Profit
Leonor Canadas / Common Dreams (Portland ME)
We demand a just and fast energy transition, guided by climate science, directed towards social justice, and led by workers and the local communities. This transition process holds Galp and its shareholders financially responsible for the costs of this transformation.