https://portside.org/2022-07-20/global-left-midweek-focus-latin-america
Author:
Date of source:
Portside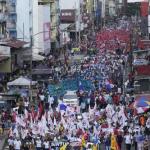 __________
Lessons From Colombia
Tatiana Garavito and María Faciolince Martina / African Arguments (London)
Colombia has taken a huge step towards a more plural and inclusive democracy and revived the possibility of changing long entrenched dynamics. This election is a historic victory for all of us worldwide: it shows us a transformed political space and a genuine possibility for sustained change. 
__________
Internationalism of the Landless
João Pedro Stedile / Peoples Dispatch (New Delhi)
Anyone who spends years in Haiti, Venezuela, Cuba, South Africa or Zambia will never be the same again. They will now have the experience of another language, another culture, a more pluralistic vision of reality. On their return, they will be more committed, more flexible, more reflective, and less sectarian.
__________
National Strike in Panama
Thousands of Panamanian protesters have taken to the streets in recent weeks to demand the government put a stop to rising inflation and corruption. President Laurentino Cortizo recently announced measures to cut fuel costs and put a cap on the price of basic food items – but protesters said they were not enough and promised to continue demonstrating.
__________
The Mapuche: Across Borders
Leonardo Oliva / Equal Times (Brussels)
The conflict in southern Chile and Argentina, involving political radicalisation and violence, shines a spotlight on an existential problem in Latin America – what is the place of the millions of historically invisibilised Indigenous peoples?
__________
Argentina: Trans Rights
Alessandra Viggiano and Siobhán McGuirk / Red Pepper (London)
Shortly after the turn of the new millennium, following years of cronyism and febrile neoliberalisation, the people again took to the streets. Grassroots trans rights organisations had already begun to form through shared efforts to repeal colonial-era penal codes that enabled police repression of 'scandalous' behaviour, including public cross-dressing.
__________
Chile's New Constitution is Not a Done Deal
Paul Constant / Insider (New York)
Chile's proposed new constitution increases labor force participation by requiring gender parity in government, breaks corporate monopolies over environmental resources, and establishes government offices that would create a social safety net ensuring more robust economic inclusion from low-income populations. 
__________
CARICOM States Denounce US Sanctions on Venezuela
The regional body is urging the US to lift sanctions against Venezuela in hopes of restoring the region's access to energy through Venezuela's PetroCaribe Program.
__________
Ecuador: Indigenous Protests Against Austerity
Sara Herschander / Waging Nonviolence (Brooklyn)
Since demonstrations began on June 13, led primarily by the Confederation of Indigenous Nationalities of Ecuador, thousands of Indigenous protesters have marched through the capital of Quito and other regions, demanding the government take action to lower fuel prices, address rampant inflation, cease plans to privatize public sectors and provide funding to public education. 
__________
Antigua: Movements Eliminate Same-Sex Marriage Ban
Gemma Handy / BBC News (London)
The country's high court ruled that the law contravened constitutionally guaranteed rights to liberty, freedom of expression and protection of personal privacy. Campaigners say it is a major victory in a country where homophobia is rife. The case was brought by a gay man in sync with two rights groups.
__________
Cuba: Public Referendum on Family Plan
Ariel Dacal Díaz / OnCuba News (Miami)
The State must support the promotion of the ideas of the LGBTIQ+ community against fundamentalist religious groups that are against the recognition of diversity, and that are in better positions of social and economic power in the face of communities of diversity.