https://portside.org/2022-08-18/tidbits-aug-18-2022-reader-comments-gop-cant-decide-starbucks-latest-desantis-targets
Author:
Date of source:
Portside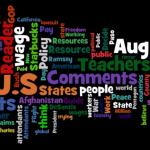 Resources:
Announcements:
Re: Starbucks's Latest Union-Busting Tactic: Demand the Suspension of NLRB Elections Nationwide
 
Call in sick, walk out, strike, shut them down.
Marcus Aurealeus
Posted on Portside's Facebook page
      =====
"It's not enough for Starbucks to carry out a scorched-earth campaign to destroy workers' union organizing campaign. The company is now implementing Trump-like attacks on the legitimacy of union elections overseen by the National Labor Relations Board."
Rafael Arturo Guariguata
Posted on Portside's Facebook page
Re: Florida Has an Outrageous New Law Targeting Teachers. Here's Why I'll Be Breaking It.
 
I applaud this teacher!!
Gayle Matthews Martz
Posted on Portside's Facebook page
      =====
He would fire EVERY teacher if he had his choice.
He doesn't believe in public education.
Republicans don't really believe that all men are created equal, that's why they don't believe in democracy or public education.
He's a fascist and he needs to be ridden out on a rail...
Ed Violette
Posted on Portside's Facebook page
Benedict Arnold - Replaced  --  cartoon by Randy Bish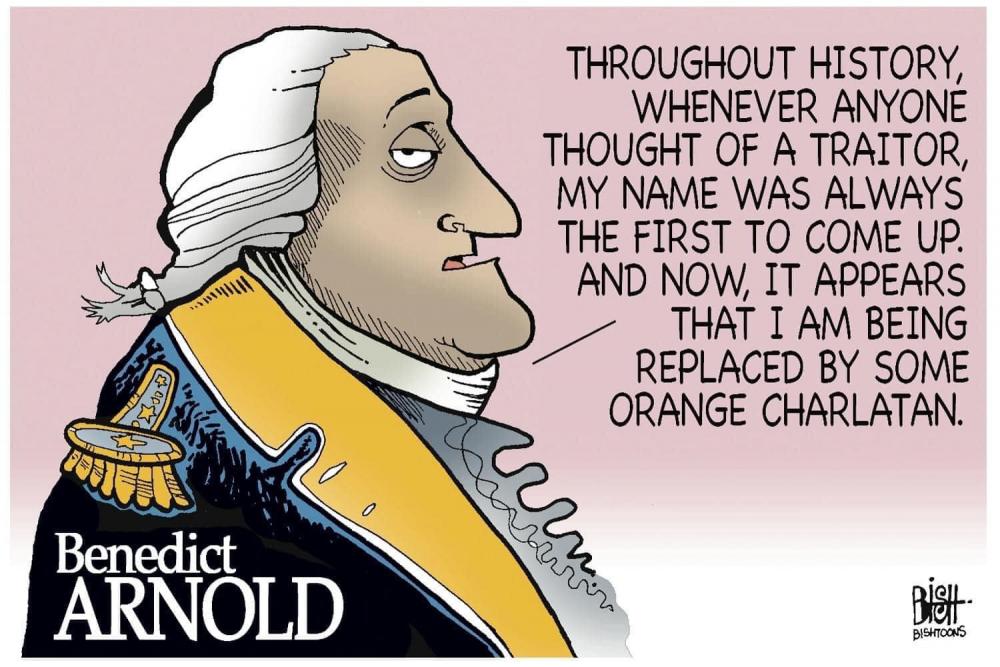 Randy Bish
Bish Toons
August 16, 2022
Re: Meet Mandela Barnes, the 35-Year-Old Candidate Working To Oust Ron Johnson
 
At 35 it sounds like he's already had a lifetime of experience. More power to him. We need a younger mentality in the Senate and especially in Wisconsin.
Jennifer Nouri
Posted on Portside's Facebook page
Re: Washington Wants a New Cold War…That's a Bad Idea
 
It ain't cold
Eileen Joyce
Re: Pentagon Contractors in Afghanistan Pocketed $108 Billion Over 20 Years
 
The obscuring of the flow of money is not just oops, where did I put that? It deliberately allows money to flow outside of any controls or auditing. For years, we read that the Pentagon is unable to be audited, and that is true for overseas military spending as well. Auditing is not that difficult. If managers don't keep good accounts, fire them. Suddenly accounts will begin to be kept. The US MIC (Military Industrial Complex) lives on corruption and lack of transparency. We must at the very least demand a public accounting of all of this spending, and Congress must take the lead in doing so.
Charles Patrick Lynch
Posted on Portside's Facebook page
Re: Immigrant Detainees Strike Over $1 a Day Pay, Working Conditions
 
Private Prisons in the US need to be outlawed. Their very existence is tailor-made for abuse. We can outlaw them little by little or Congress can do it. Who will step up?
Charles
Posted on Portside's Facebook page
Re: The Right-Wing Plot To Destroy Public Libraries
 
Thank goodness that I live in California.
Nora Lapin
Posted on Portside's Facebook page
Re: Work, Work, Work—So a Few Can Be Rich
(posting on Portside Labor)
Over 5 years ago, Thomas Frank's book 'Listen, Liberal' was published. It was a searing indictment of what the Liberals did to the trade unions with their emphasis on absurd educational degrees (I am sadly one of those too). It all however started with that disgrace of a POTUS - Reagan.
Mariam Alunkal
Posted on Portside's Facebook page
      =====
when I think about it ( and I try not to) almost all the disgraceful failures in our sad country these days can be traced back to the Actor in chief.
Greg de Bourgknecht
Posted on Portside's Facebook page
Re: Tackling the Housing Crisis With Public Power
 
It's not a monumental first step. It's a sop.
David Berger
Posted on Portside's Facebook page
JetBlue to pay flight attendants $3.6M over long-running wage lawsuit 

by Jean Lim
August 16, 2022
Aerotime Hub
JetBlue Airways will pay $3.6 million to over 500 of its flight attendants as settlement over a wage lawsuit that began in 2015. 
The flight attendants accused JetBlue (JBLU) of violating California law by failing to pay the workers when they were forced to skip breaks.
In a plaintiff's notice of unopposed notion, attorneys of JetBlue (JBLU) flight attendants recalled that in 2015, their clients filed a case against their employer, JetBlue Airways, for the following claims under the California Labor Code:  failure to pay minimum wage, failure to pay overtime, waiting time penalties, and failure to provide itemized wage statements.
The lawsuit was part of a litigation over whether California's strict and detailed wage laws apply to flight attendants who are based in the state, but spend the vast majority of their time in the air.
"This $3,600,000 settlement will provide a meaningful payment to the LWDA and significant individual settlement payments to approximately 568 members of the settlement classes," the plaintiff's attorneys said. 
The attorneys continued: "The settlement also provides payment to an overtime and final pay class consistent with this Court's ruling in Plaintiffs' favor on those claims. The settlement is non reversionary and is not on a claims-made basis."
The lawsuit was part of a litigation over whether California's strict and detailed wage laws apply to flight attendants who are based in the state, but spend the vast majority of their time in the air.
Reuters reported that US District Judge Jeffrey White had dismissed many of the claims in 2016 and 2017, but stayed the case pending appeals in several similar lawsuits. After the plaintiff-friendly rulings, White in 2020 changed his stance and revived several claims against JetBlue (JBLU).
The case is Booher v. JetBlue Airways Corp, U.S. District Court for the Northern District of California, No. 4:15-cv-01203.
How Underpaid Are Teachers In Your State? (Economic Policy Institute)
Depending on the state, teachers make between 3.4% and 35.9% less than other comparable college-educated workers
Prior to the pandemic, the long-trending erosion in the relative wages and total compensation of teachers was already a serious concern. The financial penalty that teachers face discourages college students from entering the teaching profession and makes it difficult for school districts to keep current teachers in the classroom. Trends in teacher pay coupled with pandemic challenges may exacerbate annual shortages of regular and substitute teachers.
Providing teachers with compensation commensurate with that of other similarly educated professionals is not simply a matter of fairness but is necessary to improve educational outcomes and foster future economic stability of workers, their families, and communities across the U.S.
https://www.epi.org/publication/teacher-pay-penalty-2022/
Key findings
Inflation-adjusted average weekly wages of teachers have been relatively flat since 1996. The average weekly wages of public school teachers (adjusted only for inflation) increased just $29 from 1996 to 2021, from $1,319 to $1,348 (in 2021 dollars). In contrast, inflation-adjusted weekly wages of other college graduates rose from $1,564 to $2,009 over the same period—a $445 increase.
The relative teacher wage penalty grew to a record high in 2021. It was 23.5% in 2021, up from 6.1% in 1996. The penalty for men rose from 18.6% to 35.2% over that period. Women had a slight wage premium of 1.3% in 1996 but faced a wage penalty of 17.1% in 2021.
The benefits advantage for teachers has not been enough to offset the growing wage penalty. The teacher total compensation penalty was 14.2% in 2021 (a 23.5% wage penalty offset by a 9.3% benefits advantage). The bottom line is that the teacher total compensation penalty grew by 11.5 percentage points from 1993 to 2021. 
The relative teacher wage penalty exceeds 20% in 28 states. Teacher weekly wage penalties estimated for each state range from 3.4% in Rhode Island to 35.9% in Colorado. In 28 states, teachers are paid less than 80 cents on the dollar earned by similar college-educated workers in those states.
Teachers' weekly wages have remained relatively flat for 25 years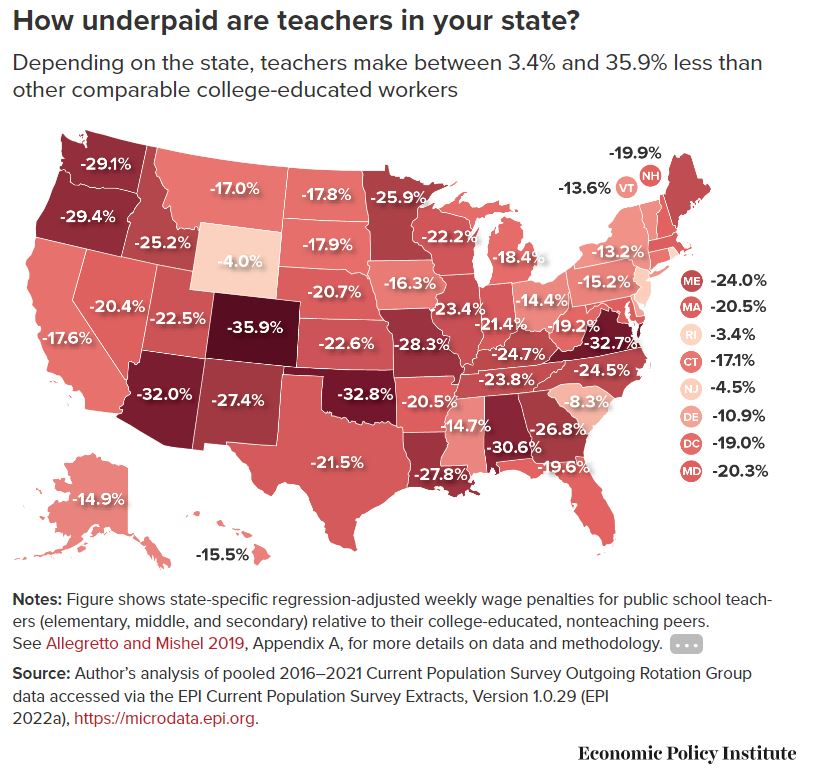 https://files.epi.org/charts/img/254347-30525.png
Economic Policy Institute
225 Eye St. NW, Suite 600
Washington, DC 20005
Phone: 202-775-8810 • epi@epi.org
"Some are trying to inflame those people"  --  cartoon by Duff Jones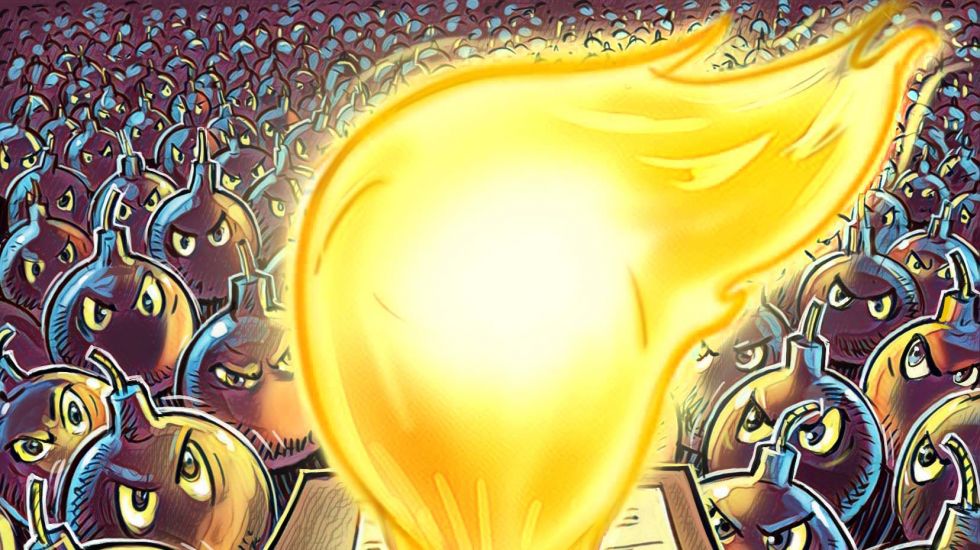 After the El Paso shooting a political cartoon of Duff Moses is spreading all over the world. Although he drew it back in 2018, it is still relevant. In "Cicero" he talks about destructive power words can have
INTERVIEW WITH DUFF MOSES August 6, 2019
Cicero (Germany)
Mr. Duff Moses, your political cartoon has been shared all over the world in social networks since the cruel terror attack in El Paso, Texas. What do we see in your drawing?
We are standing behind a flaming matchstick that is apparently speaking to a crowd of angry bombs.
The flaming matchstick looks very similar to a person which is known very well all over the world, right?
I leave that to your interpretation.
So, what do you want to show us with that cartoon?
I think, what I was trying to express, was the ability of demagogues to insight the fears and angers of many people.
Your cartoon is from 2018. What event made you thinking about drawing it?
It was an emotional response to the events in Charlottesville, Virginia. I drew the cartoon very quickly. And yes, I was very emotional, when I did it.
Where has it been published first?
Only on my Facebook page and on my Instagram account.
Why you were drawing Trumps listeners as bombs? Is every Trump voter potentially explosive?
Obviously every voter in the United States who supports the current administration is not a public danger. But there is a sub-group of Americans who are very angry. And some are trying to inflame those people for their own political interests
Why do you think, people are angry like your drawn bombs?
Let me say this. I believe that the current regime that is controlling the United States represents the interests of the corporations and the oligarchs who has successfully misdirected the angry white voting block. By providing them with a false enemy to fear rather than focusing on them, the real villains who has been offshoring their jobs and reducing the social safe nets any modern economy depends on to compete in the world market
It is an important current question also in Germany. Do you think words can cause physical violence?
I do believe that.
Why is that?
Because it has been shown to work very successfully. And Germans should know this better than anybody else, how well that technique can succeed.
Do you think, the President is responsible for the terrorist attack in El Paso?
I think that the rhetorics that has being used in todays' political discourse are potentially very dangerous. And that worries me terribly.
Some hours ago the President held a speech about the shootings. He said, hate had no place in the United States. What do you think about these words, spoken by him?
From the presidents lips to gods ears. Will you draw a cartoon about El Paso? I think that my cartoon will be sufficient for El Paso and other incidents.
Updated Resource - U.S. Foreign Policy History & Resource Guide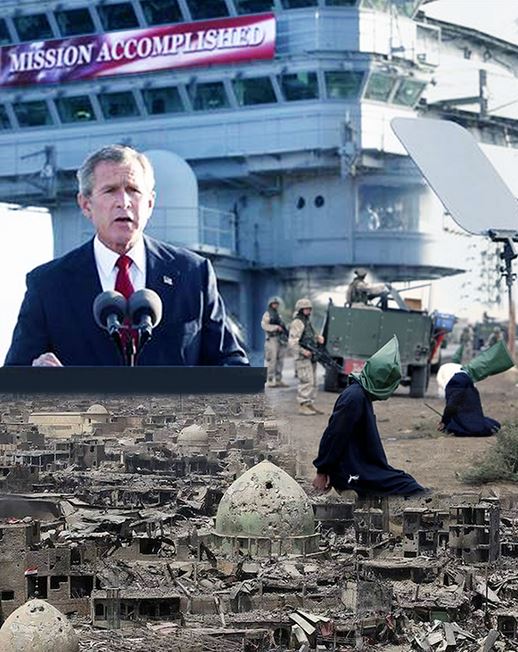 Imagine if Belgium had been ruthlessly attacked by terrorists as the United States had been on September 11, 2001.  Would Belgium have launched two wars against other nations?  Not likely.  Not being a military superpower, Belgium would have turned to the United Nations and sought assistance from other countries, building an international coalition to neutralize terrorist groups through intelligence sharing and police cooperation.  This was an option for the United States as well, but the George W. Bush administration had a larger agenda beyond counterterrorism.
The U.S. "war on terror," announced by President Bush on September 20, 2001, served some of the same functions as the Cold War against "communism" (1946-1991).  It provided an overarching justification for U.S. global power projection and hegemony, bolstered U.S. military spending and the "imperial presidency," and refurbished national myths of grandeur and "exceptionalism." The Pentagon's National Security Strategy of 2002 stated that U.S. military forces must be "strong enough to dissuade potential adversaries from pursuing a military-build-up in hopes of surpassing, or equaling, the power of the United States." That is the definition of global hegemony.
Maintaining U.S. hegemony required an extensive network of military bases and installations abroad – some 800 as of 2022 – along with numerous military partnerships.  According to the Costs of War Project at Brown University:  "From 2018 to 2020, the United States government undertook what it labeled 'counterterrorism' activities in 85 countries."  In thirteen of those countries – Afghanistan, Pakistan, Iraq, Syria, Yemen, Somalia, Kenya, Nigeria, Mali, Libya, Cameroon, Niger, and Tunisia – U.S. personnel were engaged in some form of combat, drone strikes, special forces missions, or planning and control operations.  The U.S. conducted joint military exercises in 41 countries and training operations in 79.  In 2021, U.S. military expenditures totaled $801 billion (not including veterans' health care costs), constituting 38 percent of $2,113 billion in global military expenditures, far more than any other nation.  The U.S. was also the world's largest arms dealer, accounting for 39 percent of major arms deliveries worldwide between 2017 and 2021.
This multi-part essay reviews and analyzes U.S. foreign policies in the two decades following the 9/11/2001 terrorist attacks on the United States.  The next section (Section II) outlines five operational missions undertaken by the U.S. in the name of counterterrorism, ranging from the necessary protection of the American people to unnecessary wars in Afghanistan and Iraq. While it is widely known that the Bush administration made false claims in the lead-up to the invasion of Iraq in March 2003, it is less well known that the administration rejected opportunities to negotiate a peaceful settlement in Afghanistan in the fall of 2001.
Section III examines the themes and arguments used to frame and sell the "war on terror" to the American people, beginning with a review of historical antecedents.  To a large degree, the Bush administration's "war on terror" followed the playbook of the Reagan administration's "war on terrorism" in the 1980s, but with greater effect.
Sections IV and V examine the conduct and costs of the wars in Afghanistan and Iraq, respectively.  Both wars devolved into long-term occupations with harsh counterinsurgency measures resulting in large numbers of civilian casualties. Section VI surveys U.S. global counterterrorist operations, which included extrajudicial rendition (kidnapping), indefinite detention (holding prisoners without trial), torture, and assassination of suspected terrorists by armed drones, all of which violated international humanitarian laws, undermined cooperation with other nations, and were largely ineffective.
Section VII surveys various aspects of the "homefront," including veteran issues, government surveillance, anti-Muslim prejudice, and peace protests and politics.  The last section probes what lessons may be learned from America's misadventures and suggests alternatives to Pax Americana.

The purpose of this commercial-free educational website is to provide an accessible, accurate, principled, and resource-rich history of United States foreign policy.  The website was launched in October 2015 by Roger Peace, author of the Home page.  The Historians for Peace and Democracy became a sponsor the following month, and the Peace History Society, in June 2016.
The Historians for Peace and Democracy (formerly Historians Against the War) was founded in 2003 in opposition to the Iraq War. "As historically minded activists, scholars, students, and teachers, we stand opposed to wars of aggression, military occupations of foreign lands, and imperial efforts by the United States and other powerful nations to dominate the internal life of other countries."
The Peace History Society is dedicated to peace research and education. "The Peace History Society was founded in 1964 to encourage, and coordinate national and international scholarly work to explore and articulate the conditions and causes of peace and war, and to communicate the findings of scholarly work to the public."
History Revealed: Indigenous Peoples' Day - September 15 (East Side Freedom Library)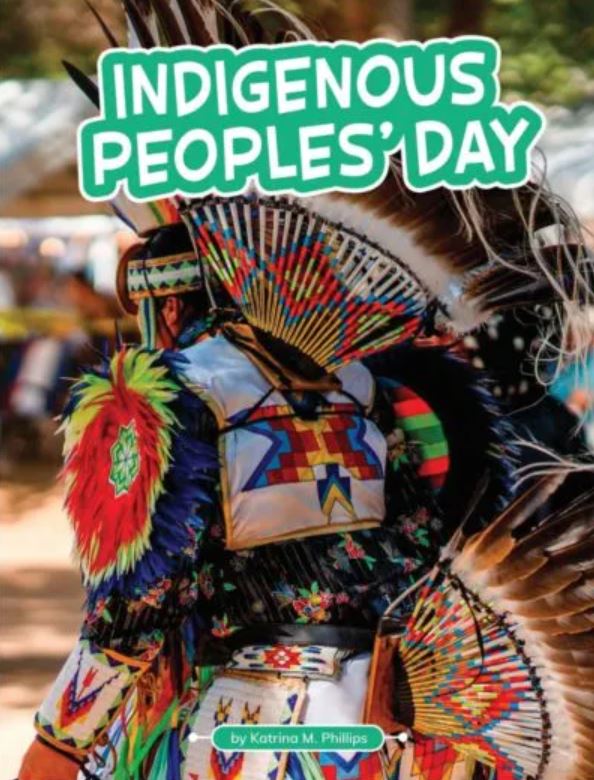 Indigenous Peoples' Day: Traditions & Celebrations
Dr. Kate Phillips
History Revealed Series
Thursday, September 15, 2022, 7:00 pm CDT
In partnership with the Ramsey County Historical Society & Roseville Library
Live presentation on Zoom
Register in advance for this meeting, register on Zoom here.
After registering, you will receive a confirmation email containing information about joining the meeting.
For questions, please email events@rchs.com
The second Monday in October is a day to honor Native American people, their histories, and cultures. People mark the day with food, dancing, and songs. Dr. Kate Phillips will share the history and the multiple traditions that this holiday can have, and how it can be celebrated in all with family and friends in many ways.
Dr. Katrina Phillips is a citizen of the Red Cliff Band of Lake Superior Ojibwe. She earned her BA and PhD in History from the University of Minnesota, and she teaches Native American history and the history of the American West at Macalester College.
Making Minnesota: Natives, Settlers, Migrants, and Immigrants
The Ramsey County Historical Society, in partnership with the East Side Freedom Library, the Ramsey County Roseville Library and other community organizations, will present a series of programs and events during 2022 that will center on the experiences of indigenous people, African Americans, and immigrants in Ramsey County from the 1800s through the current day. programs which focus on the too often lost, erased, forgotten or misrepresented histories and stories of Ramsey County and the state of Minnesota. We expect these presentations to enrich and complicate our understanding of the development of the county and the state that we call home.
1105 Greenbrier Street
St. Paul, MN 55106
651.207.4926