https://portside.org/2022-09-08/how-zoomers-organized-first-chipotle-union
Author: Jonah Furman
Date of source:
Labor Notes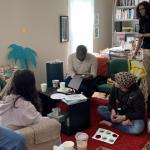 Chipotle workers in Lansing, Michigan, formed the fast food chain's first recognized union in the U.S., voting 11-3 on August 25 to join Teamsters Local 243. It's the latest in a string of new organizing breakthroughs at prominent national brands, from Starbucks to Apple to Trader Joe's to REI.
Of all the employers that have seen union drives over the past year, Chipotle—with 100,000 employees across 3,000 stores, and long-term plans to double its footprint in North America—is the most similar to Starbucks. They're both outliers in fast food: their stores are primarily corporate-owned, rather than franchised out to smaller operators.
Though chains like Subway and McDonald's have more total locations, Starbucks and Chipotle are two of just four fast food chains with more than 1,000 company-operated locations. (The others are Panda Express and Arby's.)
Harper McNamara has worked at Chipotle for two years; the average Chipotle worker stays about four months, he estimates. For him, the reasons to unionize were simple: "pay, scheduling, and treatment from managers."
McNamara started at $10.15 an hour, 50 cents above Michigan's state minimum wage. Now he's up to $13.60, after Chipotle raised wages during the pandemic. That raise, which brought the company's minimum pay to $11 an hour and its average to $15, was partly a response to workers organizing in New York City with SEIU 32BJ, as Alex Press reported for Jacobin.
SEIU's campaign emphasized scheduling, too. Ultimately Chipotle agreed to a $20 million settlement for routinely breaking a 2017 New York City law that mandates regular schedules, two weeks' notice, and premium pay for changes or "clopenings." (That's when a worker has a late night closing shift followed by an early morning opening shift.) It was the largest ever settlement for "fair workweek" violations.
LET THEM EAT CAKE
At the Lansing store, the scheduling issues intensified in the ramp-up to the store's general manager being promoted to "restaurateur" status.
Chipotle uses this designation for a very limited number of managers; it comes with a much-touted six-figure salary, and limited raises for all workers in the location. But to achieve it, local management had to put on a show for corporate.
They cut hours in the days before the inspection, so they could over-staff on that day—without exceeding their weekly average labor hours—to make a good impression. They even put up a fake schedule in the back, to make it look like this was standard procedure.
"The really radicalizing thing that happened that day," says Atulya Dora-Laskey, another organizing committee member, "is they brought all the crew members out and took a photo in front of a huge cake with balloons with 'R' on them. Then the managers all ate the cake and the crew members were sent to the back."
As they were washing up after the photo op, one of the crew members remarked, "I thought 'R' was going to be for 'raise.'"
"That really set people off," says Dora-Laskey, "So after that we started looking into the union stuff more."
ORGANIZED BY THE BOOK
Unlike the Chipotle workers organizing in New York City, the Lansing workers filed for a union election.
None of the members of the organizing committee have any direct union experience. They relied on friends from the Democratic Socialists of America: Rikki Reynolds, a member of the Michigan Education Association; Angelo Moreno, who unionized his public library job with the UAW; and Grace Norris, who organized her Starbucks. They read the Labor Notes book Secrets of a Successful Organizer together. The committee made a list of their co-workers and started having one-on-one conversations to see what people thought of the idea of a union.
Dora-Laskey would ask co-workers, "What do you think would happen if you asked for a pay raise? You'd get in trouble. What do you think would happen if everybody asked for a pay raise?"
They made up their own system to assess people's responses, using a one to 10 scale. "Five was neutral. Anything three or below was like, 'They're going to snitch on us.' Eight would be, they're on board. Nine would be, they're willing to do extra work for it. Ten was, they're on the organizing committee."
If people were on board, they would get added to a group chat on Snapchat. The chat became a place to vent, to swap shifts, to share the schedule when it came out, and to pass around articles on Chipotle corporate. It also became a place to schedule union meetings.
CHOOSING THE TEAMSTERS
Before they talked with any unions about affiliating, the Chipotle workers in Lansing started holding union meetings. They'd have one in the morning and the evening, so both shifts could attend. They'd have an agenda plotted out, and they would take votes on important issues.
One of the votes was on whether or not to tell the managers they were organizing. Others were on whether certain co-workers should be asked to join the next meeting.
One of the most consequential votes was on which union to affiliate with.
Once they had assessed that 40-50 percent of their co-workers were pro-union, McNamara and Dora-Laskey went in search of a union. They researched different unions both locally and nationally and reached out where they could. Some never called back; some said it was out of their geography or jurisdiction.
"One thing that wasn't expected for either of us was we actually got turned down, or left on 'read,'" says Dora-Laskey. "It was actually really frustrating for a while. We were, like, wondering what was wrong with us."
So they put it to a vote. At an organizing meeting in March, they put together a list of nine unions, and included an option to go independent. On the latter option, the organizing committee was skeptical, primarily because members thought they'd need a lawyer to help navigate the NLRB.
"We were like, if you guys want to do this, I guess Harper, Sam, and I will start, like, reading up on National Labor Relations Board law and stuff," Dora-Laskey laughs.
They also had an interesting call with the Industrial Workers of the World, who advised them to skip the Board and the contract process, and focus instead on shop floor action.
"Teamsters wasn't really high on our list," says Dora-Laskey. "[But] my roommate was in the living room and was like, 'Oh yeah, Teamsters is a fighting union.'"
So he decided to stop by their union hall "on a whim" one day before work. The difference was "remarkable," Dora-Laskey says. "They really took us very seriously and were really enthusiastic, and they gave us union cards to start signing immediately."
The Teamsters staff organizers were surprised to learn that the Chipotle workers had already made a list, assessed their co-workers, and were holding meetings. The workers didn't know it was unusual. In March, they voted to go with Teamsters Local 243 and began signing cards.
SCARE TACTICS FIZZLE
But they weren't the first Chipotle store to file for an election. On June 22, workers at a Chipotle in Augusta, Maine, had petitioned the NLRB for a union vote as Chipotle United, an independent union. A week earlier, they had walked off the job in protest of chronic understaffing.
On July 19, the same day an NLRB hearing was being held to determine the election process, Chipotle permanently closed the Augusta store, claiming the ongoing staffing issues made it impossible to continue to operate. Workers there called it "union busting 101." The union has filed charges at the Labor Board alleging the closure was illegal retaliation against their campaign.
The Maine closing was an obvious problem for the union in Lansing. "If there was bad news, we wanted to be the first people to share that information with people," says Samantha Smith, another organizing committee member, "so we didn't seem like we were trying to lie and hide things."
At first, the workers tried to understand why Chipotle wouldn't close their store as well. They researched and found that Chipotle had only closed about a dozen stores over the previous year; closing two unionizing stores would be too suspicious. They also reasoned that the new "restaurateur" status meant the store was profitable enough to keep open.
"But then we kind of shifted gears," says Dora-Laskey. "The better inoculation was more like, 'OK, so what if Chipotle closes down?' They were like, 'Oh I'd just get a job at Qdoba, they're hiring for $14 an hour.' I think it's a tight labor market that is giving people a lot of power right now."
Part of it, say Smith and Dora-Laskey, is also generational. "Everything that's happened politically, like abortion being criminalized, and then inflation but nobody's getting paid any more, people can't afford things—that is a real push," says Smith.
"Zoomers are looking around and we're like, 'This shit is over.' Everything is coming to an end in, like, quite a spectacular fashion," says Dora-Laskey. "And it really is like, 'Okay, I might get fired from this job for organizing. Okay.'"
DUES FOR LIFE?
Chipotle did not threaten to close the Lansing store. But the company did make a concerted union-busting effort.
Managers held extended one-on-one meetings with nearly all 18 workers. They brought in a union-busting consultant who presented herself as a "non-biased educator," but with a clear anti-union slant.
"Towards the end she got more blatant with her lies," says Dora-Laskey. "She started saying that we would have to be paying dues for life if we joined a union—even if you leave Chipotle."
In one-on-one meetings, the consultant would say different things to different people, saving the worst rhetoric for non-native English speakers. But after the meetings, workers would compare notes and identify inconsistencies.
"Eventually," says Dora-Laskey, "we got people to see that she gets hired by companies to come in. Companies don't like unions." They would ask their co-workers, "Do you think she has more or less job security if we unionize? What do you think her incentives are?"
UNEXPECTEDLY POSSIBLE
The Chipotle workers in Lansing know that winning their union vote is a breakthrough but not the end of the line. More stores will have to organize, and at some point, they'll need to win a union contract.
"Chipotle is such a big corporation that it would be kind of hard if it was just us against all of Chipotle," says Dora-Laskey.
But last week's win was further than he had hoped to get. "I kind of wanted to see why union organizing drives don't work. Because I figured since it had never been done before there was, like, a reason, and I wanted to explore that," he says. "We have not found that yet."
[Jonah Furman is a staff writer and organizer for Labor Notes.jonah@labornotes.org]
RELATED