https://portside.org/2022-10-03/fireman-pieman-how-miami-firefighter-baked-pie-empire
Author: Laine Doss
Date of source:
Broken Palate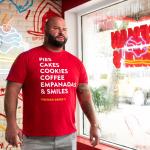 Miami is filled with a diverse and interesting blend of restaurants and bakeries but none might be as endearing as the pie shop that's owned by a former fireman.
Fireman Derek's Bake Shop offer pies in an array of flavors — with each slice the size of the proverbial kitten that firemen iconically rescue from trees. Derek Kaplan always had a knack for cooking and baking since he was a teen, but took a detour to become a firefighter before reigniting (fire pun intended) his passion for piemaking.
"When I was a teenager, I knew how to cook. I wanted to perfect a good dessert, so I learned how to make key lime pie. It was a natural fit," Kaplan tells Broken Palate.
Though he had talents in the kitchen, Kaplan wasn't yet ready to devote himself to the culinary arts. "I didn't know if I felt passionate about it yet in terms of doing it as a career. I was figuring out what I liked to do and what I wanted to be," he says. Kaplan decided to pursue a career as a firefighter, which he did for a decade. But baking kept calling to him. "I was a firefighter, but I didn't move up in the ranks, because in my spare time I was working my business," he confides.
That business — a food truck named Fireman Derek's Famous Key Lime Pies — was Kaplan's side hustle. When he wasn't helping the good citizens of Miami (and maybe a few kitties), Kaplan would bake out of a shared industrial kitchen in the Wynwood neighborhood of Miami. A dozen years ago, Wynwood was still an affordable area, filled with warehouses and factories. Kaplan and his father, Joel, would bake pies until the early hours of the morning on his days off. Then, Kaplan would sell slices of his key lime pie out of his truck. 
The pies caught on. Restaurants started ordering the pies to offer diners. Soon, menus across Miami would proclaim: "We proudly offer Fireman Derek's Famous Key Lime Pies." In 2013, Kaplan opened his first shop, practically next door to his baking facility. The shop was barely a counter. It was so small that no more than two — maybe three — patrons could fit in the tiny space. Still, people came — queuing in the hot Florida sun for a pie. 
Today, Kaplan has since moved his flagship shop to a larger space with seating for customers just a few blocks south of his original space. A second pie shop is located in Coconut Grove, and Kaplan is opening a third shop in Fort Lauderdale any day now. He now bakes out of a kitchen farther north, in the Little River neighborhood, and has a dedicated staff who helps him turn out a full line of pies, cakes, and other baked goods.
Although the key lime pie is the one that put him on the map, it's his guavaberry pie that makes my heart sing: Kaplan mixes a blend of fresh berries with tropical Florida guava, topping the pie with streusel. 
Other popular pies include a grasshopper, coconut cream, and a dense salted caramel with an oatmeal crust that reads more like a buttery pastry than pie. 
Kaplan says he's honored when people from another city come to take a selfie in front of his shop. "We are in neighborhoods that are truly part of the Miami food scene. We're part of that."
Kaplan also says there's no better satisfaction than when he sees people enjoying some of his pie. "Food is something that you can share with friends and family. It's such a delight. The smell, the sight, the taste — it's all an experience."
Next time you're in Miami or Fort Lauderdale (opening soon), check out Fireman Derek's or order a pie from Goldbelly and have an iconic slice of Miami delivered to your door.