https://portside.org/2022-10-12/global-left-midweek-october-12-2022
Author:
Date of source:
Portside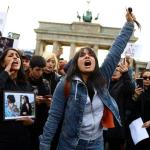 __________
How the Left Can Build Its Own Politics
Hilary Wainwright / Red Pepper (London)
James Schneider, a co-founder of Momentum, argues for a federated 'left bloc' with a secretariat whose main function would be to co-ordinate, facilitate and share information. This argument starts from the fact that though anti-establishment and socialistic values are widespread in the UK, there is no longer a political party to bring them together under a single banner.
__________
Iranian Women Find Allies
__________
Die Linke's Options
Cornelia Hildebrandt / Rosa Luxemburg Stiftung (Berlin)
Die Linke is at a crossroads. It will only be able to survive if it overcomes its internal disputes and consistently sharpens its value as a militant party for social justice. It must be present on the streets and in the squares, in alliance with trade unions, social movements, civic associations, and other interest groups. 
__________
African Enviro Activists Fight for Representation
Nina Lakhani / The Guardian (London)
Cop27, which has been termed "the African Cop", the UN climate talks in Egypt in November, threatens to take place without African activists advocating for communities devastated by drought, floods and fossil fuel projects in the negotiations when life-or-death decisions about climate finance will be made.
__________
Brazil Election Watch 
__________
Russia/Ukraine in Context
__________
Socialists Stand Out in Québec Election
Rick Salutin / Toronto Star
The only separatist party with any energy now is Québec Solidaire, which is both seriously socialist and seriously separatist. They were the only oppo party to gain rather than lose seats (up one, to 11) and got more votes than the others. The mainstream media just don't know how to deal with genuine leftists. 
__________
Rebuilding the Italian Left
Luciana Castellina / transform! Europe (Vienna)
Reconstructing the Italian left is possible, but it is something that will take a long time, and it does not consist in copying the 'Mélenchonian' project, because it is not enough to put together little pieces of defeated parties as was done in France. It has to start from society, reconstructing a network of communities and projects.
__________
A Message to Xi
Katsuji Nakazawa / Nikkei Asia (Tokyo)
In a video prior to the 20th Congress of the Communist Party of China, the oldest party leader, Song Ping, called for reform, using Xi Jinping's own words to send a message to the top leader.
__________
Building a Strong Democratic Left in the Spanish State
María Corrales / Rosa Luxemburg Stiftung (Brussels)
Spain Labor Minister Yolanda Díaz announced a new electoral project, Sumar (Spanish for "to add"), with a clear message: Sumar is neither a political party nor a coalition; it is a "citizen movement" whose goals are to "expand democracy" and "build a country for the coming decade".