https://portside.org/2022-10-18/apple-union-win-shows-labor-gains-organizing-resistant-south
Author: Ian Kullgren
Date of source:
Bloomberg Law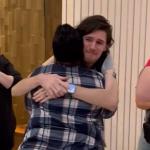 Organized labor's decisive victory at an Apple Inc. Store in Oklahoma City is causing unions to rethink their long-held belief that workers in Republican-dominated Southern states can't be won over.
That assumption—which has guided union organizers for the better part of a century—was called into question Oct. 14 when workers at the Oklahoma store overwhelmingly voted to join the Communications Workers of America, the second of about 270 Apple retail locations in the US to unionize.
Union organizers and labor scholars said the blowout victory was significant not only because it was the second Apple store, but also because of where the store is located. It's not in New York, California, or even suburban Baltimore, where the first Apple store unionized in June. It's in Oklahoma, where Republicans hold every congressional seat and the share of workers belonging to unions sits well below the national average at 5.6%.
"It really shows a national phenomenon," said Rep. Andy Levin, a Michigan Democrat and former union organizer. "What do people in Oklahoma City really have to do with people in suburban Baltimore? It's as different a part of the country as you could imagine."
Apple Store signage is seen at Grand Central Station on April 18, 2022 in New York City. Employees at the Apple Store at the Grand Central Terminal store have begun the process of unionizing with Workers United, an affiliate of the Service Employees International Union. Photo by Michael M. Santiago/Getty Images
Unions have struggled for decades to gain a foothold in the South, and the last few years have been marked by a string of high-profile losses. Nearly three-quarters of workers at a South Carolina Boeing plant in 2017 rejected the International Association of Machinists. The United Auto Workers lost two elections at a Volkswagen plant in Chattanooga, Tenn., one in 2014 and again in 2019. This year, the Retail, Wholesale and Department Store union lost an election at an Amazon warehouse in Bessemer, Ala., even after a labor board judge ordered a re-vote due to alleged violations by management.
But cracks have started to appear in red states' anti-union front. The Machinists union in 2018 won a much smaller election of about 170 Boeing technicians in South Carolina. Starbucks Corp. workers, who have waged a viral campaign since the first store unionized in New York state last year, have found success in Kansas, Florida, South Carolina, Oklahoma, and Texas.
Last week, workers at Lowe's Cos. Inc. in New Orleans filed for a union election, inspired by the recent victory at Amazon.com Inc.
"This goes against the conventional wisdom you can organize in New York but not the South," said Seth Goldstein, an attorney for the Office and Professional Employees International Union who has been helping the newly formed union at Amazon's Staten Island warehouse.
The Same Pool
In fact, Starbucks workers in Oklahoma City quietly helped the Apple workers, attending organizing meetings and offering advice on how to counter anti-union efforts, said Richard Bensinger, the former AFL-CIO organizing director who leads the the Starbucks union campaign.
"The workers are all Gen Z and millennials, and they share a demographic identity in the sense that it's a class-based movement, which is what the labor movement has always been," Bensinger said. "They are all Starbucks workers. It's the same pool of young people in these restaurant, service-sector jobs."
Part of the recent pattern of successful elections in unexpected locales may have to do with the widening urban-rural divide, with people in red-state cities becoming more aligned with liberal regions of the country compared to rural and suburban areas closer by. President Joe Biden in 2020 garnered 48% of the vote in Oklahoma County, where Oklahoma City is located, compared to just 32% statewide.
But union supporters say gains in the South and elsewhere will be limited by employers' ability to wage aggressive anti-union campaigns. The first Apple store to petition for an election, in Atlanta, withdrew its petition over claims of unfair labor practices by the workers. National Labor Relations Board prosecutors this month also issued a complaint against Apple for allegedly interrogating and discriminating against pro-union employees.
Apple has denied any wrongdoing.
"We believe the open, direct and collaborative relationship we have with our valued team members is the best way to provide an excellent experience for our customers, and for our teams," the company said in a statement Monday, adding that since 2018, Apple has increased starting rates in the US by 45%.
Unions have been pushing for legislation that would make many of these tactics illegal, and have asked the NLRB to take a tougher approach.
"It is impossible without intervention" from administration officials for unions to succeed when large companies like Amazon and Apple set out to block the effort, said Goldstein, who has filed unfair labor practice charges on behalf of Amazon workers. "I don't think the Roosevelt administration or the Truman administration would allow this type of action."
More than geography, success depends on how hard companies like Starbucks and Apple are willing fight, Bensinger said.
"Clearly, if they hadn't fired people and not, you know, threatened to not give them benefits, there would be a lot more stores organized," he said of Starbucks.