https://portside.org/2022-11-09/global-left-midweek-november-9-2022
Author:
Date of source:
Portside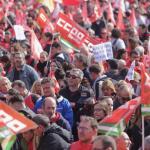 __________
Inventory of the Global Left
Göran Therborn / New Left Review (London)
This essay is an attempt to understand the context of the 21st-century left and its innovative responses to the major challenges of the present conjuncture: the looming climate catastrophe, the new world of imperial geopolitics and the abysmal economic inequalities among an increasingly interconnected humankind.
__________
COP27 and Dreams of Egyptian Revolution
Middle East Research and Information Project (Chicago)
As the lead-up to COP27 intensifies, tensions grow between political repression in Egypt and the notion of a "climate just" world espoused by campaigners and the UN. Activists have called for a show of international action—in part, a simple recognition that climate justice cannot be achieved without confronting all forms of violence, including political repression. 
__________
Declarations From International Party Meetings
__________
Russia's Feminist War Resisters
Greenhouse of Social Technologies / Europe Solidaire Sans Frontières (Paris)
In February Feminist Anti-war Resistance (FAS) originated in a single chat room. By half a year of operation dozens of conversations and groups had emerged. FAS positions itself as a decentralised horizontal movement: all departments make decisions themselves. Transparency is achieved through open information and communication to all. 
__________
Vietnam Health Ministry Says Homosexuality is Not a Disease
Sen Nguyen / Rosa Luxemburg Stiftung (Berlin)
In early August of this year, the ministry became the first high-ranking governmental body to publicly condemn treating homosexuality as a disease in an official statement, marking a significant milestone in the LGBT community's quest for equality in the Southeast Asian country.
__________
Afghan Activists on Why Women's Representation Matters
Fawzia Koofi, Habiba Sarabi and Maryam Rayed / UN Women (New York)
In the face of innumerable human rights violations, Afghan women continue to resist and to work towards lasting peace and security for their country. 
__________
Workers in Action
__________
Just Stop Oil
BBC News (London)
Just Stop Oil describes itself as "a coalition of groups working together to ensure the government commits to halting new fossil fuel licensing and production." The UK government plans to license more than 100 new oil and gas projects by 2025. The movement first came to attention following a series of protests in March. 
__________
A Year of Resistance in a Sudanese Town
Oscar Rickett / Middle East Eye (London)
Protesters are still regularly taking to the streets of Gedarif, close to Sudan's eastern border, in defiance of the military. But the response has been brutal.
__________
Asian Labor Challenges
Dae-Oup Chang / Asian Labour Review (Seoul)
To understand the shift toward authoritarianism and "shrinking civic space" across Asia, it is imperative to place this phenomenon in the context of the crisis of global neoliberalism that has brought back authoritarian statism. This understanding on the changing nature of global capitalist system is crucial for crystallising a new agenda for labour movement-building from below.