https://portside.org/2022-11-22/fifas-cynicism-knows-no-bounds
Author: Alex Shephard
Date of source:
The New Republic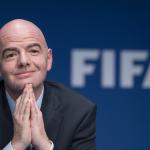 For nearly an hour on Saturday, FIFA president Gianni Infantino sat behind a lectern and oscillated between channeling John Lennon, Nelson Mandela, Andrew Cuomo, and Jesus—all in the name of defending the World Cup's host country, Qatar, which has rightfully come under fire for its grotesque treatment of migrant workers, women, and LGBTQ people.
It's hard to pick just one quote from Infantino's immediately infamous display, which was more of a piece of performance art than a press conference. "Today I feel Qatari," he began, an assertion that has rightfully received the majority of the attention from those covering the event. But he had more to say after that: "Today I feel Arabic. Today I feel African. Today I feel gay. Today I feel disabled. Today I feel [like] a migrant worker." Infantino was, at this point, trying to make the case that as a child of immigrants—his parents are Italian but he, like his fabulously corrupt predecessor, is Swiss—he could somehow empathize with the migrant workers whose slave labor built the ornate stadiums that would soon host matches across the tiny gulf state. Hundreds, perhaps even thousands, of those same workers died during this pursuit.
You wouldn't think it possible, but it got worse. "Of course, I am not Qatari, I am not an Arab, I am not African, I am not gay, I am not disabled. But I feel like it, because I know what it means to be discriminated [against], to be bullied, as a foreigner in a foreign country," he continued, cringe levels hitting new humiliating heights. "As a child I was bullied—because I had red hair and freckles, plus I was Italian, so imagine."
Imagine. Homosexuality is illegal in Qatar. But Infantino—now bald and unbullied—had forgotten one group. "I feel like a woman too!" he added, maladroitly.
Naturally, Infantino wasn't really on hand to empathize with those who are bullied, imprisoned, or mistreated in Qatar—or anywhere else. He was there to perform an act of cynical sin-eating. In many ways, in fact, this press conference was the crowning act of cynicism in what is shaping up to be the most corrupt World Cup in history—no small accomplishment given that the last installment was held in Russia. Infantino dutifully presented himself as an imaginary martyr, the better to muddy the waters and deflect the critics of Qatar and FIFA—which awarded the country the 2022 World Cup (and Russia the 2014 World Cup) in 2010 after members of the executive committee were bribed and stalked by former CIA spies in the country's employ.
"We have been told many, many lessons from some Europeans, from the Western world," he said, getting to the point. "I think for what we Europeans have been doing the last 3,000 years we should be apologizing for the next 3,000 years before starting to give moral lessons to people." The West undoubtedly has much for which to atone. But this is breathless whataboutist balderdash—and Infantino has no business using the horrific legacy of slavery, colonialism, and imperialism to justify a lavish and corrupt World Cup. He, like the rest of FIFA, has no interest in justice. He's there to make the show go on.
"You can crucify me," he said, really building to an operatic crescendo of putrescence. "I'm here for that. Don't criticize anyone. Don't criticize Qatar." And that's what he really was there to do: Qatar had come under fire and Infantino stepped up and gave a Roger Goodell–like performance to distract from it. For the past several weeks, sports commentators had turned themselves loose to shed light on the tawdry roots of this World Cup. Now, thanks to this absurd monologue about red hair and colonialism, the attention was all on Infantino.
But Infantino can't stanch this wound; Qatar's true colors keep bleeding through to the surface. Earlier this month, global soccer's governing body blocked Denmark from training—only training—in uniforms with the anodyne message "Human Rights for All." On Monday, the federation took things even further, blocking requests from seven countries—England, Wales, Belgium, Denmark, Germany, and the Netherlands—to wear rainbow captain's armbands reading a similarly anodyne message: "One Love." FIFA threatened to award each captain a yellow card if they had worn the illicit armband.
Yellow cards do matter in the World Cup. In 2018, Japan progressed to the knockout stage over Senegal because it had accumulated fewer yellow cards during the group stage. FIFA was, in effect, hijacking the protest: You can make a statement about gay rights in Qatar and around the world, but you risk not moving forward. It's disappointing, but not particularly surprising, that all seven countries backed down.
It's a pity. It would have made a tremendous impact if any of these countries had moved forward with their protest. Gay people in repressive countries like Qatar undergo tremendous risks just to be who they are; wearing the armband and taking a yellow card—or three, given that is the number of matches played in the group stage—would have been a profound gesture. But it's not particularly surprising that the teams backed down given the potential cost: not making it to the knockout rounds of the World Cup. Besides, it's hardly fair to burden the players with making up for FIFA's cowardice.
But bogus attention to Western hypocrisy is exactly what FIFA was going for when it upped the stakes by blocking this relatively tame form of protest. It wanted to draw attention away from the fact that, even as it and many of soccer's other leagues and governing federations have drawn attention toward discrimination against women and LGBTQ people, it has continued to award its most prestigious tournaments to profoundly regressive countries like Russia and Qatar. In a World Cup that has been defined by token gestures, this was the weakest of them all. But perhaps some small measure of solace can be taken by the fact that these corrupt robber barons of international sport no longer feel as bulletproof and immune to the opprobrium of the public as they once were. Some blood has been drawn at last.