https://portside.org/2022-11-28/farm-workers-push-congressional-action-during-lame-duck-session
Author: Rebekah Entralgo
Date of source:
Inequality.org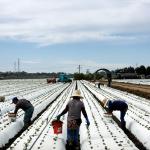 Farm workers mobilized in Washington, DC the week before Thanksgiving to push lawmakers to pass the Farm Workforce Modernization Act, a compromise bill that would help secure America's food supply and put some of the nation's most essential workers on a path to citizenship.
The delegation included farm workers from major agricultural states that produce much of the food we consume during holiday season, such as Arizona, California, Oregon, Washington, Georgia, Michigan, Idaho, Colorado, Texas, and Virginia.
"This Thanksgiving, families all over the country will enjoy the food brought to their tables by farm workers," said UFW Foundation Chief Executive Officer Diana Tellefson Torres. "Farm workers demonstrated during the pandemic that they are at the very core of our food security. These hardworking men and women have earned the opportunity to apply for legal status. Let's give thanks to those who nourish this nation by passing the Farm Workforce Modernization Act through Congress."
The bill would create a path to legal immigration status and eventually citizenship for hundreds of thousands of undocumented farmworkers. It would also streamline and expand the H-2A visa program, which allows agricultural employers to bring in workers from other countries for seasonal jobs.
The House of Representatives has passed the bill twice — most recently in 2021, with just 30 Republican lawmakers supporting the legislation. With Republicans poised to take back control of the House in January, the bill only stands a chance of becoming law if the Senate passes it before the end of 2022.
Lulu Guerrero, a 52-year-old farm worker from Wiggins, Colorado, is one of many undocumented workers who stands to benefit from the bill. Guerrero, who arrived in the United States without papers nearly 20 years ago, wakes up at 3 am most mornings to plant and harvest tomatoes, watermelons, onions, cucumbers, and pumpkins for Colorado's $41 billion a year agricultural industry.
"We were called essential during the pandemic — all we want is the opportunity to get out of the shadows and stay in the country," Guerrero told the Denver Post.
Advocates and lawmakers view the Farm Workforce Modernization Act not only as a means by which Congress can start to legalize thousands of workers, but also as a way to address labor shortages in the trillion-dollar agricultural industry. Advocacy organizations estimate the bill would reduce labor costs for farms by about $1 billion in its first year alone by lowering the cost of obtaining temporary migrant worker visas and providing support for worker housing costs
There are between 2.5 and 3 million agricultural workers in the United States. Migrant farmworkers account for an estimated 75 percent of these, and 50 percent of migrant farmworkers are undocumented. Many live in this country at risk of deportation, in substandard housing conditions, and in extreme poverty.
But even if this bill passes, there will still be much to do to ensure that all farmworkers are treated with respect and dignity. The legislation faces pushback from some state and local farm worker advocates who argue the bill doesn't go far enough in protecting migrant farm workers from exploitative wages and workplace practices.
On gender equity, one in four farmworkers are women, who are particularly susceptible to the risks posed by pesticides. Pesticides have been linked to poor birth outcomes, congenital anomalies, developmental deficits, and even childhood tumors.
An analysis of the U.S. Department of Agriculture's Farm Labor Survey by Justice For Migrant Women found the wage gap between men and women farmworkers to be about $5,000 annually. But even this understates the disparities, since many women farmworkers do not even have access to their own income. Employers will often officially enroll the man in a family as an employee while the wife and children work off the books, according to the organization.
Other priorities for the broader farm worker and immigrant rights advocates include reforming the entire immigration system, addressing violence against women, and instituting mandatory workplace health and safety guidance — a demand which became even more urgent as migrant farmworkers were left out of some federal Covid relief programs.
"Our nation is facing unprecedentedly challenging times for American families. The unspoken heroes keeping our nation's food supply secure are the farm workers and their families," said Juanita Valdez-Cox, Executive Director of La Union del Pueblo Entero (LUPE). "Farm workers are at the forefront of keeping food on our tables in every zip code in the U.S., and they deserve protections. As Thanksgiving approaches, we can thank farm workers by passing this legislation to honor their humanity, hard work, and critical contributions."
---
Rebekah Entralgo is the managing editor of Inequality.org. You can follow her on Twitter at @rebekahentralgo.
Like our work? It is good people like you that make it happen!
There are real people working here. Your tax-deductible donation will help us maintain this site and provide the most up to date information on inequality and the issues you care about. Just $35 a month supports our community of scholars and activists to work towards real social change.