https://portside.org/2022-11-29/progressives-congress-begin-push-back-against-biden-betrayal-rail-workers
Author: Jake Johnson
Date of source:
Common Dreams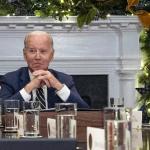 After a period of silence, progressive members of Congress began to push back Tuesday as President Joe Biden and Democratic leaders moved ahead with plans to approve legislation that would prevent a nationwide rail strike by forcing workers to accept a contract deal without any paid sick days.
The president's endorsement of congressional action—and House Speaker Nancy Pelosi's (D-Calif.) subsequent vow to swiftly bring legislation to the floor—sparked a furious response from rank-and-file rail union members, a majority of whom voted to reject the White House-brokered contract agreement that Biden and lawmakers are now trying to impose on workers, denying them the right to strike and stripping them of any leverage to negotiate a better deal.
As of this writing, a relatively small number of Democrats in Congress have publicly spoken out about the White House's position and the fast-approaching vote on rail legislation. Pelosi, who has described the Democratic Party as "the party of workers and workers' rights," told reporters on Tuesday that a bill could hit the floor as early as 9:00 am ET Wednesday.
It's unclear whether progressive House members will mount an effort to improve the tentative agreement by adding paid sick days—a central, longstanding demand of rail workers. Pelosi said the bill will seek to impose the tentative contract agreement "with no poison pills or changes to the negotiated terms."
"Last year, the rail industry made a record-breaking $20 billion in profits. They can afford to give their workers paid sick leave," Rep. Rashida Tlaib (D-Mich.) wrote on social media Tuesday. "The rail industry must put the quality of life of their employees over profits. I stand with rail workers."
Rep. Marie Newman (D-Ill.), who lost her Democratic primary race in June, tweeted Tuesday that "paid leave should be the bare minimum."
"Good Lord, this is the U.S., not a third world country," Newman wrote. "Paid leave has to be part of the deal. Period."
Another Congressional Progressive Caucus (CPC) member, Rep. Ro Khanna (D-Calif.), asked, "Why wouldn't the rail companies just allow workers to have paid sick days?"
"We need to stand with workers," Khanna added. "This is not complicated."
In perhaps the sharpest response from a House Democrat, Rep. Jamaal Bowman (D-N.Y.) tweeted Tuesday that "rail workers can't schedule getting the flu on a Tuesday 30 days in advance"—a reference to the tentative deal's restrictions on when workers are allowed to take unpaid days off for doctor's visits.
"What we're seeing is an inhumane deal being pushed onto workers even after a majority voted it down," Bowman, also a CPC member, continued. "If we are a pro-labor party, we must stand up for them. They need paid sick leave now."
In a separate tweet, Bowman said he "can't in good conscience vote for a bill that doesn't give rail workers the paid leave they deserve."
Rep. Cori Bush (D-Mo.) echoed that sentiment.
"Every worker deserves paid sick leave," Bush wrote. "I will not support a deal that does not provide our rail workers with the paid sick leave they need and deserve."
At press time, Rep. Pramila Jayapal (D-Wash.), the chair of the CPC, had yet to comment on Biden's stance as progressive advocacy groups urge Democrats to side with exploited workers over the greedy rail industry.
Speaking to reporters Tuesday following a meeting with Biden and Republican congressional leaders at the White House, Senate Majority Leader Chuck Schumer (D-N.Y.) said he supports legislative efforts to preempt a rail strike, which could begin as soon as December 9 without a contract agreement or congressional action.
Shortly after Biden issued his statement on Monday, Sen. Bernie Sanders (I-Vt.) told reporters that any bill to prevent rail workers from striking must include guaranteed sick days.
Sanders reiterated that message on Tuesday, saying he intends to demand a vote to provide rail workers with sick leave despite White House pressure to force through the tentative deal without any changes.
"Will I demand a vote to ensure that workers in the railroad industry have what tens of millions of workers have, and workers here on Capitol Hill have: guaranteed paid sick leave? The answer is yes," the Vermont senator said.
Sen. Kirsten Gillibrand (D-N.Y.) told HuffPost that she is working with Sanders and others on a measure that would guarantee rail workers "a week of sick days."
Unions had originally asked for 15 paid sick days but are now demanding at least four. The railroad industry, which has raked in massive profits in recent years while driving workers into the ground, has refused to grant even a single paid sick day.
The Brotherhood of Maintenance of Way Employes Division (BMWED), one of the major rail unions that voted to reject the tentative contract deal, said in a statement Tuesday that it is "deeply disappointed by and disagrees with" Biden's decision to pressure Congress to impose the inadequate agreement on workers.
"A call to Congress to act immediately to pass legislation that adopts tentative agreements that exclude paid sick leave ignores the Railroad Workers' concerns," BMWED added. "It both denies Railroad Workers their right to strike while also denying them the benefit they would likely otherwise obtain if they were not denied their right to strike."
"BMWED calls upon President Biden and any member of Congress that truly supports the Working Class to act swiftly by passing any sort of reforms and regulations that will provide paid sick leave for all Railroad Workers," the union continued. "BMWED will continue fighting for paid sick days for every Railroad Worker because it is unreasonable and unjust to insist a person perform critical work when they are unwell."
---
Our work is licensed under Creative Commons (CC BY-NC-ND 3.0). Feel free to republish and share widely.