https://portside.org/2022-12-15/tidbits-dec-15-2022-reader-comments-georgia-victory-electoral-politics-electoral
Author:
Date of source:
Portside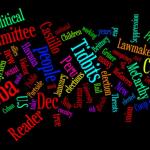 Background and Readers Debate:
Short News Items:
Announcements:
Brittney Griner  --  cartoon by Rob Rogers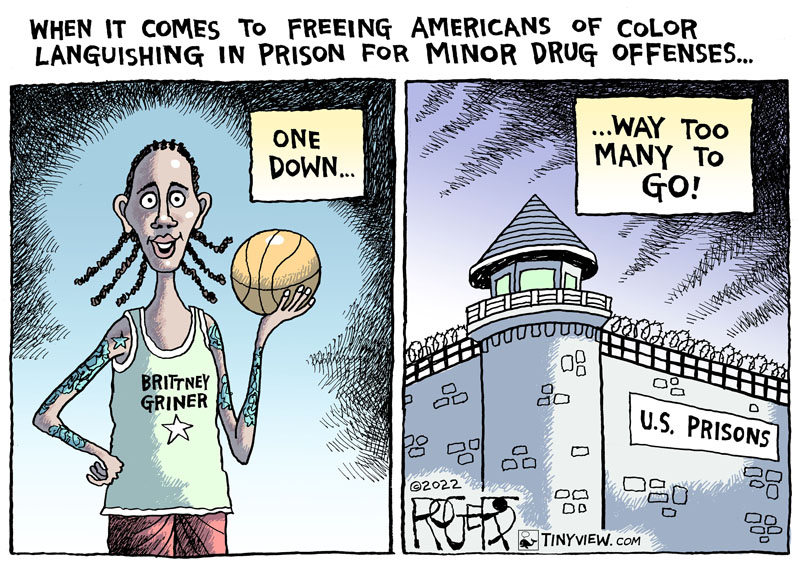 Rob Rogers
December 14, 2022
robrogers.com
Re: Here's Why Kyrsten Sinema Chose To Switch Parties
 
Ego and a seeking of power - those are the sum total of her politics and decisions.
Bill Barclay
Co-Editor, Real World Banking and Finance
SWIFT, the U.S. Dollar, and the Global Political Economy of Trade
Re: There Is No "Migrant Crisis"
 
People starving in The Horn because nation-state borders don't permit them to migrate from drought conditions where they live. So rather than move nomadically they hunker down in camps to die. ??
Raymond Suarez
Posted on Portside's Facebook page
Re: Louisiana Launches Tip Line To Accuse Librarians of 'Sexualizing Children'
(posting on Portside Labor)
 
I'm wondering if they have started any other tip lines, for, say, bosses who engage in wage theft or cheat on their taxes, or hire underage workers, or overcharge customers, or say people whose abuse their partners, or elders, or other social problems? Do they report the sexualization of minors or gender stereotypes, or racial bias in the media? How about books that whitewash history, or attempt to impose a single religion or political ideology?
Alyssa Bonilla
Posted on Portside's Facebook page
The Perfect Gift  --  cartoon by Clay Bennett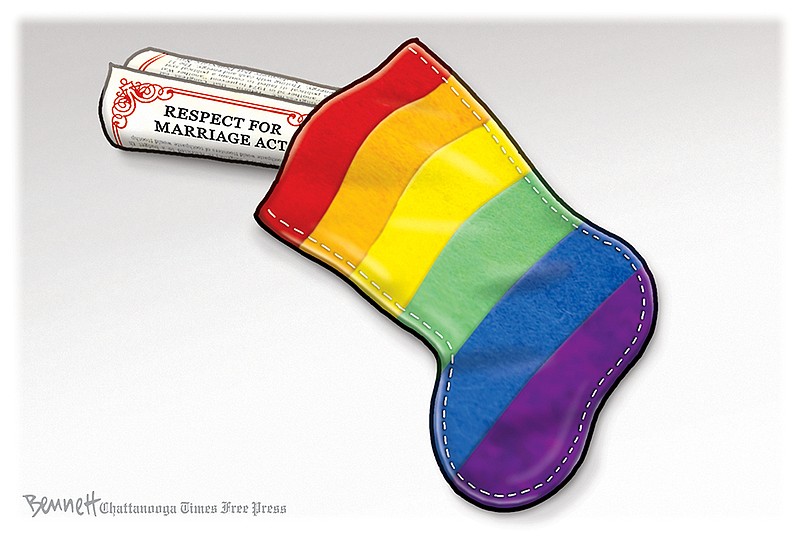 Clay Bennett
December 13, 2022
Chattanooga Times Free Press
Re: Rail Unions in the U.S. Are in Bad Need of Consolidation, Democracy, and Militancy
(posting on Portside Labor)
 
The rank and file of rail labor has demonstrated — as another top union official was forced to acknowledge — they are "engaged and enraged" by the intolerable working and living conditions they face as a result of the rail carriers' endless drive for more profit.
Top officials of the twelve rail unions did not organize and mobilize that rage through the union structures that only exist thanks to the dues paid by the rank and file. Rather than oppose the utterly inadequate Biden 'compromise,' they hailed it. They told the union membership they had done the best they could. In so doing, they served the interests of the employers rather than their members. They acted as lieutenants for big business.
There can be little doubt that tens of thousands who rejected the contract — and thousands of others who may have voted for it, resigned that it would be imposed no matter the vote results — thought differently.
It is not only new leaders but new strategies that are required if future battles are to be won. The unions must end the reliance on "friends of labor" among Democrats and Republicans that characterizes the approach of virtually all top union officers and that has failed so miserably. Instead, we need independent action by the ranks of the unions that appeals for solidarity from working people and extends the same to others in struggle."
Geoff Mirelowitz
Posted on Portside's Facebook page
      =====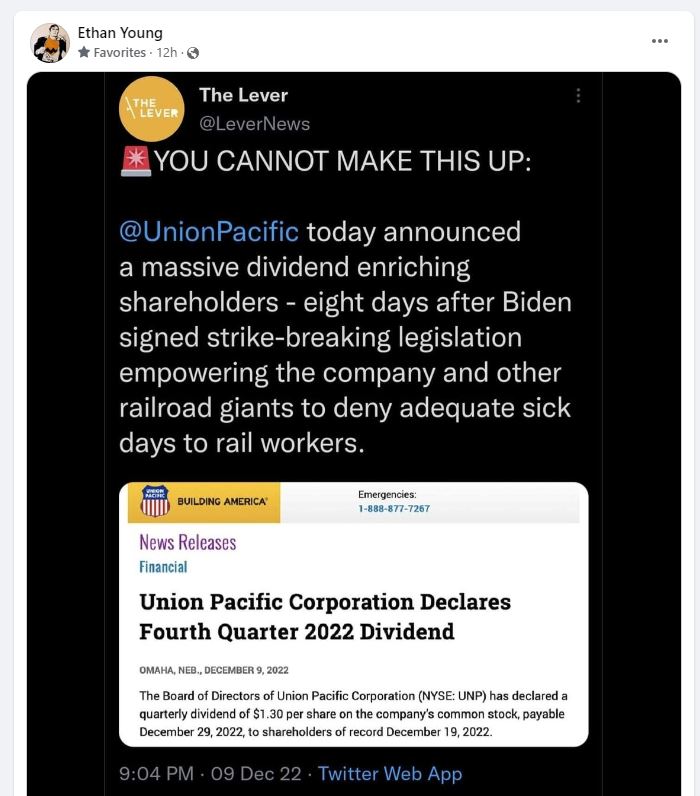 Re: Railroad Engineer on the Imposed Contract: "It Really Fell Short of Railroad Workers' Needs"
 
This is nothing more than a plea to transfer power from RR management to the union bosses. "Public infrastructure" means pure socialism. RR workers should know that in Europe where RR's are pretty much nationalized, workers still need to fight for the pay and working conditions they want and need; it is only WHOM they are fighting that is different. The best solution would be a national rail network (owned by a public/private partnership?) with private operators/competitors providing the actual transportation services, passenger or freight. This mirrors our national network of highways where independent trucking companies compete for business and use the national highways at will.
Peter Terry
Posted on Portside's Facebook page
      =====
Railroads are not being operated to move freight, they are being operated as a bank to extract wealth. To correct that, we need to operate railroads like public infrastructure — like the necessary piece of our economy that they are. This is something that RWU has pushed: public ownership. It's a way for us to go on the offensive, to start pushing that there is another way to do this that doesn't have as great a negative effect on workers.
That's my biggest message. Within the last couple months, we've built a network of people who are looking to RWU for guidance in this process. That could be being done by our rail unions, and they could be pushing some very big demands for the whole working class. It's not just railroad workers who need predictable scheduling, who need time off the job — all workplaces need that.
Turning that from a railroad struggle into a broader class struggle is my kind of vision.
James Miller
Posted on Portside's Facebook page
Re: A Catholic University With a Radical History Faces a Union Drive of Its Own
(posting on Portside Labor)
 
Thank you for that article and take a look at another Jesuit university Santa Clara University in California. They employed a union busting Law Firm to fight the unionization of part-time faculty and fight it fiercely.
L A Kurth
Re: New School Teachers' Strike Ends As NYC University Agrees to First Pay Raises in 4 Years
 
Regarding an article on Dec 11 about the success of a teacher's strike at New York City's New School for Social Research, I believe "gripe" was a poor choice of words here, misrepresenting New School part-time faculty's legitimate grievance as an irritating, grumpy complaint:
The part-time teachers — who make up 82% of the university's teaching staff — had not received a raise in four years. They griped their actual wages had shrunk by 18% over that time due to inflation.
Surely the writer's actual sympathies lie with the successful strikers, as is evident otherwise in the excellent reporting.
CC Halitsky
Re: No Union? You Still Have a Right To Strike
(posting on Portside Labor)
 
That is an excellent article! Extremely specific and useful! Thank you!
L A Kurth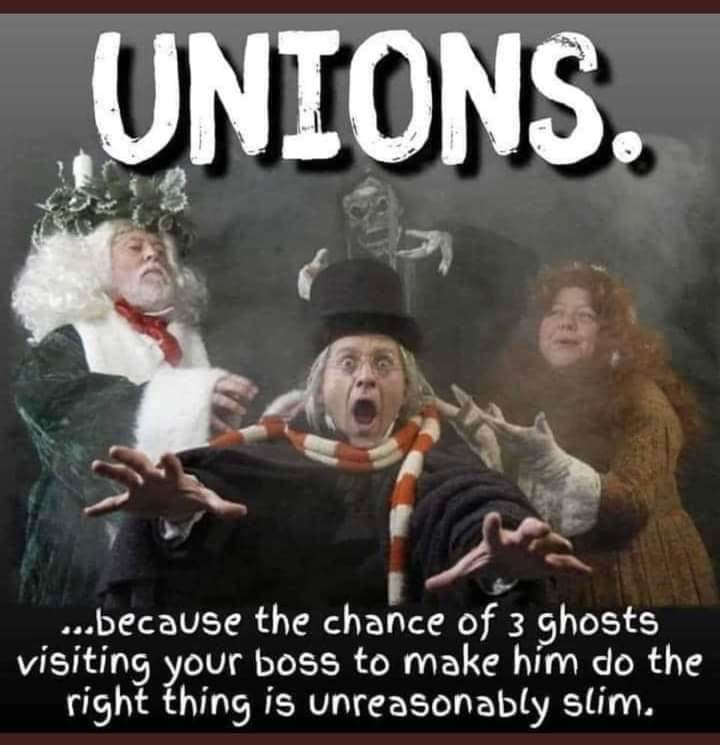 AFL-CIO
Facebook post
December 25, 2021
Re: Farm Workers Push for Congressional Action During Lame Duck Session
 
In relation to the farmworker piece here, it's important to note, which the article doesn't, that there is very widespread opposition among farmworker groups other than the UFW to the Farm Workforce Modernization Act, because the bill has mandatory E-Verify, will vastly increase growers' use of H-2A contract workers, has a legalization process that will exclude many if not most farmworkers, and other huge problems.
David Bacon
Re: Peru: A Reactionary Coup Is Consummated
 
Right, that's why all the president's allies sides against him. Pay
attention.
Christopher Martin
      =====
PERU: Brief notes on the impeachment of Pedro Castillo
Pedro Castillo, a rural primary school teacher and trade union leader from deepest Peru, was elected President in June 2021 by 50.2% with the votes.
He was elected on the list of 'Peru Libre', a Marxist party but was not a member of the party. He soon lost the support of the party.
He faced crushing opposition from the parliament, Congress, from the start. It has a right-wing majority. It has the right to remove government ministers. Under pressure from Congress, Castillo had to change his cabinet six times, and make various other changes of ministers. He found it almost impossible to govern properly, and his political weaknesses were many.
He introduced a tax reform to make the rich and big business pay more. He also started a 'second agrarian reform' to benefit small farmers (the first one was in 1968-72 under the progressive military government of Juan Velasco Alvarado).
Congress was about to discuss impeaching him, which was likely to happen.
With accusations of corruption, and an intense media campaign against him, Castillo's poll ratings were not high but the politically fragmented Congress, widely seen as corrupt, had a lower rating.
To end the political crisis, on Wednesday 7th December Castillo declared the Congress closed and that new elections would be held. It was a desperate move with little chance of success.
Within hours the Constitutional Court, Comptroller, Chief Prosecutor and the heads of the Armed Forces all declared that this was an auto-coup d'etat. It was easy for the right-wing in Congress. It met hurriedly and impeached Castillo by 101 votes with only 6 against and 10 abstentions; he was arrested and will face charges of sedition and conspiracy, among others.
The Vice-President, Dina Boluarte, took office and said she would create a government of 'national unity'. Instead of saying new elections would be held – the step foreseen by the constitution I believe, and necessary to end the political crisis – she said she would rule until the end of Castillo's term in 2026.
Sra. Boluarte was elected with Castillo on a very left-wing ticket, but as a TV analyst said, showed no loyalty to him or his ideas at all. She had also faced legal charges, and the implication is that she had already made a deal with opposition members of Congress. She has now announced a new cabinet full of establishment figures. Congress members who had been in favor of new elections rapidly said they had to act 'responsibly', 'there is a new context'. Yes, Castillo has been removed to carry on without elections.
So the establishment got rid of the first progressive President of Peru for 50 years. There have been many popular demonstrations, some violent in the interior, in favor of Castillo, and especially against the 'corrupt' Congress. These seem unlikely to change the situation at the moment, however.
The positive aspect, in my view, is that the expectations of the people have been raised and popular movements have been given hope. To advance to a stronger progressive government, much more organization will be necessary along with political education.
Dan Morgan
Posted on Portside's Facebook page
      =====
The dictatorship of the bourgeoisie in Peru has the money and weapons for the army and the police and the executive, judicial and legislative power and also the elections and voting are fraud and there is no transparency -ONPE- the electoral body did not want to recognize the win or electoral triumph at the polls for President Pedro Castillo and there is the result of state terrorism or the regime of the bourgeoisie the capitalist system how much you have when you are worth it and you have nothing, nothing you are worth, they have kidnapped and imprisoned it for social conscience.
Rafael Carranza
Posted on Portside's Facebook page
      =====
Hello Pinochet!
Rick McCloskey
Posted on Portside's Facebook page
Re: Putin's Russia, Front and Rear
 
According to this assessment by the Russian Marxist sociologist and political dissident Boris Kagarlitsky (yes, there are still some Marxists in Russia) ...
"The majority of the population is already in favor of a speedy end to the war. But what bodes ill for the authorities is the confusion, disunity and [competing] claims of the [elites]."
Parts of this analysis are clearly on-target.  About others, I would say ... interesting, if true.  But you can read this and decide for yourselves.
Jeff Weintraub
Posted on Portside's Facebook page
Re: The Class Conflict Between Elites and Workers Goes Back to America's Founding
 
Revelatory. I find Hogeland's history supplementary to Zinn's A People's History of the United States and Ray Rafael's Founding Myths.
US Progressive Activists' Update
Posted on Portside's Facebook page
Re: Why German State Racism Is Now Directed at the Palestinians
 
Please give us a break from this sort of dishonest propaganda. The play called Seven Jewish Children is clearly Antisemitic--it isn't called Seven Israeli Children or Seven Zionist Children, it is Seven Jewish Children.  Throughout the play the references are all about "Jews"--absolutely no mention is made of Israelis or Zionists, just Jews. The play just reformulates classic Antisemitic themes about clannish, hard hearted, bloodthirsty Jews--and you can't get any more Antisemitic than that.
Stan Nadel
Re: The Mystery of the Blue Whale Songs
 
No "mystery" there. Their batteries are worn down. Change them. As a technology deficient person, that's a lesson I've learned over the years.
(LOL -- for those who don't understand satire)
Arlene Halfon
(posting on Portside Culture)
 
Actually, the first fascist nation was Miklos Horthy's Hungary, 1919. I have written frequnetly on fascism since I published"The 15% Solution "in 1996. It predicted pretty much where we have been going with what I call the "Republo-fasist Party ( https://www.opednews.com/articles/The-U-S-Ruling-Class-and-Class_Class-Politics_Class-War_Party-Machine-Republican-221101-39.html).  
Steven Jonas, MD, MPH, MS, FNYAS
Professor Emeritus, Stony Brook Medicine
Dept. of Preventive Medicine and Prog. in Public Health
Renaissance School of Med. at Stony Brook Univ.
Poem Read at a Homeless Memorial Event
This beautiful and moving poem -- "NOT TRUE" -- was read at a recent "Memorial for the Fallen Homeless of 2022."  Friends are encouraged to share the poem widely among your networks.
James E. Vann
Not true
That I am invisible.
That I disappear into thin air when you take
My blankets, my food
And everything  I own.
Not true
That I don't want to come inside
If inside wanted me, I would go.
Offer me more than what I have
Offer me dignified housing
Offer me a home without an end date
A home that does not take every dollar I have
And I would go
Not true
That I want to live in squalor.
That I want to live without water or a bathroom
Without hot food; without safety
In fear and uncertainty
Not true
That I steal, 
That I steal profits from businesses
and property values from owners
Not true
That I want charity
More than the right to live free
From harassment; from judgment
From shame
What's true
Is that some cannot see me
As their neighbor, their friend,
Valuable, capable, worthy
Of existing by them.
More true
Is that some ... maybe even you
Cannot see me at all.
December 12, 2022
Americans for Peace Now, together with Ameinu, Bend the Arc, Habonim Dror North America, J Street, New Israel Fund, the Religious Action Center of Reform Judaism and T'ruah today released the following statement:
As Jewish American organizations, we oppose House Republican Leader Kevin McCarthy's pledge to strip Representative Ilhan Omar of her House Foreign Affairs Committee seat based on false accusations that she is antisemitic or anti-Israel. We may not agree with some of Congresswoman Omar's opinions, but we categorically reject the suggestion that any of her policy positions or statements merit disqualification from her role on the committee. 
Leader McCarthy's pledge seems especially exploitative in light of the rampant promotion of antisemitic tropes and conspiracy theories by him and his top deputies amid a surge in dangerous right-wing antisemitism. He posted (and later deleted) a tweet charging that George Soros and two other billionaires of Jewish descent were seeking to "buy" an election. His newly elected Whip Tom Emmer said the same people "essentially bought control of Congress." Meanwhile, Republican Conference Chair Elise Stefanik has promoted the deadly antisemitic "Great Replacement" conspiracy theory.
McCarthy's promise to also strip Representatives Adam Schiff and Eric Swalwell of their Intelligence Committee positions adds weight to the impression that his threats against prominent Democratic lawmakers' committee assignments are for purely political purposes. These are pledges clearly motivated by partisanship, not principle.
1320 19th Street NW, Suite 400
Washington, DC 20036-1635
PEOPLE –– GRIEVED
Thousands of artworks and illustrations were shared by people who mourned alongside her family...
We Condemn Executions and Violent Suppression of the Demonstrators in Iran
 
On Thursday, December 8, 2022 the Islamic Republic, criminally executed Mohsen Shikari who was only a pro-democracy protester. Unfortunately, many other dissident activists associated with the emancipatory movement of "woman, life, freedom" are also in the list to be murdered. For the last 3 months, since the killing of Mahsa (Jina) Amini a twenty-two-year-old Kurdish Iranian girl on September, 2022 by agents of the country's morality police on charges of wearing her hijab improperly, people from every class and ethnicity, initiated street uprisings against the tyrannical theocracy in order to bring about a new socio-political order responsive to freedom, human rights and justice. The main intention of the people is to topple the Islamic Republic and establish a democratic political system, preferably a secular and independent republic to bring about liberties and civil rights that would be amenable for people to participate in the country's socio-political affairs.
In recent days, just after the execution of Shikari, people around the country have intensified their revolt, surrounding many Islamic centers and demanding elimination of the Islamic Republic in its totality. In the last 3 months in more than 160 cities and more than 140 universities, slogans such as "woman, life, freedom", "death to the Islamic Republic", "death to dictatorship", "death to tyrant either Shah or clerical leader", "no to monarch, no to theocracy" and "freedom and equality" indicate the anti-despotic and freedom/justice seeking nature of the revolutionary movement that has taken place in Iran. As Narges Mohammadi the political prisoner and human rights activist rightly mentions, at this stage "disposal of the existing political order is will of the people". People of different social classes and stratums in big and small cities, from every national and religious trend, comprising women and men linked to many groups including workers, teachers, students, artists, pensioners, athletics and almost all deprived people have raised up to topple the existing political system.
In the last 43 years the Islamic Republic has imprisoned, tortured, and executed thousands of the Iranians and during its reign has robbed the country from its financial and social wealth. In this day of universal human rights, we in the Committee for Human Rights in Iran-Chicago demand stoppage of oppression by the Islamic Republic and request of all people, civil rights institutions and pro-life and pro-peace groups around the world to do all they can to help people of Iran to remove this theocratic reactionary regime and in the immediate stage establish a secular republic respectful of human rights with the purpose of moving in the direction of democracy and justice.
Committee for Human Rights in Iran-Chicago - faramarzd@aol.com 
Democratic Lawmakers Visit Havana, Meet with Cuban President
 
The Center for Democracy in the Americas
Tuesday, December 13, 2022 | Issue No. 731
This week, Representative Jim McGovern (MA-02), Rep. Mark Pocan (WI-02), and Rep. Troy Carter (LA-02) traveled to Cuba on a congressional delegation in which they met with Cuba's President Miguel Díaz-Canel, Cuba's Foreign Minister, Bruno Rodríguez Parrilla, the U.S. Embassy in Havana, and members of Cuba's congress, AP News reports. While the details of the exchanges have not been disclosed, a tweet from President Díaz-Canel recounted their meeting, stating, "We addressed our differences and topics of shared interest. We affirmed our willingness to improve bilateral relations." The delegation met with Cuba's National Assembly and, according to a statement from the Assembly, discussed strengthening dialogue, inter-parliamentary relations, and mutual respect for each other's sovereignty. In a speech during the meeting with the National Assembly, Chair of the U.S. House Rules Committee, Rep. McGovern, shared some of his goals for the future of U.S.-Cuba relations, including the removal of Cuba from the State Sponsors of Terrorism (SSOT) List and the lifting of the U.S. embargo on Cuba. Rep. McGovern also called for increased collaboration on issues of mutual interest and the normalization of relations, stating, "We want to work together with you to tear down the walls, to have a more mature and constructive relationship, for the benefit of the peoples of Cuba and the United States." The delegation concluded on Monday.
Rep. McGovern has traveled to Cuba on multiple occasions and been a long-time advocate for engagement with Cuba. Most recently, alongside Chairwoman of the House Appropriations Subcommittee on State and Foreign Operations Barbara Lee (CA-13) and Chair of the House Foreign Affairs Committee, Representative Gregory Meeks (NY-5), Rep. McGovern commended the Administration's decision to provide humanitarian aid in the aftermath of Hurricane Ian, and urged the Administration to provide humanitarian support to Cuba on many accounts, including in response to the devastating fires in Matanzas, Cuba. Over the past two years, Rep. McGovern and his colleagues have also written letters urging President Biden to restore and repair U.S.-Cuba relations upon entering office, to lift restrictions on U.S. financing of agricultural sales to Cuba, to lift sanctions on trade and travel and to prioritize the humanitarian needs of the Cuban people amidst and economic and humanitarian crisis, and expressing concern over the omission of Cuba and other countries from the 9th Summit of the Americas. In 2019, he introduced the Freedom for Americans to Travel to Cuba Act of 2019, a bipartisan bill to lift restrictions on travel to Cuba for U.S. citizens.
The delegation came three weeks after Representatives Salud Carbajal (CA-24), Rep. Jim Baird (IN-04), and Rep. Jahana Hayes (CT-05) led a bipartisan House Agriculture Committee delegation to Cuba to better understand farming in Cuba, Cuba's food supply, and the impact of U.S. commodities. The Members of the House Agriculture Committee met with Cuban farmers, agricultural experts and business operators, and local officials to discuss agriculture and related issues. Moreover, the meetings occurred one month after high-ranking Biden-Harris administration officials met with their Cuban counterparts in Cuba to discuss migration and the resumption of consular services at the U.S. Embassy in Havana, and two weeks ahead of the scheduled full resumption of consular services, set to resume on January 4, 2023.
Center for Democracy in the Americas
P.O. Box 53106
Washington, D.C. 20009
Email: info@democracyinamericas.org 
Phone: (202) 234-5506
What If the Jan. 6 Attack on the US Capitol Succeeded? - Special Presentation December 22 (Public Citizen)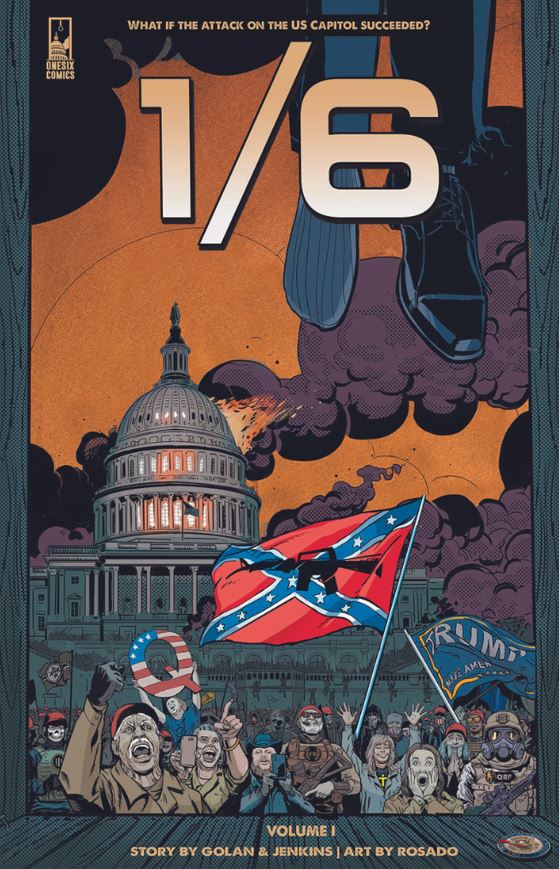 January 6th, 2021 was a day that will live in infamy for our country.
A group of elected leaders turned their backs on one of the pillars of our democracy — the peaceful transition of power — and incited armed right-wing militants to attack our Capitol.
Now, almost two years later, we've seen compelling evidence that Trump and his MAGA allies planned, promoted, and paid for a criminal conspiracy to overturn an election he knew he lost.
Join us next Thursday, December 22, for a special presentation from Gan Golan and Alan Jenkins, the creators of the new graphic novel project "What if the January 6 attack on the US Capitol succeeded in overthrowing our Democracy?".
This January 6 marks the second anniversary of the violent attack on our Capitol. The bipartisan January 6th Select Committee has shown that Trump and his MAGA allies planned, promoted, and paid for a criminal conspiracy to overturn an election they knew they'd lost.
Even though some of the most prominent election conspiracists lost their midterms, they are already looking to 2024 for ways to overturn the will of voters. They are working to sabotage future elections by changing state laws, threatening election officials and packing election administration offices so that they can have the final say over election results – even when they lose.
Join us to learn and discuss how you can take action to defend our democracy.
RSVP for the special presentation and to learn how you can take action in your community at our organizing call on Thursday, December 22, from 4:00-5:00 p.m. ET.
Ongoing investigations continue to dig deeper into potential criminal wrongdoing by Trump and his allies, so we need to support the January 6th Committee and other investigators.
At the same time, we must make it clear to local, state, and federal legislators that they have a responsibility to take down barriers to voting, protect election officials and voters, and fight back against the influence of Big Money in our elections.
We need your help to demonstrate broad public support for investigations into Trump and his MAGA allies, as well as for legislation to protect our democracy.
Join us at our call on Thursday to learn more about organizing an event in your community on January 6th.
If you've never organized before, we'll have tips on how to reach out to local organizations and find good speakers to make your event a success.
RSVP for Thursday's January 6th: Our Freedoms, Our Vote organizing call right away >>
For our democracy,
Jonah
Public Citizen
1600 20th St NW
Washington, DC, DC 20009