https://portside.org/2022-12-28/global-left-midweek-december-28-2022
Author:
Date of source:
Portside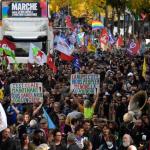 __________
EU/Qatar Scandal Hits International Union
Frank Hoffer / Global Labour Column (Johannesburg)
For the first time in the history of the international trade union movement, its highest representative, the general secretary of the ITUC, was arrested in Brussels by the police as part of an investigation into suspected corruption. Things have to change if the ITUC wants to regain its integrity and wants to be an organisation trusted by the migrant workers in Qatar and, indeed, anywhere else. 
__________
Documents of the European Left Congress
Party of the European Left (Brussels)
The EU has been in a deep crisis for many years – economically, socially, ecologically, democratically and politically – caused by its neoliberal principles, rules, treaties and policies all aimed at sustaining a capitalist economic system based on the maximisation of private profit and not production for the needs of people and the planet. 
__________
Nurses at the Forefront
Worldwide   Baba Aye and Huma Haq / Public Services International (Ferney Voltaire, France)
 
UK Strike   / The Indian Express (Noida)
 
India   / Peoples Dispatch (New Delhi)
 
Australia  

Chris Jenkins and 

Alex Bainbridge / Green Left (Sydney)
 
Korea

  

Kim Ju-yeon / Korea

 Biomedical Review (Seoul)
__________
Race, Class, and the Coup in Peru
Francesca Emanuele / Council on Hemispheric Affairs (Washington DC)
Many of those who still support Castillo lack the titles and university degrees that the newscaster, the Minister, and un-democratic Congress members have. However, Castillo's supporters show a refined understanding in realizing that the defense of the president is linked to their own lived experiences of discrimination, and above all, their future as a social group.
__________
Video: South Africa CP on the ANC
The ANC has no backbone and is being used as a tool to serve self-interest. That is the word from the SACP General Secretary, Solly Mapaila. He was speaking during the party's Red October Rally in Umzimkhulu in KwaZulu Natal.
__________
Profit, Cost of Living, and Climate Crisis
João Camargo / Fight the Fire
This "cost of living" crisis has been directly provoked by the oil and gas industries, and their historically high profits. It is a super-exploitation, massive profit crisis, that directly takes wealth from those who depend on fossil fuels, that is, all those that live in modern societies, and hands it out to private fossil fuel companies.
__________
Sudan Resistance Digs In
Pavan Kulkarni / Peoples Dispatch (New Delhi)
Attempts by the alliance of foreign powers, domestic right-wing parties and the military junta to consolidate an authoritarian state in Sudan will be defeated by mass-movements, insists the Sudanese Communist Party.
__________
Chile: Voters and the Culture of the Left
René Rojas / Jacobin (New York)
In the October 2020 plebiscite, held one year after a mass uprising against neoliberalism, Chileans overwhelmingly demanded a constitutional rewrite by an entirely new set of representatives. But the proposed constitution failed, not for being too "far left", but because it undermined a more effective working-class-oriented politics founded in universal reforms with broad appeal.
__________
Indigenous in Morocco
Shabnam Mayet / Waging Nonviolence (Brooklyn)
A rich history of cultural struggle has helped the Indigenous Amazigh community lead one of Africa's longest and most successful anti-mining protests.
__________
Art, the CIA, and the Global South
Panthea Lee / In These Times (Chicago)
What might our world look like if some of the most celebrated writers, artists and social scientists of the past two generations had not been lured to prioritize individual introspection over collective struggle? We will never know. Yet, because of documenta 15​'s visionary cultural organizing, we can see what a new alternative might look like.