https://portside.org/2023-01-19/lets-remember-martin-luther-kings-dream-included-full-employment-all
Author: William P. Jones and Algernon Austin
Date of source:
MarketWatch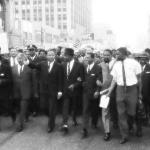 Two years after Martin Luther King Jr. described his famous dream at the 1963 March on Washington, he confessed to his congregation at Ebenezer Baptist Church in Atlanta that the "dream has often turned into a nightmare."
His dream was "shattered" by continued violence against civil-rights activists in the South, but also by the "sense of utter hopelessness" that King saw among unemployed men and women in Harlem, Chicago, and other Northern cities. "And not only Negroes," King declared. "I've seen my dream shattered because I've been through Appalachia, and I've seen my white brothers along with Negroes living in poverty."
Poverty amid prosperity
As we celebrate MLK Day six decades later, the plight of unemployed Americans remains depressingly similar. As in 1963, we live in an era of relatively high employment. Yet, also like the past, those national figures are riddled with local exceptions, particularly in African-American communities where unemployment remains roughly twice the rate for whites.
In fact, the disparity has not changed in the 60 years since the March on Washington. The pockets of joblessness that King saw among white workers in Appalachia persist in Carter County, Ky., as do high unemployment rates among Latinos in Imperial County, Calif., and Native Americans in Apache County, Ariz.
Addressing those persistent pockets of unemployment requires a federally funded program aimed at creating new jobs at prevailing wages. By covering some or all the costs of hiring new employees, a subsidized employment program can increase demand for workers, provide needed services, and generate economic development in the most economically stressed areas of the nation.
Eliminating the disparity between Black and white jobless rates would provide employment for about 1.5 million African-Americans, with roughly an additional $70 billion in wages going to Black communities. Subsidized employment would also raise overall income in predominantly white communities, such as Appalachia, with high rates of joblessness. 
But the benefits would go far beyond income, as jobs are created in needed businesses and public services and develop skills and products that benefit communities and drive economic expansion.
Subsidized jobs are effective
The United States has a long and successful history of federally subsidized employment programs, particularly during economic downturns.
During the Great Depression, the Works Progress Administration provided funding for state and local governments that put millions of unemployed Americans to work building roads, parks, schools and other infrastructure, much of which is still used today. The Civilian Conservation Corps also subsidized the employment of millions of young men in road building, fire control and other useful projects.
In the 1970s, the Comprehensive Employment and Training Act subsidized hundreds of thousands of jobs in local public services and nonprofit organizations, including community arts and recreation programs, health clinics, law enforcement agencies, child- and senior-care facilities, battered-women's shelters and weatherization projects for low-income housing.
And during the Great Recession, the American Recovery and Reinvestment Act authorized states to use funds from the Temporary Assistance for Needy Families program to subsidize employment in nonprofit organizations, educational institutions, and state, local, federal and tribal governments.
Subsidized employment programs are effective. A recent meta-analysis of 102 randomized control trials—the gold standard for scientific research—found that subsidized employment was the most effective of four worker-centered employment strategies.
Subsidized employment was more effective than job training, job-search assistance, and supporting entrepreneurship efforts at increasing individuals' employment and earnings. Additionally, these programs have been shown to lower criminal recidivism, increase public safety, reduce public benefits receipt, and improve the lives of children while, in many instances, paying for themselves in the long-term.
A history of discrimination
Unfortunately, the benefits of these programs have often been limited by discrimination and instability of funding. By allowing states to control the distribution of funds or to opt-out of the programs, previous programs opened room for discrimination against the neediest communities.
Although the WPA employed over 400,000 Black workers, the equivalent of 1.4 million today, even more would have been employed had states been required to hire workers regardless of race. While CETA and ARRA included stronger antidiscrimination policies, they were both ended before their full impact could be felt.
To be fully effective, subsidized employment must be controlled by federal authorities and funded for at least a decade. To ensure that funds are not used to fund existing jobs or to displace existing workers, participating employers should be required to create new jobs at prevailing wages.
Despite the important strides that the United States has made toward racial equality in the 60 years since the March on Washington, we have yet to address the persistent poverty and unemployment that turned King's dream "into a nightmare."
A federally funded and long-lasting subsidized employment program can be the first step in addressing that longstanding shortcoming and toward Dr. King's goal of full employment for all Americans.
[William P. Jones is a professor of history at the University of Minnesota and author of "The March on Washington: Jobs, Freedom and the Forgotten History of Civil Rights." Algernon Austin is the director of race and economic justice at the Center for Economic and Policy Research in Washington, D.C.]