https://portside.org/2023-01-21/activist-offering-other-front-line
Author: Steph Black
Date of source:
The Progressive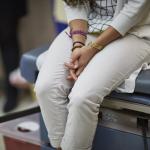 Abortion has always been a local issue.
For decades, the goal of the abortion access movement has been to get pregnant people across the threshold of abortion clinic doorways. Dozens of volunteer networks have been created to aid in this effort, from abortion funds to make the procedure financially possible to practical support collectives that get patients to the clinic door, to clinic escorts who guide patients through the crowds of protesters. The people who make abortion possible deeply understand the importance of local politics that reflect the needs of the community.
The overturning of Roe v. Wade last June was a wake-up call for many liberals who, believing that abortion rights are inalienable, took their permanence for granted. Almost everyone I've spoken to in the past few months who identifies as pro-choice has echoed similar sentiments—they can't believe abortion is no longer a protected federal right.
But ask anyone on the front lines of the abortion movement—in the South, in rural areas, in states controlled by Republicans—and they will tell you that Roe was doomed from the start. What all of these communities have in common is that the barriers to access abortion are local, and they are far-reaching—extending well beyond the procedure's legality and the many anti-abortion laws that are on the books. They include waiting periods, mandated propaganda, forced ultrasounds, and other TRAP (Targeted Regulation of Abortion Providers) laws.
The barriers are structural, too, including a lack of reliable public transportation, deteriorating infrastructure, and the rising costs of child care and fuel. These are all hyper-local matters that can prevent someone from physically accessing abortion. Even before Roe was overturned, nearly one in ten people obtaining an abortion traveled across state lines for care. The legality of abortion is decided by local politics.
---
What happens when local politics go further than just restricting abortion, to outlawing abortion outright? Under threat of prosecution, as of early October, sixty-six clinics across fifteen states have been forced to stop providing abortion, and of those, twenty-six clinics were permanently closed. Just thirteen clinics provide abortion care in those fifteen states, and all of these are in Georgia, a state that is currently enforcing a six-week abortion ban.
For Red State Access, local politics are the heart of their work. Red State Access is a new abortion organization that provides resources, primarily information about abortion pills, to pregnant people seeking abortion care in Republican-controlled states. Importantly, they note that it is possible to access medication abortion pills even in states that have outlawed abortion.
"Abortion access is confusing and restricted in red states," Red State Access board member Kelly Nelson tells The Progressive. "So much is in the media about various bans that it is hard for those close to the issue to stay on top of it, let alone people who aren't in abortion advocacy roles. There are various limitations around gestation periods, full bans, or bans in certain circumstances. Some have taken effect, and some are still pending. It's confusing and frightening."
Given that almost one-third of women of reproductive age live in states where abortion is either unavailable or severely restricted, Red State Access has become a lifeline for those seeking abortion care in the South.
As of last February, medication for abortion accounted for more than half of all types of abortions in the United States, a figure that will likely continue to increase with the help of organizations like Red State Access.
"We help pregnant people learn where they can receive support through self-managed, medicated abortion," says Jay, another Red State Access board member who asked to be referred to by first name only, due to privacy concerns. "We offer referrals to safe and trusted medication sources internationally and domestically. We believe knowledge is power, and knowledge of safe and effective abortion medications belongs in the hands of those who need it."
Red State Access works in a liminal space of legality. Although it simply provides information to pregnant people, it can still face legal risks for "aiding and abetting abortions" in states where the procedure is not legal.
"While traditional abortion funds continue to provide access within the letter of the law," Nelson says, "a need arose to help those where the law is immorally restrictive in their communities. We're helping provide people who are pregnant with the care they want."
---
Since the early 2000s, Tammi Kromenaker had run the only abortion clinic in North Dakota. At the Red River Women's Clinic in Fargo, she was an island.
For years, she looked across the Red River to Moorhead, Minnesota, as a place to open another location to provide additional abortion care. "We knew the [Dobbs v. Jackson Women's Health Organization] decision was coming; it seemed like the writing was on the wall," says Kromenaker, who signed the paperwork on the new building a day before Roe v. Wade was overturned.
While abortion technically remains legal in North Dakota, Kromenaker says the difference between Minnesota and North Dakota is stark.
"Senator Amy Klobuchar called me, Senator Tina Smith came to visit, Attorney General Keith Ellison came to visit. I've been on a Zoom call with the governor and lieutenant governor of Minnesota. The representative of the district the clinic is in has publicly stated their support for abortion and for our clinic, has visited multiple times, and wants to work proactively for abortion rights in the 2023 legislative session," Kromenaker says. "I have been welcomed with open arms."
The differences, however, extend beyond public support from local politicians. A zip code change has drastically altered how the clinic provides day-to-day care for patients.
In North Dakota, state law dictates that abortion medications cannot be used "off-label"—they can only be prescribed according to their U.S. Food and Drug Administration labels. This means that, despite medical research stating a drug's efficacy and safety, Kromenaker cannot dispense it to a North Dakota patient who is at ten weeks plus one day of gestation, or give a patient extra doses of misoprostol because it wasn't on the label.
"In Moorhead, our doctor gets to look at her education and training and make decisions rather than checking the law book first," Kromenaker says. In Minnesota, "we were able to give somebody a ten-week and four-day medication abortion, which would not have been possible in North Dakota. She had a trauma background and did not want an exam, which she would have needed for a procedural abortion."
---
For decades, Republican lawmakers have argued that it should be up to the states and local constituencies to decide on abortion rights. They accused the Supreme Court of judicial overreach in Roe v. Wade in 1973. Republican Senator Lindsey Graham, of South Carolina, recently introduced into the Senate a federal bill to ban abortion at fifteen weeks. Yet 85 percent of U.S. voters believe abortion should be legal in some or all circumstances.
We all have the ability to work to make abortion rights a reality by volunteering to drive or escort patients to abortion clinics, donating our dollars to abortion funds, and electing politicians who will protect these rights. By seeing abortion as a local issue, we can make sure that it is, in fact, genuine community care.
Steph Black is an abortion activist and writer based in Washington, D.C. She also writes a column, "The Activist Offering," for The Progressive. Read her work at stephblackstrategies.com.
Since 1909, The Progressive has aimed to amplify voices of dissent and those under-represented in the mainstream, with a goal of championing grassroots progressive politics. Our bedrock values are nonviolence and freedom of speech.  We publish multiple stories every day on our website, and also produce a bimonthly magazine featuring investigative reporting, cultural and political analysis, and poetry.