https://portside.org/2023-02-12/velma-its-backlash-and-how-south-asian-women-are-represented-tv
Author: Saloni Gajjar
Date of source:
AV Club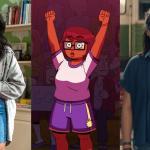 It's unlikely anyone had Velma marked as 2023's first controversial TV show on their bingo card. But in retrospect, it shouldn't be surprising that a retooled version of the Scooby Doo gang would have plenty of people up in arms (especially in The A.V. Club's review comments and my Twitter DM's) when the animated comedy premiered last month on HBO Max. (The first-season finale hits the service on February 9.)
Developed by Charlie Grandy, the animated prequel follows Velma Dinkley (Mindy Kaling), Daphne Blake (Constance Wu), Fred Jones (Glenn Howerton), and Norville "Shaggy" Rogers (Sam Richardson) in high school. They haven't yet banded together to form Mystery Inc. or taken the Great Dane under their wing. But they are going through a formative time.
Velma, obviously, is the heart of the show. The series is primarily her origin story—that is, a bisexual South Asian voiced by Kaling. It's full of pop-culture references, cornball zingers, and relationship drama that now feel synonymous with a Kaling project. This familiarity is one of the main reasons Velma was criticized early on. Well, that and the fact that Velma isn't white. Because how dare the producers try to reimagine a cultural figure to make her more universal, right? To be clear: This is hardly the first time Velma has been essayed by an actor of color (see Gina Rodriguez in 2020's Scoob!, and Hayley Kiyoko in two Scooby Doo! movies in 2009 and 2010).
So yes, Velma Dinkley feels similar to The Office's Kelly Kapoor or The Mindy Project's Mindy Lahiri. Except there's a major difference: Kaling is not a writer on Velma (not that assessing Kaling's work isn't valid, like how brown women in her shows mostly end up with white men romantically). Part of the Velma backlash seems to be an aftereffect of Kaling being one of the few South Asian creators in Hollywood to go mainstream. As IndieWire's Proma Khosla aptly stated last month, the discourse might stem from fatigue. The industry still doesn't have enough opportunities for South Asian writers, directors, and actors to tell nuanced, original stories. And there's no drive to promote them adequately (although Kaling has certainly helped pave the way in recent years).
Personally, Velma struck a chord with me despite its generic mystery and cheesy one-liners because it shows a messy, unsure-of-herself brown teen striving to do better. (Find me an adolescent who doesn't turn their identity crisis into an overblown catastrophe.) And it's especially poignant because of the disappointing and limited South Asian representation in animation, with the most widely regarded character still being The Simpsons' Apu (Hank Azaria). It's contemporary shows like Velma or Disney Junior's Mira, The Royal Detective—tonally different but with central South Asian characters—that help change audiences' perspectives and hit home for yours truly.
devi and her mom being iconic (never have i ever +s2)
This type of disruptive yet heartfelt coming-of-age depiction is a throughline in some other recent TV shows as well, including the Kaling co-created Never Have I Ever on Netflix and The Sex Lives Of College Girls on HBO Max. The list includes Disney+'s Ms. Marvel and even Bridgerton. It's rare to see multiple young brown female characters in rapid succession with distinctive, engaging stories despite intersecting themes of parental relationships and self-awareness.
Velma's love for crime-solving stems from a desire to find her missing mother; NHIE's Devi (Maitreyi Ramakrishnan) finds it tough to connect with her strict mom after her dad's death; Ms. Marvel's Kamala (Iman Vellani) navigates the discovery of her superpowers, which are rooted in her ancestry. Meanwhile, TSLOCG's Bela (Amrit Kaur), and Bridgerton's Kate (Simone Ashley) and her younger sibling, Edwina (Charithra Chandran), aim to live up to their families' expectations while hoping to chart their own paths. They all falter and act selfishly in ways that negate the usual South Asian stereotypes of being a model minority, demure, nerdy, etc. Each of them demonstrates that young brown women can, in fact, be a mix of flawed, chaotic, vulnerable, and so on.
This brings me back to Kaling, one of the few big Indian American names in Hollywood. Her characters undoubtedly share a kindred comedic spirit, whether in a movie like Late Night, an IP-bound Velma Dinkley, or a six-season sitcom like The Mindy Project. If you're a fan, you know this. It's also clear that she draws from her personal experiences, like losing her mom to cancer, or an internet-favorite "will-they-won't-they" with B.J. Novak. Her brand of comedy might not be for everyone, but no community is ever a monolith. Pinning all hopes for representation on one person isn't a worthwhile endeavor. There are several other talented artists of South Asian descent helming their own ventures: Nida Manzoor (We Are Lady Parts), Manjari Makijany (Spin), Sujata Day (Definition Please), Agam Darshi (Donkeyhead), and Minhal Baig (Hala), just to name a few from recent years, although we could use plenty more.
This is all to say that there is still a lot to say. Is Velma an intentional departure from the traits we're used to? Sure. Is the execution perfect? No. Is it a fun time? Definitely. But the glaring backlash against the show not only exposes blatant racism—hey, if you didn't complain about Azaria voicing Apu, you shouldn't gripe about Kaling's take on Velma, Wu's portrayal of Daphne, or Richardson's version of Shaggy—but also highlights a lack of empathy and understanding about why these stories matter. We should be celebrating thoughtful representations of South Asian teens onscreen, whether it's Velma or the characters in any other projects I've mentioned. Apparently, there's a lot of catching up to do.