https://portside.org/2023-02-21/media-bits-and-bytes-february-21-2023
Author:
Date of source:
Portside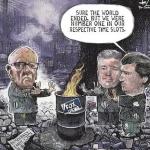 Bernie Proposes New Deal for Journalism
By Julia Conley
Common Dreams
The U.S. should have "nonpartisan public funding of media" to ensure local news outlets can stay afloat and keep communities informed about "their city council, their school board." Such a system would also prevent news networks like CBS from relying on advertising dollars, which encourage the corporate media's hostility towards progressive proposals for the public good.
Open Secret Now on the Record: Fox Lies
By Charles Kaiser
The Guardian
Dominion Voting Systems' brief requesting summary judgment against Fox News for defamation – and $1.6bn – makes it clear that senior figures from Rupert Murdoch down knew immediately after the election that claims of voter fraud were false. But hosts repeated lies about everything from imaginary algorithms shaving votes from Dominion machines, to non-existent ties to Venezuela.
NYT and the Anti-Trans Backlash
Scientists Reject Privatizing Data
By Andrea Capocci
il manifesto Global
Outsourcing the flow of official data on people and businesses to a software house involves obvious union-related issues regarding workers and the public resources to be transferred to the new company. But above all, it affects the quality and control of public data, a strategic knowledge asset for any country in the information age.
By Kyle Pope
Columbia Journalism Review
A media consortium that aims to continue the work of fallen and censored journalists, released a series that it is calling "Story Killers," an investigation into the global disinformation industry. Bringing together a hundred journalists from thirty media organizations around the world, they have produced an impressive chronicle of how disinformation is paid for and spreads.  
By Paul Kirby
BBC News
Russian journalist Maria Ponomarenko has been jailed for six years for posting on social media about a deadly attack by Russian warplanes on a theatre in Ukraine. The court in Barnaul in Siberia found her guilty of spreading "fake news", under laws introduced aimed at stifling dissent about the invasion of Ukraine. She was also barred from activities as a journalist for five years.
By Scott Staring
rabble.ca
ChatGPT did not emerge out of nowhere. It is just the latest phase in a decades-long effort by Big Tech to reduce knowledge to a monetizable on-demand product, and this ambition is helping to transform the very idea of what it means to learn. As artificial intelligence becomes smarter, does it risk having the opposite effect on students, education, and society at large?
Tech That Went Bye-Bye Last Year
By Cecily Mauran
Mashable
As we look back on 2022, it's important to take some time and pour one out for the tech we lost this past year. Whether these products, platforms, and companies lived a long life or barely made it past the pilot stage, burned too brightly like a star or slowly faded away into obsolescence, they all left their mark in some way.
By Joel Khalili
Wired
Over the past year, crypto-mining has been battered by a slump in the price of bitcoin, combined with a spike in the cost of energy and an increase in mining difficulty—a reflection of the amount of computing power directed at the bitcoin network, which dictates the proportion of coins miners are able to win. 
Crimethinc.
Jen got her start in do-it-yourself print media and counterculture at an early age, before the internet brought digital connectivity to the average North American household. Her career extended from the high point of the do-it-yourself counterculture through the turn-of-the-century movement against capitalist globalization to the Occupy movement, the Trump era, and the George Floyd uprising.