https://portside.org/2023-02-27/russia-africa
Author: Malick Doucouré
Date of source:
CounterPunch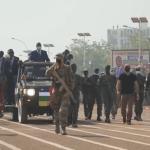 In January 2022, armed Russian militants operating under the banner of the notorious Wagner Group of mercenaries – a Private Military Company (PMC) operating internationally with Kremlin support – began a security operation targeting the villages of Aïgbado and Yanga, 600km to the east of Bangui, the capital city of the Central African Republic. The result was the brutal massacre of almost 70 Black African men, women, and children, conducted in both villages at the hands of the Russian mercenaries and their comrades among the Central African government troops. Countless more were injured and displaced – with images across various social media reports and news sites indicating the graphic torture and murder of unarmed civilians, hands bound behind their backs[1] as they are subjected to violence well past the legal threshold for war crimes. The United Nations (UN) Mission in the country, MINUSCA, confirmed through a statement released by Stéphane Dujarric, also the spokesperson for Secretary-General António Guterres, that they had received reports of violence involving government troops and unnamed external "security personnel", with many casualties and displacements running in the hundreds[2].
A UN Probe was subsequently announced earlier this year amid increasing media attention and reports, local accusations and international speculation concerning the Wagner Group's involvement; it has been long confirmed by the Central African Republic's (CAR) government that Russian mercenaries are indeed present in the country, having been hired as 'advisors'. Further online reports have since suggested the UN probe was hampered by the intentional placing of landmines to prevent access for UN Peacekeepers and investigators – but information confirming this fact is hard to find. What can be verified regarding the UN investigation of this Wagner-perpetrated massacre is this:
At the last Security Council meeting on the Central African conflict, the United States asked Moscow to investigate abuses attributed to Russian nationals. The UN panel of experts has not functioned since 31 August. The renewal of the members of this group, a dozen, by the UN secretariat, was blocked last summer by Russia, which believes that its composition is infiltrated by the West and does not reflect a real geographical diversity.[3]
This raises an important question – is there an ulterior motive for Russia's blocking of the UN investigation into these alleged mercenary-committed war crimes? If so, what does this mean for Russia's strategic presence in other parts of the African continent? What truly happened in the villages of Aïgbado and Yanga? Why is Russia in Africa in the first place? To answer these questions, we must first examine the facts and understand the political violence that has engulfed the Central African Republic, digging into the roots of a brutal civil war that has led to both United Nations (UN) Peacekeepers and Russian mercenaries landing boots on the ground.
The current conflict has its roots in the country's flag independence, neocolonial dictatorship, and various other political events of the 20th century that would permanently mark the political landscape; notably concerning this article, the conflict took a significant turn and major development when in March 2013, Séléka rebels – a name that translates to 'coalition' in Sango, the principal local language and lingua franca of the Central African Republic – seized power from President François Bozizé, whom himself had taken control in a 2003 coup d'état while serving as a general of the national armed forces. Bozizé had waited until the country's democratically elected president, Ange-Félix Patassé, left the country for a regional conference to seize power with over 1,000 loyal soldiers. This incident led to the establishment of multiple armed rebel groups fighting ostensibly for justice, the restoration of democracy, and the liberation of the country from what they feared would be another neocolonial dictatorship reminiscent of the brutal, French-backed rule of self-proclaimed 'Emperor' Jean-Bédel Bokassa.
The fears of these rebel groups were not unfounded, as Bozizé had risen through the ranks of the military under Bokassa's regime, gaining Bokassa's trust and becoming a Brigadier-General upon striking a French officer who had disrespected the Emperor. The violence and political unrest that followed the rise of his military and later political career, holding multiple ministerial positions until he attempted a failed coup attempt in 1982, perhaps foreshadowed the violence and political unrest that would characterise his regime following his march on the capital in 2003. The political environment, context and struggles that led to the 2003 coup, as well as the subsequent 2003-2007 bush war fought against his regime by various rebel groups, is a lengthy topic that requires a feature-length article of its own. What is relevant here is that many of these rebel groups struggling against Bozizé's rule would, in August 2012, merge to forge the Séléka coalition. They were particularly motivated and strengthened in popular support by his failure to honour the peace deal that had been agreed upon to end the Bush war.
Séléka's background is clearly political: a united front allied against the rule of a former general who had violently seized power from one of the nation's only democratically-elected presidents and subsequently ruled illiberally and with disregard for peace agreements. Despite this, much of the rank and file manpower of the rebel coalition were men of Muslim background – this led to the creation of a counter-militia named Anti-Balaka, comprised of those from a Christian background[4] who sought to defend themselves against atrocities conducted by (ex)Séléka militias. And thus, the conflict in the Central African Republic became one of an overtly sectarian character, with the UN MINUSCA peacekeeping mission beginning in September 2014 and aiming to extinguish the fanning flames of religious violence as Séléka's rule became increasingly unpopular. The country split between the two groups, with Séléka leaders eventually declaring an independent Republic of Logone in 2015[5].
Séléka had already been disbanded as a broad coalition in 2013 and so was split into several groups – The Political Rally for the Renewal of the Central African Republic (RPRC), the Popular Front for the Rebirth of Central African Republic (FPRC), Union for Peace in the Central African Republic (UPC), and the Central African Patriotic Movement (MPC). Adding to this political mess is the Movement of Central African Liberators for Justice (MLCJ) and the Lord's Resistance Army (LRA), made infamous by the Kony 2012 international appeal. The splitting of the Séléka coalition into various factions, many of whom committed atrocities in the countryside[6], the establishment of rebel groups along religious and/or ethnic lines, the failure of the Central African interim government to assert its authority beyond Bangui, the involvement of external actors such as the LRA, and the ubiquitous intrigues and influence of the ever-present Bozizé – who remains desperate for a return to power – all illustrates a volatile, unstable political cocktail that left the mineral-rich country ripe for external intervention.
Neither the UN peacekeeping taskforce nor the African Union mission could establish peace – and so the Central African government, under independent candidate and former Prime Minister-turned-President Faustin-Archange Touadéra, turned towards Russia for help. Belonging to the country's Christian majority and having campaigned on four points – peace and security, the productive sector, fiscal consolidation and basic social services[7], Touadéra moved to end the lawlessness that had seen personal rural fiefdoms carved out by various militia heads in resource-rich areas. Wagner troops could act with impunity and reckless disregard for civilian life that the UN and AU peacekeeping troops could not without risking a massive international scandal. In addition to helping the government regain control of large swathes of the country, no matter the unarmed civilian cost, Russia intensified – through Wagner – its economic stake in the country, developing mining contracts and financial ties with local private security companies such as Sewa Securities and Lobaye Invest[8].
Weapons sales to the CAR (as well as other African nations within Russia's strategic interest) are growing; "Angola, Nigeria, Sudan, Mali, Burkina Faso and Equatorial Guinea" join the CAR as other African destinations for Russian arms exports[9]. It is clear that for Russia, the CAR and the wider continent present not only a security market for its Wagner mercenaries and potentially other PMCs in the future to service with minimal regard to Black African life but also a lucrative arms market and a source of boundless opportunities for mining contracts and other economic activities.
Now, if this partnership between illiberal African democracies and Russian PMCs were taking place under wholly democratic regimes, led by legitimate representatives of the people whose financial loyalties aren't under fire and whose electoral victories were completely legitimate – opposition leaders in the CAR have alleged many irregularities and instances of fraud during Touadéra's election[10] – then this relationship would have to be respected from a Western perspective. A democracy is free to choose its partners as it best sees fit. But, looking at Burkina Faso and Mali's military juntas, two nations under the authoritarian rulership of the national bourgeois armed forces, it becomes clear that the continent's rising trend of approachment towards Russia does not have the popular grounded support claimed by the rulers of illiberal democracies and military juntas.
Reports of Wagner's involvement in atrocities and massacres against unarmed civilians in Mali[11] bear striking similarities to the Central African massacres committed in Aïgbado and Yanga. Both Mali and the Central African Republic have been gripped and destabilised by a religious insurgency; both Nations rightly shunned France, their former colonial power, in favour of a shift towards Russia, whose PMCs have been well-documented in their involvement and instigation of violent war crimes for the heat of reclaiming contested territory. As we look towards Burkina Faso, a nation under military rule that has also shunned France and its ineffective peacekeepers and troops this year, we see warning signs of another illiberal regime happy to bend international law to reclaim territory[12]. Whether we will see reports of Russian PMC involvement in war crimes seems to be a question of 'when' rather than 'if'.
If Wagner in the CAR has taught us anything, it's that we should expect an intensification of Russian economic involvement and arms exports to African nations struggling with conflict, many dealing with wars that have their roots in Western colonial partition and displacement. As we witness the co-option, by bourgeois illiberal democracies and military juntas, of discourses of anticolonialism and resistance to neocolonial influences, we must align our interests and concerns with the working masses of the Central African Republic, with the working masses of Mali, with the working masses of Burkina Faso and wherever national bourgeois leadership seeks to partner with Russia over a former colonial or Western power, in its domination and exploitation of the toiling, working, mining, crafting, fishing, farming, fighting, labouring masses.
Notes
Central African Republic: Bria massacre, the toll rises day by day and reaches nearly 70 dead – Corbeau News Centrafrique ou si b il LPP and news in the Central African Republic Corbeau News Centrafrique ou si b il LPP and news in the Central African Republic (corbeaunews-centrafrique.org) ↑
UN probing alleged killings by CAR forces, Russia mercenaries | United Nations News | Al Jazeera ↑
Central African Republic | UN investigates role of Russian mercenaries Wagner in massacre | The Press (lapresse.ca) ↑
CAR: Muslim-Christian tension on the rise, since coup (theafricareport.com) ↑
Central African Republic: War Crimes by Ex-Seleka Rebels | Human Rights Watch (hrw.org) ↑
Who is Faustin-Archange Touadéra? – BBC News Africa ↑
CAR: 'I have nothing to hide about the Russians,' says President Faustin-Archange Touadéra (theafricareport.com) ↑
Russia in Africa: What's behind Moscow's push into the continent? – BBC News ↑
Opposition angry as Touadera wins re-election in CAR presidential race (rfi.fr) ↑
Massacres, Executions, and Falsified Graves: The Wagner Group's Mounting Humanitarian Cost in Mali (csis.org) ↑
Burkina Faso Accused Of War Crime Amid Humanitarian Crisis – The Organization for World Peace (theowp.org) ↑
---
Malick Doucouré is a British-Senegalese social media commentator and a student of decolonial Marxist and anti-imperialist thought traditions. Alongside his advocacy against neocolonialism, Malick is currently researching the Black Radical Tradition in Ghana through a MPhil/PhD European & International Studies course at King's College, London.
CounterPunch is reader supported! Please help keep us alive.
The CounterPunch website is offered at no charge to the general public over the world wide web. New articles, from an independent left-leaning perspective, are posted every weekday. A batch of several articles, including the Poet's Basement, and Roaming Charges by Jeffrey St. Clair, are posted in the Weekend Edition. After the initial posting, these articles are available in the archives which can be searched by using any of the search boxes on the website.  CounterPunch also publishes books, and published a newsletter and magazine from 1993 to 2020.  The CounterPunch+ Subscriber area of our website features subscriber content and access.