https://portside.org/2023-03-20/sweet-and-sour-origins-amish-soul-food
Author: Sam Lin-Sommer
Date of source:
Atlas Obscura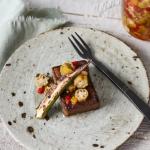 IN GASTRO OBSCURA'S Q & A SERIES A Seat at the Table, we speak with people of color who are reclaiming their culinary heritage and shaping today's food culture.
The delicious meals that chef Chris Scott cooks up in his Harlem kitchen may seem like new- fangled American fusion: Pennsylvania Dutch-style chicken and corn soup alongside shrimp grits; lemonade fried chicken with bread-and-butter pickles. But these are actually examples of a cuisine that has been stewing along quietly for generations: Amish soul food.
 This combination of Southern and Amish cooking hails from Coatesville, Pennsylvania, where Scott grew up. "We've been eating this since we were kids," says Scott. "Our parents, [too.]" Coatesville is located in Chester County, Pennsylvania, home to long-standing Amish and African American communities whose cuisines have commingled over generations. Scott is on a mission to share the unique food of the area's Black residents, along with the stories of resilience and creativity within their sweet, sour, and savory cuisine.
Scott's great-grandfather Chester Howard migrated to Amish country in search of economic opportunity, as did the ancestors of many other African American families that call the region home. Howard brought the cooking techniques of Virginia tidewater cuisine to Pennsylvania, where he and his family adapted it to suit the ingredients, baked goods, and preserves available at Amish markets. Amish and Southern African American cuisines are natural bedfellows, Scott says, in that they share the same spirit of resourcefulness. They even share certain staples, such as cornmeal and chow chow, a relish made of pickled vegetables.
Howard's daughter and Scott's grandmother, "Nana," was a master of Amish soul food, serving the "Seven Sweets and Sours" of Amish cuisine—a set of condiments ubiquitous at Amish meals —along with meals such as turkey neck gumbo. Along with scrapple, an Amish paté of cooked pork parts, she would make okra chow chow, a Southern relish with West African roots.
Long hours in the kitchen with Nana inspired Scott to become a chef. Yet for many years of his professional career, Scott kept the story of Amish soul food to himself. As Scott writes in his new cookbook Homage: Recipes and Stories from an Amish Soul Food Kitchen, "I came to believe that working in European restaurants, with a focus on fine-dining techniques, was the only professional path worthy of attention and respect." But following years of introspection and hard-won sobriety, he decided to look to his heritage for culinary inspiration.
In 2016 and 2018, respectively, he opened soul food restaurants Butterfunk Kitchen and Sumner's Luncheonette in New York, and in 2018 was a semi-finalist on Top Chef, where he coined the term "Amish soul food" to describe his culinary style. In September 2022, he released his cookbook as both an homage to his grandmother and a celebration of the Amish soul food she cooked. At his newest restaurant, Butterfunk Biscuit Co. in Harlem, his interpretations of Coatesville's African American cuisine take center stage. "It's intoxicating to be able to truly be me in a world where I always couldn't," he says.
Gastro Obscura spoke with Scott about Eurocentrism in the restaurant industry, the definition of Amish soul food, parallels between Amish and African American histories, and the future of soul food.
You mention in your book that there was a period where you struggled to share the story of the food you grew up with. What changed?
 [For many White chefs around me,] Black food to them has always been a niche thing. They feel like it's just having its moment, but there's no lasting or staying power—although we have been here for centuries.
[They'll say,] 'How hard can it be?' 'What kind of technique is it? It's not even a technique- driven food.' They even get into it being unhealthy. So I'd say at least nine out of ten things coming out of their mouths about Black food, Black culture, are all negative. So coming up, of course, it was embarrassing to embrace that side of me.
Once I started to accept [my food] and who I was, I started actually cooking some of the best food that I ever did in my life, because it was mine, because it was from the heart, and because I could be unapologetically Black.
What do you think makes Amish soul food unique?
Some of the most Southern flavors or dishes that you know—imagine them with brighter nuances, higher in vinegar, higher in sugar, higher in citrus, because the Germans really have a lot of sweet and sour components.
Back in the day, the slaves would have their own gardens. Sometimes you would have chicken bones to make your broth a little bit more flavorful, sometimes not. And then that would go over some type of cornbread. A lot of Amish dishes are very similar: things that are taken from the garden, preserves. A ton of stews: chicken and dumplings, or brisket with potatoes and cabbage.
Are these similarities just a coincidence, or is there a shared history?
Basically, it's survival. [With the Amish] you have a group of people that have been ousted because of their religion. They move here to the States, and they hit the ground with nothing. Just like with slaves: we were given nothing. You make the best of nothing because you have to.
How would you describe the relationship between African American and Amish people in Coatesville?
The Amish were definitely a group of people that were mainly to themselves, and the only sort of interaction that you had was when you would frequent their markets or their stores. You would see them out in the suburbs, and—more on the Lancaster County side—in their horses and buggies, or [out] farming. But a lot of the interaction was in their markets.
Are there any specific dishes that stick out in your mind as examples of Amish soul food, with its sweet-and-sour flavor palate?
When I was on Top Chef, I did a lemonade buttermilk fried chicken. Down south, everybody and their mama brines chicken with sweet tea. [I grew] up in a household where sweet tea was in my refrigerator, and so was Kool-Aid and so was lemonade. It makes [the fried chicken] super duper bright.
What kind of Amish soul food dishes would your grandmother cook?
She would put vinegar in her sweet potato pie, not necessarily to where it was tart, but to where it wasn't so sweet. In her cakes, rather than eggs and oil, she would put in mayonnaise, so the overall texture of that cake was now almost pillowy.
There were a lot of techniques that she got just from being in that area. In Virginia, they weren't rocking spaetzle and cabbage and egg noodle stew and all that. But once [my family] made its way up North, my grandmother was doing [Amish] dishes but adding components like neck bone. Neck bone with egg noodles, with spaetzle. Okra chow chow with scrapple.
In your eyes, what does the future look like for Amish soul food, and Black culinary culture in general?
The whole Amish soul food thing was just a door to showing people that we are more than what people think we are. We're so much more than just fried chicken, watermelon, biscuits and cornbread and anything that's red velvet. I want to see more amplification of us that goes beyond the South.
There's so many of us now that we're individually and collectively blazing the trail for the next generation. I certainly think that we're here to stay. And hopefully there'll come a point when all these arrogant Michelin chefs make space—or we take space—at the global table, showing them that our food is here to stay as well.