https://portside.org/2023-03-22/starbucks-workers-over-100-us-stores-walk-out-ahead-shareholder-meeting
Author: Michael Sainato
Date of source:
The Guardian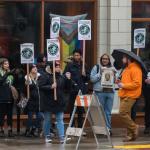 Starbucks workers at over 100 stores around the US walked out on Wednesday ahead of the company's annual shareholder meeting and held a protest in Seattle outside Starbucks' headquarters.
The actions were launched in response to Starbucks' aggressive anti-union efforts against worker organizing, which have included allegations of firing dozens of workers in retaliation for union organizing, intimidation, store closures, withholding benefits, schedule cuts and delays in bargaining a first union contract. Starbucks has denied or rejected all allegations and charges of labor law violations.
More than 7,500 workers at over 280 stores in the US have won union elections, but the union campaign has slowed down since taking off in early 2022 amid Starbucks' opposition.
The actions come a week ahead of the Starbucks chairman and former CEO Howard Schultz's scheduled testimony before the US Senate health, education, labor, and pensions (Help) committee over the company's union busting.
"Starbucks baristas like me are the ones who keep our stores running. We remember our customers' regular orders, make the lattes, clean up spills, and are often the bright spot of our customers' days. We are the heart and soul of Starbucks," said Sarah Pappin, a Seattle Starbucks worker. "Instead of celebrating the law-breaking former CEO hellbent on silencing us, Starbucks should respect our right to organize and meet us at the bargaining table. We are Starbucks, and we deserve better."
At the shareholders' meeting, Starbucks workers are asking shareholders to vote to approve a resolution for a third-party assessment of the company's commitment to workers' rights, arguing Starbucks is violating its own commitments in its global human rights statement on collective bargaining rights and non-interference.
"As Starbucks celebrates their provenance and record profits this week, my partners have to deal with the reality that we are being nickel-and-dimed to extract as much labor as cheaply as possible," said Maria Flores, who has worked at Starbucks in Queens, New York, for three years.
Michael Sainato is labor reporter for Guardian US. Twitter @msainat1