https://portside.org/2023-03-24/us-workers-fighting-back-against-union-busting
Author: Michael Sainato
Date of source:
The Guardian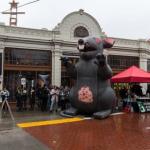 Last year, public support for labor unions hit a high unseen since 1965 amid high-profile union campaigns at major corporations including Apple, Amazon, Starbucks, Chipotle, REI and Trader Joe's.
This renewed interest has been accompanied by aggressive opposition from employers: threats, intimidation and what workers allege are retaliatory firings. The backlash seems to be working, but workers and their supporters are fighting back.
The tension between popularity and pushback has prompted Senator Bernie Sanders and the US Senate's health, education, labor and pensions (Help) committee to hold recent hearings on union busting, including what is expected to be a heated hearing with the recently departed Starbucks chairman Howard Schultz next Wednesday.
The Help committee hearing comes as the number of petitions for union elections at Starbucks stores has dropped from 71 a month last spring to about 10 a month recently. And, according to the Bureau of Labor Statistics, last year the national union membership rate fell by 0.2 percentage points, to 10.1% – the lowest on record and down from nearly one in three workers during the heyday of unions back in the 1950s.
Labor experts say one of the reasons that union popularity is not translating into union membership is corporate America's willingness to fire union organizers with few deterrents for doing so. One out of every five union election campaigns involves a claim that a worker was fired in retaliation for union organizing, according to a 2019 report by the Economic Policy Institute (EPI).
Jesse Mason, a Verizon retail worker in Seattle, Washington, was supporting a union organizing drive at another local store and about to start trying to organize a union at his store when he was fired in April 2022.
He went on to file an unfair labor practice charge with the National Labor Relations Board (NLRB) alleging his firing was retaliatory for union activity.
In March 2023, Mason returned to work after winning reinstatement with back pay and reaching a settlement with Verizon, which did not admit to any wrongdoing in the settlement and still disputes that Mason's firing was related to union activity.
"As soon as I heard about the settlement, I was jumping up and down calling everyone I know. The whole reason I was insistent on getting my job back was I wanted to show everyone you have the right to organize," said Mason. "My store still isn't union-represented, but day one I'm going to start with it, everyone knows I'm going to do that."
Once an unfair practice charge is filed with the NLRB, field staff gather evidence to determine the merit of the charge. If the regional director finds there is sufficient evidence, the NLRB can file a complaint against the employer, unless both parties involved reach a settlement, and the case is brought to an administrative law judge.
Based on recent NLRB annual performance reports, 84% of charges with merit were resolved within a year. But the penalties for incurring unfair practice violations are slight.
"The way that our current labor law is, employers do not receive any monetary penalties for breaking the law and so that doesn't deter them from breaking the law," said Margaret Poydock, a policy analyst at the Economic Policy Institute. "By being willing to fire workers, it kind of sends a chilling effect among organizers who are trying to organize a union, so employers are able to suppress workers' ability to form unions with no repercussions."
Poydock noted the data on worker firings tied to union elections is probably an undercount because it doesn't account for workers who file unfair labor practice charges before or in the absence of a union election being filed.
She cited the need to pass legislation such as the Pro act, reintroduced in Congress this year, which would establish financial penalties of at least $50,000 for labor law violations.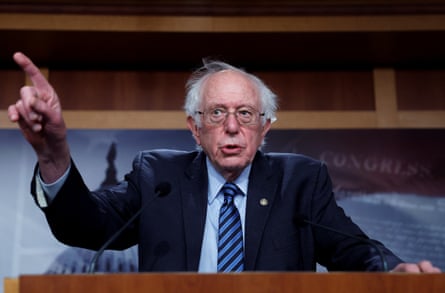 Senator Bernie Sanders is expected to grill the former Starbucks CEO Howard Schultz at a hearing next week about the company's anti-union conduct. Photograph: Evelyn Hockstein/Reuters
"Employers are continuing to commit these violations because there's no financial disincentive, so they're considered a cost of doing business," said Poydock. "We are in a time where we're seeing a lot of workers who are joining unions, despite all the challenges, so that's great, but we do need to restore labor law in order to make it so workers have the right to freely organize and collectively bargain."
At Starbucks, more than 280 stores have won union elections since late 2021, but amid organizing campaigns more than 200 workers have been fired, with the NLRB issuing complaints related to 60 firings and ordering the reinstatement of 22 workers so far. Many of the fired Starbucks workers have had to resort to GoFundMe campaigns to help cope with their lost income while waiting for the NLRB to process their complaints.
Austin Locke, a Starbucks worker for three years in New York City, was fired in July 2022 after leading a unionization effort at his store. He won reinstatement with back pay through New York City's Just Cause protections and returned to work in March 2023, though Starbucks continued to deny any wrongdoing in his firing.
"It was a long process. It was almost like I was in purgatory, because I was in a subliminal state, in between two different states. It was weird, and now that it's all over, I'm happy and my name is cleared," said Locke.
Aleah Bacetti worked at a Starbucks in Bel Air, Maryland, and successfully organized a union at her store in early 2022, but was then fired in July 2022 for what Starbucks described as "use of harassing or abusive language". Bacetti argued she experienced a lot of racism from customers and management while working at Starbucks and has since started working as a union organizer for Starbucks Workers United.
---
Employers are continuing to commit these violations because there's no financial disincentive, so they're considered a cost of doing business 
Margaret Poydock of the Economic Policy Institute
---
"Starbucks needs to be held accountable for it. But from all of my friends that have also been fired, what I've witnessed and seen, it is a very long process," she said. "[Former Starbucks CEO] Howard Schultz doesn't actually care about any of his partners. It's a facade, because if he did, he would be listening to them instead of spending thousands of dollars to union-bust, to fire people and appeal all these motions in court instead of facing the facts."
Starbucks has disputed all NLRB complaints and court rulings against the company and denied all allegations of labor law violations, of which more than 1,300 have been included in NLRB-issued complaints. It has pointed to two rulings in its favor, over a union election in Kansas and a case in which a judge ruled against reinstating a fired worker in Arizona.
For workers who are fired during union campaigns, it can take several months to well over a year for an unfair labor practice charge to be reviewed and processed, complaints to be issued, and a settlement or court decision reached for the worker to be reinstated with back pay.
In the meantime, the quelling effects on unionization efforts that firings induce are immediate and can contribute to or result in workers' losing union elections or having to pull union election petitions due to lost support with workers fearful of losing their jobs and standing up against their management.
Vince Quiles, who worked at a Home Depot in Philadelphia, Pennsylvania, began an independent union-organizing campaign at his retail store in November 2022. He garnered enough support to file for a union election with more than 100 signatures, only to come up short with just 51 votes in the election after Home Depot brought in outside managers to the store to deter workers from voting in favor of the union.
A few months after the election, Quiles, who had worked at Home Depot for more than five years, was fired from his job, and he is now in the process of filing an unfair labor practice charge alleging it was retaliatory.
"It's definitely a targeted firing for insubordination," said Quiles. "I definitely think Home Depot tried to calculate when they did it – they felt far enough removed past the union election, now they can set up a situation to fire me, and it's not just myself, its other people being targeted, people who were close to me and people who were vocally critical of Home Depot."
Home Depot denied Quiles's firing was retaliatory and that others are being targeted by management. "We're committed to protecting all of our associates' legal rights," said a spokesperson in an email.