https://portside.org/2023-04-05/brandon-johnson-win-people-power-chicago
Author: Miles Kampf-Lassin
Date of source:
Jacobin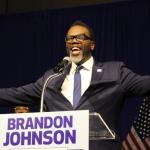 On Tuesday night, Chicago's left scored its biggest victory in recent memory. Brandon Johnson, a former Chicago Public Schools teacher and union organizer, defeated Paul Vallas, a privatization zealot, to become the city's next mayor.
This outcome was far from presumed. Johnson started the race polling at just 3 percent. In January, outgoing Chicago mayor Lori Lightfoot promised that "Brandon Johnson isn't going to be mayor of this city." She was proven wrong. Next month, he will be sworn in to lead the third-largest city in the nation, a watershed moment for the progressive movement that took Johnson over the finish line.
A week ahead of the April 4 election, Johnson rallied alongside Sen. Bernie Sanders in Chicago, who declared, "The fundamental issue is: What side are you on? Are you on the side of working people or are you on the side of the speculators and the billionaires? And I know which side Brandon is on."
At his victory party Tuesday night, Johnson echoed this sentiment saying, "Tonight is the beginning of a Chicago that truly invests in all of its people… a city where no one is too poor to live. There's more than enough for everyone in the city of Chicago."
Such rhetoric is a reflection of the agenda that undergirded Johnson's campaign: investments in social spending programs such as affordable housing, year-round youth employment, mental health supports and other alternatives to traditional policing, fully funded public schools, and reduced public transit fares. To fund this suite of progressive policies, Johnson promised to tax the rich and large corporations.
This platform is in line with the vision of downward wealth redistribution championed by the Chicago Teachers Union (CTU), which has become an influential player in city politics. One of the most militant and democratic teachers union locals in the country, CTU has run a series of successful electoral campaigns sending allies into office who share a left-wing platform, from the Chicago City Council to the Cook County Board of Commissioners. But Johnson's mayoral win represents the most significant feat yet, putting a former CTU organizer on City Hall's fifth floor.
Johnson's stunning win was powered by an intensive ground game run by grassroots organizations in alliance with labor unions, especially CTU. United Working Families, a coalition of such groups, was instrumental in turning out the vote for Johnson, knocking on over half a million doors across every ward in the city and recruiting thousands of volunteers.
CTU's central role in the campaign was recognized Tuesday as the union's president, Stacy Davis Gates, introduced Johnson before he spoke. Davis Gates honored the legacy of the late former CTU president Karen Lewis, who helped shape the union into the political powerhouse that it has become.
"You don't have a Brandon Johnson without a Karen Lewis," Davis Gates said. "She transformed the political debate in our city. She showed Chicagoans how to stand up and demand what their schools and their city need and deserve. Tonight affirms Karen's dream of a city that works for us all, not just a privileged few."
The CTU was also one of Johnson's top funders, alongside its parent union the American Federation of Teachers. Across the city, the progressive wing of organized labor got behind Johnson, an acknowledgement of the ardently pro-union campaign he ran and his long background supporting workers' rights.
Vallas's campaign, meanwhile, was bankrolled by many of the right-wing forces that have long sought to crush labor unions and strengthen corporate power. In addition to receiving over $1 million in donations from Donald Trump donors, Vallas also had the backing of a PAC founded by Betsy DeVos, Trump's education secretary who pursued an anti–public school agenda in office. He was similarly funded by employees of the hedge fund Citadel, whose CEO, Ken Griffin, has been a longtime GOP donor and came out strongly for Vallas during the race.
The level of big business financing allowed Vallas to outspend Johnson two-to-one, blanketing the airwaves with ads painting his opponent as a dangerous threat who would compromise public safety.
None of this is surprising. When Vallas was CEO of the school system in Chicago in the 1990s, he pushed a corporate reform approach to education, privatizing services, opening the door to charters replacing public schools, and undermining teachers' unions. He did the same when running school districts in Philadelphia, New Orleans, and Bridgeport, Connecticut.
In addition to ushering in privatization schemes in Chicago, Vallas also introduced new standardized testing mandates which were later used as a pretext to close underperforming schools and replace them with charters. He targeted the CTU and fired educators across the city — actions which would later be repeated by Mayor Rahm Emanuel in the 2010s.
Vallas ran for mayor on a conservative "law and order" platform, pledging to "take the handcuffs" off of cops, instituting a crackdown while pushing to criminalize dissent. He has close ties to the Chicago Fraternal Order of Police (FOP), which endorsed him and whose president, John Catanzara, is a vocal supporter of former president Trump and backs the January 6 rioters. Last month, Catanzara predicted mass resignations of police officers and "blood in the streets" if Vallas lost, an indication of the challenges Mayor Johnson will likely face when dealing with law enforcement union leadership.
In recent years, Vallas cozied up to the far right, speaking at a fundraiser for Awake Illinois, which pushes homophobic and transphobic policies and calling Critical Race Theory "dangerous." This right turn wasn't all that new: in 2009 after Barack Obama won the presidency, Vallas publicly claimed, "I'm more of a Republican than a Democrat now… if I ran for public office, then I would be running as a Republican."
But while Vallas courted the Right in the mayoral race, much of his record and agenda fits comfortably with the pro-corporate Democratic politics that has dominated the party for decades. It's this neoliberal, Third Way doctrine that suffered the clearest defeat on Tuesday. Voters rejected a candidate in Vallas who represented tepid centrism and instead chose Johnson, a Bernie Sanders–style left challenger who argued for soaking the ultra wealthy to lift up the working class.
Johnson will face significant challenges in office as he seeks to implement policies that the business interests that have long controlled decision making in the city will find disagreeable. Corporations will use their lobbying power to resist taxation plans, and some could threaten to leave Chicago altogether. And as the FOP's Catanzara's warning implies, the police union could take steps to undermine the Johnson administration.
But despite deep-pocketed interests throwing everything they had at Johnson to prevent him and the social movements he's backed by from taking power, it didn't work. He will be the next mayor. As Johnson said Tuesday night, "Tonight is just the beginning. We have ushered in a new chapter in the history of our city… Let's take this bold progressive vision throughout these United States of America."