https://portside.org/2023-05-02/20-days-mariupol-review-unflinching-look-true-price-russias-war-ukraine
Author: Adam Solomans
Date of source:
IndieWire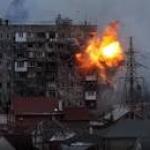 The most telling element of "20 Days in Mariupol," Ukrainian photographer Mystylav Chernov's pulsating documentary about the first three weeks of a Russian siege that killed tens of thousands of people, is what soldiers make of Chernov and his team. At first the AP camera crew, the last journalists left in Mariupol, are a nuisance. As apartment buildings are evacuated. Chernov is told to "turn the cameras off" by Ukrainian soldiers he politely refers to as "shy." He replies: "This is a historical war."
Two and a half weeks later, Chernov, still photographer Evgeniy Maloletka, and field producer Vasilisa Stepanenko receive a personal escort from senior Ukrainian officers. So important are their findings — and ensuring that they live to tell the tale — that the team are ultimately evacuated out of the city in a general's family car, his daughter draped in a blanket next to Chernov.
The doctors and nurses of Mariupol are less self-conscious. In fact, they get the idea pretty quickly. The last surgeon at Mariupol's battle-shaken general hospital barks in one interlude between teenagers being thrown onto the operating table: "Show what these motherfuckers are doing to civilians."
What happened to Mariupol's civilians is, of course, the intent of "20 Days in Mariupol," even if it strays into a journalism-in-action film more than it ought to. The only crime of the port city's 250,000 people is to live in a place of great strategic importance to Putin's army. These are supposed to be the people Russia is "liberating" from "Nazi Ukraine" in a "brief" "special military operation." Needless to say, they do not share Putin's enthusiasm for a swift reversal of the 1991 referendum in which the majority of Ukrainians in all regions voted to become independent from Russia.
That doesn't mean there aren't sporadic voices in Chernov's film who express pro-Russia sentiment, or even suggest it's Ukraine's own Air Force bombing the city. (Even if it wanted to, Ukraine never controlled its airspace for long enough.) One fact of the war unspoken in Chernov's film are floods of rumor and untrustworthy video which clog up Telegram channels in the country. Some forums are public services, others are public menaces. Each of Ukraine's major cities has one, often run by local officials; usually it's the quickest way to find out the air raid sirens are blaring without opening a window. On others, Russian propaganda thrives. "Who wins the information war wins the war," the Kremlin's UN ambassador replies ominously when confronted by a British journalist with Chernov's reporting. Both sides can agree on that.
Chernov says he shot 25 hours of footage in Mariupol, but was only able to share 30 minutes of video with his editors. The satellite phone his team had was enough to keep them informed that he was alive, but you need a pretty good Wi-Fi signal to WeTransfer Gigabytes of MP4s out of a warzone. (Anyway, the Russians saw to the city's power supply and mobile networks.)
Yet what's also true is that, had his editors seen all the footage, they wouldn't have been able to pass on much of it to news organizations. Chernov frequently blurs the most severe injuries, but it's the puddles of blood, dead animals and lifeless limbs half-buried by rubble that indicate the sheer scale of suffering in Mariupol. His jarringly stoic narration and haunting original music by Jordan Dykstra add to the sense that, in Mariupol, nothing is left. This is not a film about President Zelensky's Churchillian leadership or the heroism of first responders (though if you look, there is some of that).
If "20 Days in Mariupol" is about anything, it's how much destruction can be done in such a short time.
To that end, the film centers around the bombing of the city's maternity hospital on March 9. Images of a mother giving birth as she was stretchered out of the wreckage made front pages and the top of news bulletins globally. The most famous photo is Maloletka's. Chernov says the stricken mother knew her baby had already died, and begged doctors: "Kill me." This is one of many bleak stories which offer a window into the flagging resistance of the most oppressed. Chernov shows that the war has, for many Ukrainians, not hardened their resilience. As many as have been killed have been simply overrun.
Still, even the Kremlin rowed back on its initial denial of wrongdoing at the maternity hospital. Spokesperson Dmitry Peskov vowed to "ask our military" what had happened, a day after he said "Russian forces do not fire on civilian targets." Having said that, another Moscow official said the images represented Ukrainian "information terrorism." Putin's army plundered the city for another month before respecting humanitarian corridors. The almost three-month battle, in which 25,000 civilians and 10,000 soldiers on both sides are thought to have died, would rage until May, thanks to a dogged resistance by soldiers holed up at the city's immense, labyrinthine Azovstal steelworks. Chernov, for once wisely, avoids Azovstal. The drama of a documentary about that particular fight might even surpass this one.
That's not to say this footage is any less than enthralling. At one point a tank turns its turret on the building where Chernov's team are taking shelter, and you might forget that they make it out alive. It just so happens that the way Chernov holds his camera — usually swinging from his side, but still filming — resembles a cut-scene in a Call of Duty game. "20 Days in Mariupol" doesn't seek to dramatize the tension of war. But it is pretty fucking dramatic.
Access and shock value aside, the wholesale dismissal of Chernov's reporting by the Kremlin is the greatest endorsement there is. There are no gaps, grays, or points of debate. Only denials.
"20 Days in Mariupol" premiered at the 2023 Sundance Film Festival and will screen in theaters in July and on PBS in the autumn.