https://portside.org/2023-05-10/revisiting-great-migration-and-black-literary-legends-it-inspired
Author: Eleanor J. Bader
Date of source:
The Indypendent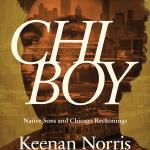 Keenan Norris' Chi Boy is part memoir, part social history, part eulogy for his ancestors and part tribute to men whose literary output continues to inspire him. The Windy City is the linchpin of this poetic but searing story.
Jim Crow racism drove Norris' people from the South, eventually landing them in segregated Chicago where opportunities were few and poverty was extensive. Still, arriving after World War II ended, they took whatever menial jobs were available to men and women of color and made do, raising four kids in a cramped, rodent-infested apartment. Domestic violence, alcoholism, and infidelity were part of the social fabric. So were books.
Writers such as James Baldwin, Frank Marshall Davis, Ralph Ellison and Richard Wright sustained Norris' dad and he passed his love of literature to his son. Later, Barack Obama, another transplanted Chicagoan, gave the Norris' new perspectives to consider, and fueled debate about the limitations of the promise of equal opportunity. 
These ongoing discussions fired the younger Norris' imagination; Chi Boy not only parses Obama's words but also interrogates the most significant works of the aforementioned writers, all of whom made their home in Chicago. Now a professor at San Jose State University in California, Norris deconstructs their work with an eye toward time, place and social conditions, zeroing in on the political milieu that influenced each author's work. In addition, personal foibles and missteps are highlighted.
Richard Wright's misogyny, for example, is detailed. And while Norris does not condone it, he offers an explanation: "Violence begets trauma," he writes, "and trauma remains and is inherited in one form or another." At the same time, his conclusion is stark: "Chicago's most famous Black writer is among its most misogynistic…That misogyny in the writing is often directed at Black women particularly, which is even more disturbing, given the deep and unique harms that Black women are subjected to in this society."  
Other critiques are equally perceptive, and Norris' prose is brilliantly pointed.  
The result is fascinating, if nonlinear, and includes numerous seemingly unrelated forays into seemingly unrelated themes. Among them is the story of the Norris family itself, a tale that is woven throughout the narrative and illustrated with emotional anecdotes about grandfather Bill's decision to leave the South and father Butch's coming-of-age in the 1950s and 60s. The result could have been jarring since it pairs incongruous histories, juxtaposing acclaimed writers with regular guys who lacked national or international fame. That it works is a testament to Norris' skill as a writer — this is one of the most beautifully written books I've ever read — and his ability to thread racial and class prejudice into each rendering.
Another tangent involves the media. Norris lambastes journalists that continue to present stereotypes about Black communities in Chicago and elsewhere, depicting them as places overflowing with thuggery, gang violence and grinding poverty. This, he explains, ignores the manifold ways that Black and Brown people provide mutual aid to one another, organize to improve community conditions, and create joy through art, music and activism. The media creation of the term Chi-Raq, as if Chicago was and is a war zone analogous to Iraq, comes in for particular critique for its damaging misrepresentation.  
Taken as a whole, Chi Boy is a powerful indictment of Jim Crow's enduring legacy. Both deeply personal and deeply political, it is a palpable denunciation of white supremacy and the foundational lies that sustain it.
The Indypendent is a New York City-based newspaper and website. Our independent, grassroots journalism is made possible by readers like you. Please consider making a recurring or one-time donation today or subscribe to our monthly print edition and get every copy sent straight to your home.