https://portside.org/2023-05-25/writers-strike-opens-old-wounds
Author: Kate Fortmueller
Date of source:
Los Angeles Review of Books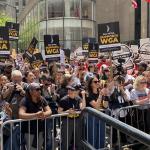 SCREENWRITERS CRAFT suspense on the page, but few plot beats can match the real world tension built every three years when the Writers Guild of America's Theatrical and Television Minimum Basic Agreement (MBA) comes up for renewal. Hollywood unions and guilds negotiate several guild-specific contracts in addition to the MBA, but the film and television deal creates industry standards for working conditions, pay, residuals, health, and pensions and can lead to an industry-wide shutdown if talks stall. Months in advance of this deal lapsing, industry experts begin to speculate: Will the writers strike? Will the Screen Actors Guild–American Federation of Television and Radio Artists (SAG-AFTRA)—or even the reluctant-to-strike Directors Guild of America—follow suit? The WGA is known as the toughest negotiator and the most likely of all Hollywood unions to strike, and the memory of the work stoppage that spanned 100 days in 2007–08 and disrupted innumerable television and feature projects surely lingers in some studio executives' minds.
Contract negotiations, much like film reboots, revive old villains and fault lines of antagonism. Historically, studios craft the setting, as they did this year, by claiming they need to reduce production expenses by stagnating wages and residuals. The Hollywood unions must then fight—sometimes by going on strike—for percentage increases that build on their past wins and losses. However, like the formulaic reboot, the outcome is often foretold: both studios and workers ultimately want a healthy profitable industry, so the conflict will be resolved and the characters will live to fight another day. What makes the 2023 strike different is the introduction of new players (streaming-services-cum-media-producers) and conditions (changes to writers rooms, employment terms, and distribution) that change the tenor of negotiations, especially since both sides are pushing for structural changes to how Hollywood does business.
While the methods of production and distribution have transformed several times over, every industry-wide strike since 1950 has been about residuals. These strikes have been led by WGA, SAG, and AFTRA; writers are often the toughest negotiators, but the stars and the large membership numbers make the actors unions (which merged in 2012) formidable. Prior to 1950, labor action in Hollywood centered on jurisdictional battles and working conditions. Famously, in 1945, one of these internal disputes ended in a violent clash on the Warner Bros. lot dubbed "Black Friday." The pre-1950 strikes, led by the workers who eventually consolidated into the International Alliance of Theatrical Stage Employees (IATSE), largely differed because they focused on basic working conditions and pay. But the arrival of television forced the unions and performers to think about the commodity value of their work, which could now be replayed in multiple television markets around the United States, in perpetuity.
Residuals continue to be at the core of negotiations because they offer a degree of income stability in a notoriously unstable profession. Hollywood workers, whether they are writers, directors, actors, cinematographers, or editors, frequently have periods of unemployment between contract work. Before streaming disrupted the structure of the television season, this period was typically during the summer. Streaming services and their endless demand for content have created new forms of precarity for workers under the guise of more work opportunities. In 2022, there were 599 original scripted television shows, and the streaming boom has been one of the major contributors to this television trend. For writers, the problem is that the production of more shows does not equal more professional security. Audiences have likely noticed television seasons growing shorter and streaming platforms commissioning more limited series. What we have not been privy to are the changes behind our screens: streamers have changed the way writers rooms are assembled (hiring fewer writers) and altered timelines for breaking stories (before they are "greenlit," or approved for production), and shorter seasons also give new writers less time to learn the ropes and prepare for the next job. Everyone from seasoned showrunners to newly staffed writers are experiencing changes to the profession at every stage.
As Hollywood has transformed since the 1950s, workers and their unions have contended with endemic insecurity. The arrival of television coincided with the 1948 Supreme Court ruling in United States v. Paramount, Inc., which, among other things, put a momentary end to vertical integration in Hollywood by forcing the studios to divest their theater chains. The ramifications of the Paramount decision were wide-ranging: from exhibition and distribution practices, such as changing profitable practices like block-booking, which required independent theaters to show duds if they wanted to book star-studded titles, to zoning and clearance practices, which impacted how films were geographically distributed. But perhaps most significantly, the ruling forced all Hollywood workers—even the most famous writers, actors, and directors—into freelance contracts, effectively ending the studio system that had governed the town since the advent of sound. During the studio era, many actors and other film workers were kept under contract and paid weekly salaries. This model of remuneration resembled other professional jobs that kept workers consistently employed. Few were vocal about the fact that studios could profit from the rerelease of films, likely because they were not as concerned with gaps in employment.
The turn toward residuals as the primary bargaining concern was the result of a significant change in distribution practices—and a fundamental change in remuneration practices. Unlike film, which relies on direct payments (or ticket sales), television is in the business of selling audience attention to advertisers; new shows are the most profitable, but reruns are also capable of generating ad revenue. It was essential for writer, actor, and director unions to find a way that workers and networks could continue to profit from their creative works. Workers have spent over 70 years adapting to these changes. Today, despite new and novel changes to distribution and remuneration—streaming, shortening of theatrical windows, shortening of television series—residuals continue to be a salient issue for writers, actors, directors, and many crew members.
In the case of writers specifically, we might also be witnessing lingering tensions from the strike-that-could-have-been in 2020. In late 2019, rumors of the key demands peppered the trades. An emphasis on "streaming residuals" hearkened back to the 2007 WGA strike, and a familiar pattern of industry reporting emerged. Writing at the time in her magazine's characteristically insider tone, Deadline's co-editor-in-chief noted: "I hear that TV studios have been banking extra scripts for their ongoing series where they can." Hoarding scripts is one of the telltale signs that studios are concerned about a strike. It means that the Alliance of Motion Picture and Television Producers (AMPTP) is anticipating tough negotiations and needs to prepare so that shows can continue to shoot while negotiations are deadlocked and writers establish a picket line.
Unique to the 2020 negotiations was the fact that all writers fired their agents in April 2019 in an industry-wide demonstration concerning packaging, the controversial agency practice of selling a preassembled team of writers, scripts, and key personnel to networks and streaming services. Agents fulfill a different role than unions, but they are supposed to represent their clients on the same side of the bargaining table against producers and studios. The practice of packaging effectively made agents partners with the very producers they should have been negotiating against on behalf of clients.
Nothing went as planned in 2020. In the first few months of the pandemic we experienced widespread lockdowns, layoffs, adventures in hybrid work, and a new category of worker deemed "essential." Those working in scripted film and television went on indefinite hiatus pending the development of COVID-19 safety protocols. The buildup to the 2020 negotiations was all for naught, since the pandemic shutdown eliminated the ability for workers to use their strike power to stop production. Instead, workers were in a bit of a holding pattern as studios sent films straight to streaming and streamers and networks used the pandemic as an excuse to cancel shows. Writers wrote and pitched virtually, but actors, directors, and crew were at home, waiting, developing ideas and thinking about the pros and cons of resuming work in an industry that was changing despite labor's immobility.
Post-pandemic labor agitation shows that Hollywood workers are willing to push back on a range of dealmaking practices. The pandemic shifted how Americans think about work. Workers across multiple sectors went on strike throughout 2021, and two-thirds of Americans went in search of new jobs after the 2020 pandemic closures and layoffs. In Hollywood, the WGA won their battle over packaging, top talent like Scarlett Johansson challenged studio decision-making that sent blockbuster films straight to streaming, and 13 IATSE locals (representing 60,000 members) authorized the union to strike if necessary. Overall, Hollywood workers pushed back against studios, networks, and producers who had lots of latitude to experiment with different distribution strategies and innovate to save their quarterly earnings reports.
But the contours of writers' labor concerns remained consistent. In 2022, as in 2019, networks began hoarding scripts, and the trades have been predicting a strike. Yet post-pandemic labor conditions and the streaming media landscape have altered the tenor of Hollywood's labor conversation, and the pattern of demands, or the key terms for negotiation, looks different from those of past standoffs. Significantly, this will be the first time that the WGA faces the tech-company streamers (Netflix, Amazon, and Apple) as members of the AMPTP. The WGA was prepared: 98.4 percent of members approved the pattern of demands and 97.85 percent of eligible members voted to authorize a strike in advance of the contract's expiration date.
Those numbers underline the resolve in the WGA's response to modifications to distribution and payment, but also a reaction to significant changes in media, industry culture, and the work of writing itself. As audience members, we are not always privy to adjustments to workplace culture, but we do understand the changes to how and what we watch. Viewers have witnessed the ease of films going straight to streaming alongside the rise of shortened episodic seasons, prestige miniseries, and variable episode lengths that are no longer beholden to commercial breaks and prime-time programming schedules. Film has become untethered from the theatrical release and television is no longer packaged in a predictable number of episodes or minutes, changes which are reflected in the ubiquity of the amorphous and medium-agnostic term "content." There is much to critique about the streaming landscape, and professional and armchair critics alike bemoan the "canceled-too-soon" or the prolonged breaks between streaming seasons. Whether these changes to media storytelling are good or bad, the conversation rarely considers the consequences for the talent working under contracts and terms based on models of release and distribution that are quickly becoming obsolete.
The WGA's official pattern of demands reflects many of the changes that have occurred as film and television transformed into "content." It breaks down its concerns into three categories: Compensation and Residuals, Pension Plan and Health Fund, and Professional Standards and Protection in the Employment of Writers. In this round of negotiations, the writers have tried to cover their bases with regard to compensation and residuals and professional development as they try to address threats to the size and job of the writers room, concerns related to shortened seasons and low pay, and the looming threat of AI as a supplement or even replacement for writers. Based on the AMPTP's counters, it is clear that they are prepared to play hardball and bank on the strength of their content libraries to keep viewers subscribed while the WGA shuts down production.
One way to comprehend Hollywood's labor history is to split, as I have done, its strike history into pre- and post-1950 eras. There is a clear rationale for focusing on residuals as the central point of contention. The issue of residuals is also one that labor scholars and industry experts can understand because Hollywood has a rich history of fighting for this bargaining right. However, for this round of negotiations, it is important to consider whom the AMPTP now represents. The unions have been less successful at the bargaining table with the tech-companies-cum-Hollywood-powerhouses. The risk of focusing on the history of residuals is that it creates a particular narrative of worker concerns that centers the WGA by necessity. This narrative also runs the risk of occluding labor actions that have focused on health and safety concerns, which seem to be growing among union members.
For example, SAG-AFTRA's most recent strike, in which the guild negotiated with 11 video game studios—an industry more closely aligned with tech giants—was their longest in history. In 2014, when SAG-AFTRA's video game contract expired, the union went to the bargaining table with three key issues: residuals based on the number of game units sold, transparency in performance expectations and hiring, and the risks associated with vocal strain, residuals and vocal strain being essential issues that impact a video game voice actor's professional longevity. In October 2016, voice actors went on strike. After 340 days, those actors had to compromise on many of their most significant demands. As for the actual changes implemented, the union achieved gains for worker profits while safety issues were left unresolved: specifically, SAG-AFTRA made some progress with respect to transparency and what the union has termed secondary payments. Video game companies are now required to provide actors with information about productions. There is also now a clear structure for how actors can be paid for additional sessions. The union had to drop the topic of residuals, and there were no clear decisions about how to address vocal strain.
As negotiations for the WGA heat up and those with SAG-AFTRA and the DGA begin, it is worth noting the bargaining points where unions are allowed to make gains. Residuals for film and television have historically been the most hard-fought battles, but as content becomes more amorphous, producers have more to gain in the shift away from legacy forms, leaving labor with much to lose.
[Kate Fortmueller is an assistant professor at the University of Georgia. She is the author of Below the Stars: How the Labor of Working Actors and Extras Shapes the Media Production (2021) and Hollywood Shutdown: Production, Distribution, and Exhibition in the Time of COVID (2021).]