https://portside.org/2023-06-20/starbucks-agrees-settlement-violating-worker-rights-seattle
Author: Jordan Zakarin
Date of source:
More Perfect Union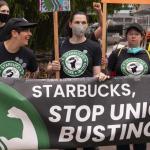 Starbucks agreed to a settlement with the NLRB and Starbucks Workers United that will compensate nearly a dozen unionized employees in Seattle who were illegally discriminated against throughout the fall of 2022.
In August, managers called for volunteers to work at a mobile Starbucks bar the company operates at Husky Stadium during University of Washington football games. The opportunity was advertised in a Facebook post the responsibilities and promised an extra $3-an-hour in base pay and perks that included food, drinks, and free parking. 
The ad, posted in a group for Seattle-area baristas with over 1300 members, contained one caveat: "This is only open to non union partners at this moment."
Union members volunteered anyway, some offering their services every week. They were rebuffed each time, in email and in person. A number of the emails were entered into evidence during the NLRB trial over the matter, with many of the messages from managers defaulting to stiff legal statements. One seen by More Perfect Union informed a worker that "Because you are represented by Workers United, we can't make any changes involving your current pay and/or job description."
The NLRB has ruled multiple times that Starbucks is in fact permitted to provide additional pay and opportunities to union members during bargaining, and its refusal to do so constitutes a violation of federal labor law.
Starbucks agreed to compensate 10 workers for each time they were blocked from working at the Husky Cart. They must receive backpay plus interest within the next 14 days. The settlement also mandates that the company post notices in local cafes and send text messages to workers that promise not to further violate their rights.
"Starbucks, by entering into this expansive settlement agreement, effectively admits it broke the law when it prevented unionized workers from picking up shifts with premium pay at the UW's 'Husky Cart,'" a spokesperson for Starbucks Workers United said in a statement to More Perfect Union.
This marks the first time Starbucks has settled with the NLRB over allegations of violating labor law in connection with the union campaign. In April, Starbucks founder and former CEO Howard Schultz adamantly told the U.S. Senate that the company had not committed a single unfair labor practice against any of the more than 8000 members of the union.